Opportunity in Empty Offices
The COVID-19 pandemic has led to the decline of traditional office settings and shopping malls, leaving many buildings empty. However, there is an opportunity to convert these spaces into affordable housing units, community small businesses, medical clinics, and other facilities, while also creating jobs and boosting the economy through construction, building repair, and trade work. With comprehensive tax policies, grant funding, and financial tools, this approach could provide a sustainable solution to meet affordable housing needs and revitalize cities and suburban areas.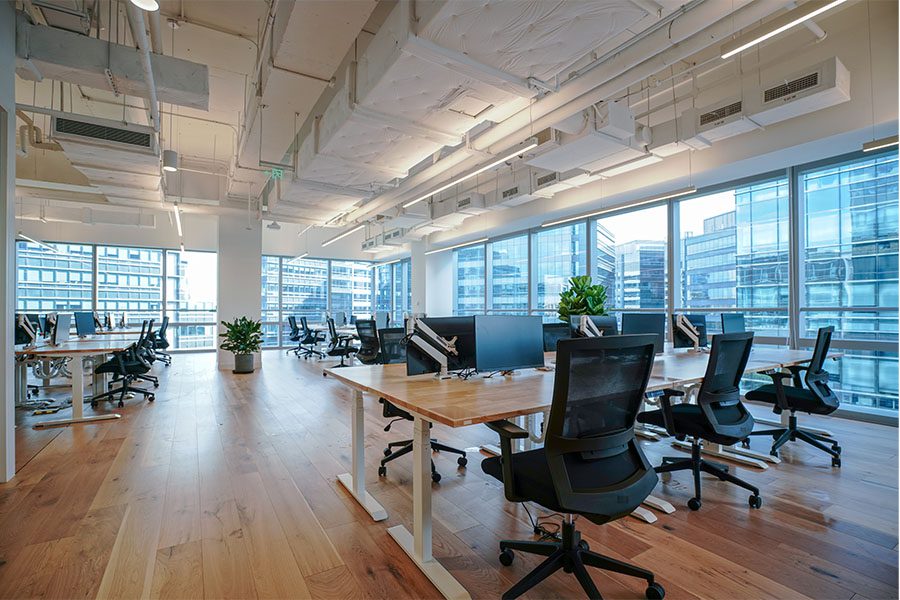 The COVID-19 pandemic has hastened the decline of many businesses in which staff have come to office settings. Work performed in offices can be performed via the internet and worldwide electronic networks. On-site office work and face-to-face meetings are largely no longer necessary. Because of these changes in the workplace, as well as the increase in shopping on the internet, and delivery on demand, centralized and regional offices are no longer needed. One of the results of these changes is the decline of big city and suburban office buildings and shopping malls.
Many of the commercial businesses, such as department stores, design stores, banks or finance companies, are deserting their office buildings and staff are working remotely. These towers of commerce are empty, and many businesses are not renewing their leases.
Many cities have low residential rental vacancy rates, such as San Francisco, at 4% in March of 2020. By increasing the number of rental housing units, this measure could also reduce the cost of housing over the medium term. In the autumn of 2020, the cost of housing in San Francisco for average monthly rental of a one-bedroom apartment was $2,800 and the average rent in New York City was $2,650. For Chicago it was $1,650.
There are many individuals and families who can barely afford to rent appropriate-sized rental units, as well as those who are homeless or without a permanent residence. There have been reports of minimum-wage and above-minimum-wage workers living in their cars. In the past 30 years or so, the Single Room Occupancy hotels (SROs), which used to provided low-wage single people permanent housing, have disappeared.

The Possibilities
If we approach these problems in a comprehensive way, we can accomplish two key results using tax policies, grant funding, and unique financial tools. The first is to convert the office buildings and empty malls to housing units and community small businesses, shared work spaces/meeting venues, or medical clinics, as well as restaurants, service businesses or senior living centers. The second is to fund changes in the infrastructure, which will provide an economic engine like that of the Marshall Plan, that rebuilt the European economy at the close of World War II, and the GI bill that created the home ownership and college education for returning servicemen.
"If 10 percent of those buildings were converted to apartments, there would be 10,000 housing units created," according to a recent article in the New York Times real estate section. By converting empty and abandoned businesses to residential housing, affordable housing needs could be met with increased availability of middle-income and lower-income housing units. These conversions could have an impact on energy efficiency and sustainability using new adaptive technologies such as wind, solar, and air source heat pumps.
In addition to the abandoned business offices, there are more retail malls that have been losing occupants as commerce shifts to online purchases. In this mix of abandoned shopping malls of various sizes, there are opportunities to repurpose those properties.
Mall space can be converted for entertainment, art galleries, art studios, indoor and outdoor soccer, baseball, hockey rinks, archery shooting ranges, food truck stations, farmers markets, dog parks, indoor exercise centers for seniors and physical rehabilitation areas, spaces for local boys and girls clubs, areas for YMCAs and similar facilities, basketball courts, volleyball courts and handball courts. Retirement communities for an increasingly aging population, nursing homes, and assisted living situations could be built in converted shopping malls. Spaces could be used for emergency response in regional and national disasters such as hurricanes, tornadoes and flood events.
Economic and financial development on a grand scale would occur, with a rebuilding boom in cities and suburban areas. This approach to repurposing existing building is scalable. It could grow in a sustained manner for many years, paying for itself by growing businesses.
The conversion would bring jobs in construction, building repair and the trades, such as carpentry, electrical work, cement and tile installation, as well as introduction of energy-efficient mechanical systems, production of building materials and supplies, architectural and mechanical services and new techniques to accommodate building reconfigurations.
Creating revised neighborhoods (micro neighborhoods) where new housing would be developed would be a boon for the economy. Myriad small businesses, retail shops, food venues, and services would be grown to accommodate the residences. Changes such as these would create sustainable cities, suburbs, and rural areas through job growth and increased employment.
These ideas would require a shared effort among federal, state, and local authorities. This could be a model for many other countries to kickstart their economies and mitigate the effects of the worldwide pandemic. Like the shared exchange of research and development on COVID-19 vaccines, efforts to improve the cities and economy would be revolutionary.
---
Stay Updated
Sign up for our mailing list to stay updated on all things home and building performance.
"*" indicates required fields
By submitting this form, I understand I am subscribing to an email list to receive ongoing communication from BPA.