Become an


Energy Specialist Apprentice

An apprenticeship is a training program that offers a combination of classroom instruction, on-the-job training, and mentorship. Apprenticeships allow you to gain skills and get a job.

A Registered Apprenticeship Program (RAP) is a career path that offers paid work experience and a nationally recognized credential.
Paid, with wage increases as you progress
Eligible for college credits
Verified by the U.S. Department of Labor and State Apprenticeship Agency standards
BPA has developed the Energy Specialist RAP to help individuals develop the skills and knowledge needed for a job in the skilled trade of residential energy efficiency.
---
What is the Energy Specialist RAP?
The Energy Specialist RAP will require apprentices to complete 2,000 hours of on-the-job training and 144 hours of classroom instruction, which can take 2-5 years.
An Energy Specialist apprentice will be placed as a full-time employee and will be paid a wage that is subject to minimum wage regulations. As the apprentice hits milestones along the training path by completing a certain number of hours or demonstrating job competencies, their wage increases according to program standards.
At the completion of the Energy Specialist RAP, apprentices will earn a nationally-recognized credential through the Building Performance Institute.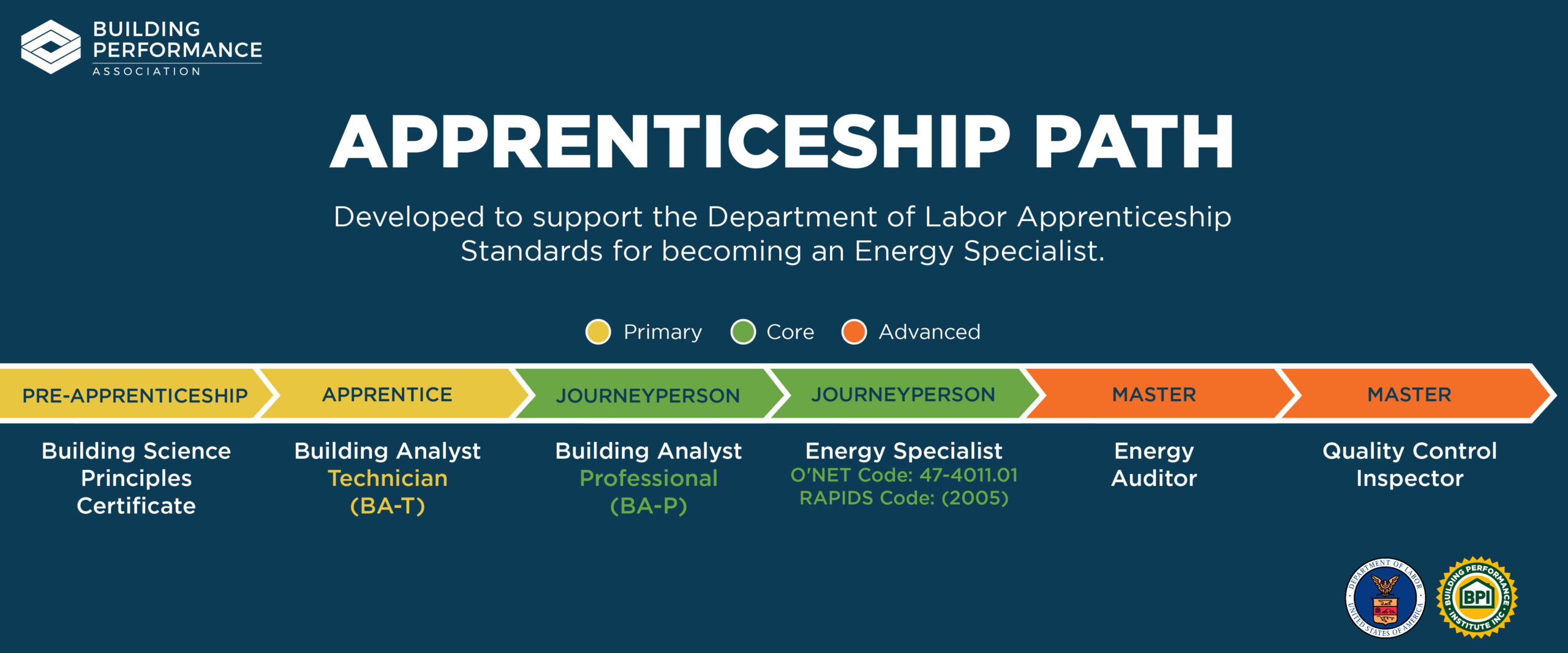 ---
What skills and knowledge will I learn through this RAP?
The program begins with a 12-week pre-apprenticeship program that covers Building Science Principles (BSP), offering both online and in-person training totaling 8-10 hours. You'll also complete 30 hours per week of on-the-job training with your employer. After completing the program, you can take the exam, gaining knowledge in building science and home performance.
The next step is becoming a Building Analyst Technician (BA-T) by combining OJT with in-person or online training. You'll focus on whole-home assessments and building systems.
The apprenticeship progresses to a Building Analyst Professional (BA-P), potentially leading to roles like Energy Auditor (EA) and Quality Control Inspector (QCI), culminating in a sustainable and fast-paced career.
---
Get started with the Energy Specialist RAP