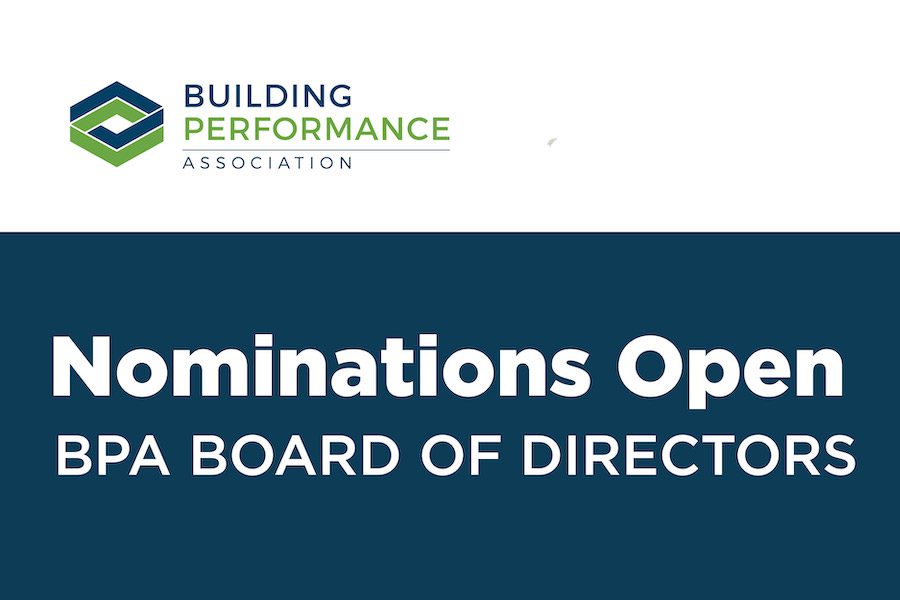 BPA is Now Accepting Nominations to Join Our Board of Directors
Board Member Involvement

Being a BPA Board member provides you the opportunity to have a valuable seat at the table with the largest association supporting the home and building performance industry. Board members have the honor, challenge, and responsibility to help shape the Association and the benefit of working with some of the industry's brightest thought leaders.
BPA Board members serve three-year terms with a limit of two consecutive terms. The Board currently meets once every two months, with one of these meetings in person each year. Additionally, many of our passionate leaders work monthly on policy, strategy, workforce development, standards, and equity issues related to home and building performance.
Board members participate in planning and attending the National Home Performance Conference and regional conferences, as well as engaging at BPA events. Board members serve on one or more of the Board's standing committees, which include Membership, Governance, Strategic Planning, Policy, and Nominations. Officers are elected by the Board and comprise the Executive Committee. Board members must also meet certain eligibility bylaws, such as being a current member of the Association.
BPA is committed to promoting equity within the industry and is actively seeking candidates from historically underrepresented communities, including people of color, immigrants, women, and LGBTQ individuals.
Individuals with a background in contracting and contracting businesses will be given special consideration as we are currently seeking to expand representation in this area.
BPA Board members:
Provide overall strategic direction for the Association and its professional staff
Are passionate advocates for the professions represented by the Association
Assist in growing and ensuring diversity of membership
Collaborate with industry partners to grow sponsorships and events
Utilize social media and other tools to encourage engagement with BPA
Act as ambassadors for the Association in business settings and at industry events
Nomination Instructions
You may nominate yourself or someone else for a seat on the BPA Board of Directors.
Upon receipt of a nomination, a member of the BPA staff or Nominations Committee may contact the nominee to verify their interest in standing for election, serving on the Board, and answering questions.
Click here to fill out the online nomination form. Candidate submissions are due by April 28, 2023. Questions relating to the nominating process may be submitted to communications@building-performance.org.