Regional Energy Data Dive: Energy Efficiency Can Drive Energy Costs Down
With REED data collection underway for fiscal years 2020 and 2021, NEEP is preparing to analyze and compare how energy efficient programs have combated rising utility prices and what states and policymakers can do to create a buffer against rising costs.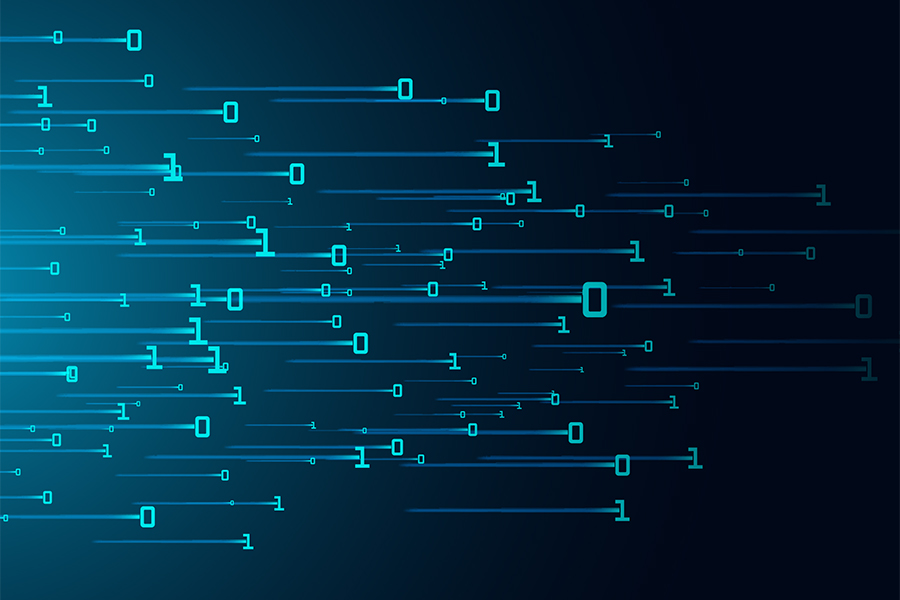 With some states seeing the first hint of snow, residents and homeowners are bracing themselves for the seasonal increase of heating fuel and electricity usage during the winter. Northeast consumers use more oil and gas for heat than anywhere else in the country. Over the past five years, residents in Massachusetts, Maine, Vermont, New Hampshire, Connecticut and Rhode Island alone have paid more to heat and power their homes than the rest of the nation.
This year, residents can expect to see higher rates for utility bills across the board. The National Energy Assistance Directors' Association expects the average cost of heating a home to increase by 17.2 percent since last year. The difference is even more drastic for those who use natural gas to heat their homes as they can expect to see a 34.3 percent increase. For homes heating with oil, the prices are 65 percent higher this October compared to October 2021. The U.S. Energy Information Administration (EIA) provides data and resources related to various energy source measures. EIA Figures 1 and 2 below show recent trends for oil and natural gas prices. Overall, both have increased exponentially over the past year.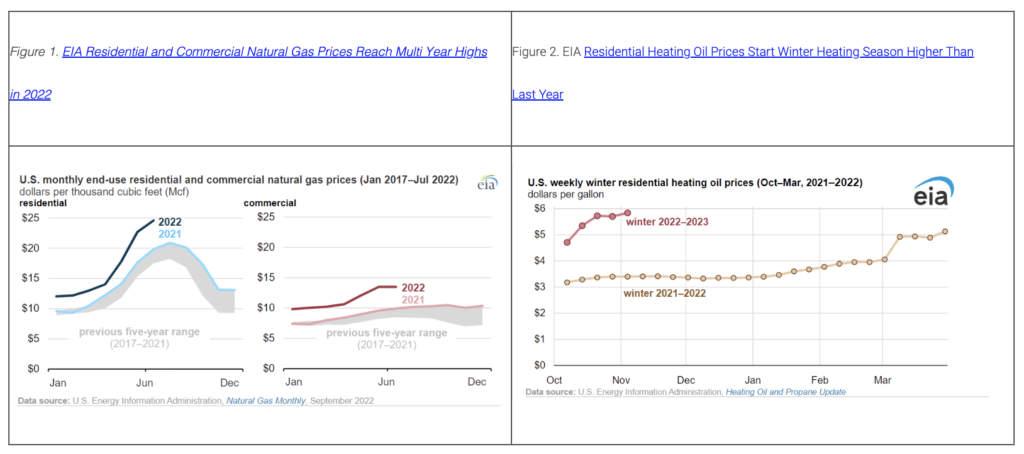 This sudden increase in prices has a negative effect on consumers and has impacted almost all residential customers. A report by Bank of America concludes that households earning less than $150,000 have seen a larger increase in utility prices compared to those earning more. Additionally, the burden of higher energy impacts lower-income households even more as they already spend a higher share of their income on energy bills.
This leads to the question: what can households, states, and other stakeholders do to prevent extreme pressure on consumers during the winter when heat is essential? The answer: invest in energy efficiency.
Energy efficiency is the lowest-cost system resource for utilities. Energy efficiency programs work to optimize energy usage and ensure a home or office uses the minimal amount of energy needed to maintain a comfortable environment. Investing in energy efficiency and clean energy could save households $500 a year on energy costs and these investments are more cost-effective than investments in any conventional energy generation resources, with a levelized cost of $.01 – .06/kWh.
Energy Efficiency Programs Deliver Savings
NEEP populates the Regional Energy Efficiency Database (REED) every year to highlight energy efficiency efforts and their savings in the region. States and program implementers can use this data to identify the most effective and energy saving programs in the region.

The data shows that retrofits and appliance programs are some of the most successful programs for gas and electric savings. These programs are also great ways to address energy costs as buildings with poor insulation and inefficient equipment cost residents more to run. Expanding access to programs that retrofit homes and increase access to beneficial electrification measures can alleviate some of the burdens that will be experienced this winter.
Retrofits: Retrofits improve energy usage of buildings and create safer, resilient, more comfortable spaces. Retrofits can address both the building shell and appliances, with improvements such as weather-stripping doors, air sealing, and installing efficiency appliances. These programs deliver benefits to both the grid and residents, including drastically lowering energy use, decarbonizing the energy supply, lowering energy bills, and improving the comfort, air quality, and durability of homes, while also making buildings more resilient to extreme weather.
Beneficial Electrification: Electrifying appliances also helps reduce energy usage. Electrification technologies like heat pumps, induction stoves, heat pump water heaters and solar hot water heaters use electricity to efficiently heat homes instead of relying on fossil fuels. Studies have shown that air-source heat pumps are 2-3x more efficient than electric resistance or fossil fuel-based systems. This is because heat pumps use electricity to transfer heat from one place to another rather than burning fossil fuels to generate heat.
Programs That Address Past Inequities
Most states are already implementing efficiency programs that encourage homeowners to adopt these measures, but could expand these programs with new federal funding. Legislation has been passed in Connecticut, Pennsylvania, and Vermont to leverage federal funding to target underserved communities. Targeting funds to underserved communities can ensure that these programs work to keep energy bills low where most needed such as low-income households which face disproportionality higher energy burden. Low income households in the Northeast and Mid-Atlantic are five percent more likely to be energy burdened than the average U.S. housed hold and eight percent more likely to be severely burdened.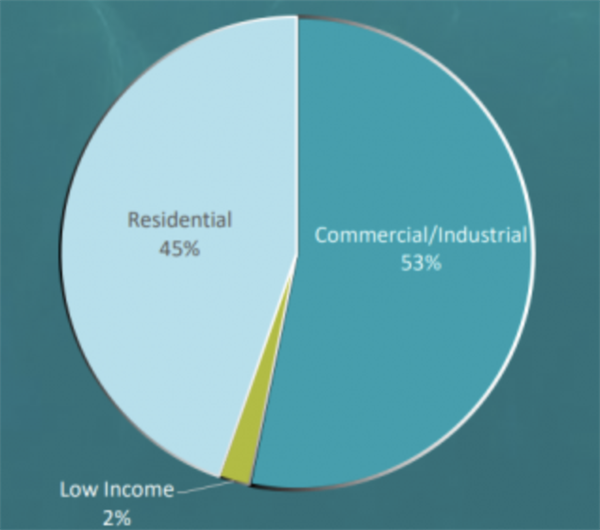 REED data from 2018 shows that on a regional level, electric energy efficiency programs will receive nearly an equal amount of savings in 2018 from C&I and the Residential sectors but very few savings, two percent, from the low-income sector. Energy efficiency programs have policies to ensure access and prioritize underserved communities, but current policies are not enabling these communities to access the benefits of energy efficiency programs. To see more about how these programs can center equity, see NEEP's Centering Equity with Metrics Resources.
Conclusion
With REED data collection underway for fiscal years 2020 and 2021, NEEP is preparing to analyze and compare how energy efficient programs have combated rising utility prices and what states and policymakers can do to create a buffer against rising costs.
---
This article originally appeared on the NEEP blog and is reprinted with permission.
---
Stay Updated
Sign up for our mailing list to stay updated on all things home and building performance.
"*" indicates required fields
By submitting this form, I understand I am subscribing to an email list to receive ongoing communication from BPA.