RMI Report: The Hidden Climate Impact of Residential Construction
Download this report from Rocky Mountain Institute (RMI)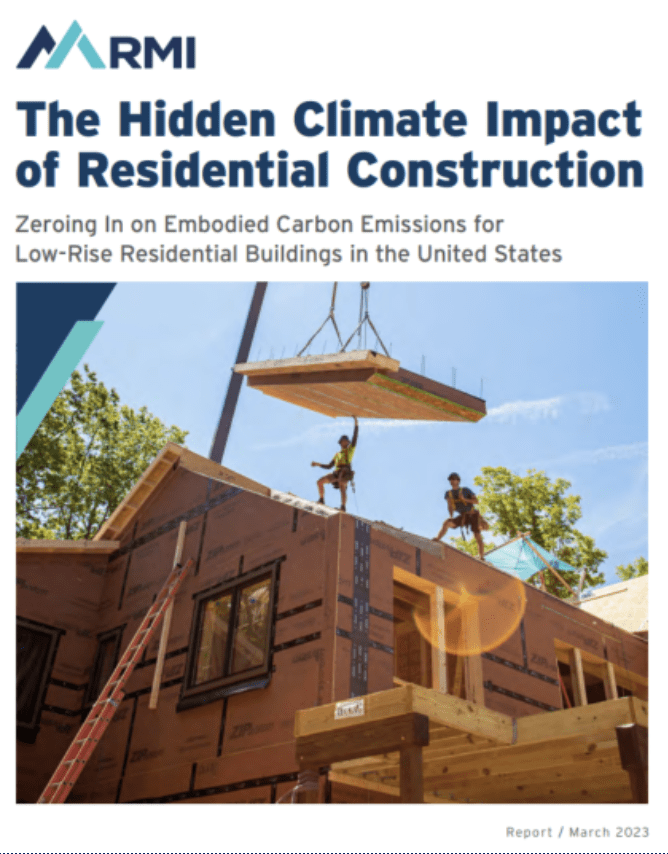 New home construction in the US creates over 50 million tons of embodied carbon emissions annually, equivalent to the emissions from 138 natural gas–fired power plants or the yearly emissions from entire countries such as Norway, Peru, and Sweden. However, the sector has a unique opportunity to reduce tens of millions of tons of emissions and become a leading contributor to US climate targets, quickly and efficiently. Understanding and reducing overall climate impact requires paying attention to the upstream, or embodied, emissions that result from producing building materials such as concrete and insulation in addition to the downstream operational emissions from heating and cooling.
This report explores our current understanding of cradle-to-gate (CtG) embodied carbon emissions, otherwise known as up-front emissions from materials captured in lifecycle phases A1-A3, in new home construction and the building industry's ability to mitigate these emissions. We demonstrate how this can be done without any negative repercussions for continuing efforts to bring operational greenhouse gas (GHG) emissions to zero, providing the market with clear directions for fast, practical, and cost-effective change.
Sorry, we couldn't find any related resources.