The Long-Term Strategy of the United States: Pathways to Net-Zero Greenhouse Gas Emissions by 2050
This report outlines how the United States will meet the goal of Net-Zero Greenhouse Gas Emissions by no later than 2050.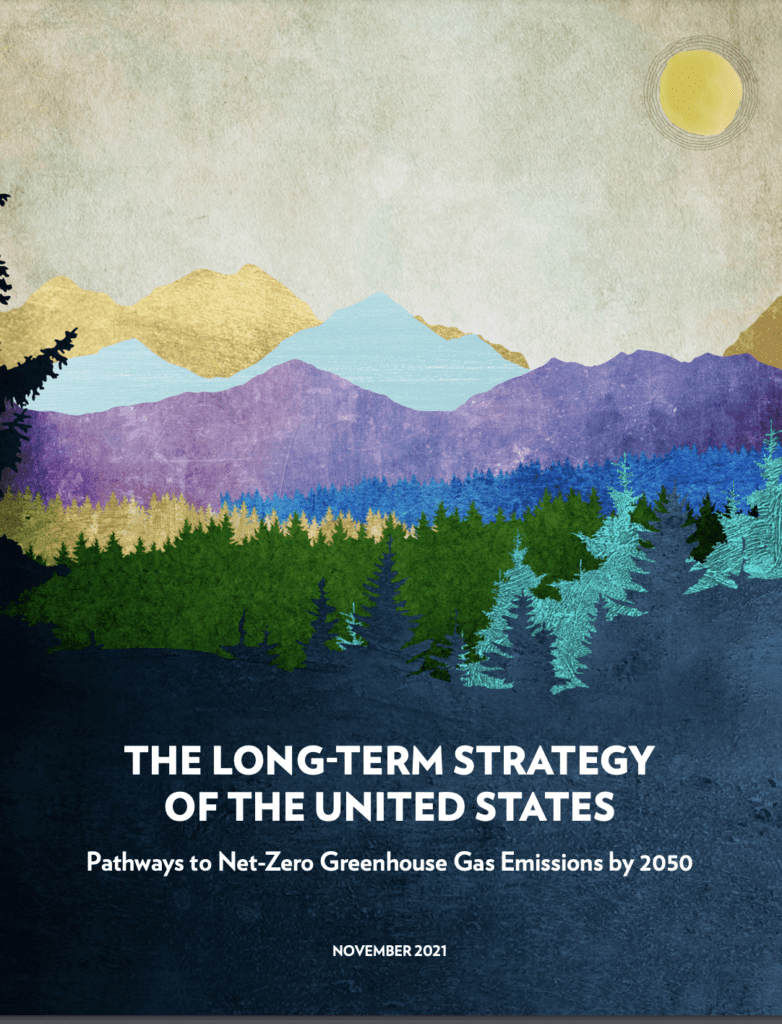 Addressing the climate crisis requires immediate and sustained investment to eliminate net global greenhouse gas emissions by mid-century—and this presents a transformational opportunity for the
United States and the world. Investing in the clean technologies, infrastructure, workforce, and systems
of the future creates an unprecedented opportunity to improve quality of life and create vibrant, sustainable, resilient, and equitable economies.
As we undertake this global transformation, the United States and other major economies must act quickly to keep a safer climate within reach. Across the United States and around the world, climate change is already harming communities—particularly the most vulnerable that are least equipped to cope, rebuild, and adapt. Wildfires, storms, floods, extreme heat, and other climate-fueled impacts are causing deaths, injuries, degraded health, economic hardship, and damage to the earth's ecosystems—all from warming of only roughly 1.0oC. Failure to immediately curtail emissions will condemn the world to nearly triple that level of warming, unleashing far more frequent and severe climate impacts and far more extreme downside risks.
The most recent report from the Intergovernmental Panel on Climate Change (IPCC) vividly illustrates, with robust scientific confidence, the need to limit warming to 1.5oC, or as close as possible to that crucial benchmark, to avoid these severe climate impacts. Achieving this target will require cutting global
greenhouse gas (GHG) emissions by at least 40% below 1990 levels by 2030, reaching global net-zero GHG emissions by 2050 or soon after, and moving to net negative emissions thereafter. To meet these
global milestones, we must retool the global energy economy, transform agricultural systems, halt and
reverse deforestation, and decisively address noncarbon dioxide emissions—focusing particular attention
on methane (CH4), which accounts roughly 0.5oC of the current observed net warming of 1.0oC. We must also pursue negative emissions through robust and verifiable nature-based and technological carbon dioxide removal.
IN LIGHT OF THIS URGENCY, THE UNITED STATES HAS SET A GOAL OF NET-ZERO GREENHOUSE GAS EMISSIONS BY NO LATER THAN 2050.
Sorry, we couldn't find any related resources.