CLEAResult: Cost-Effectiveness 101 Training
This training provides an introduction to energy efficiency cost-effectiveness tests.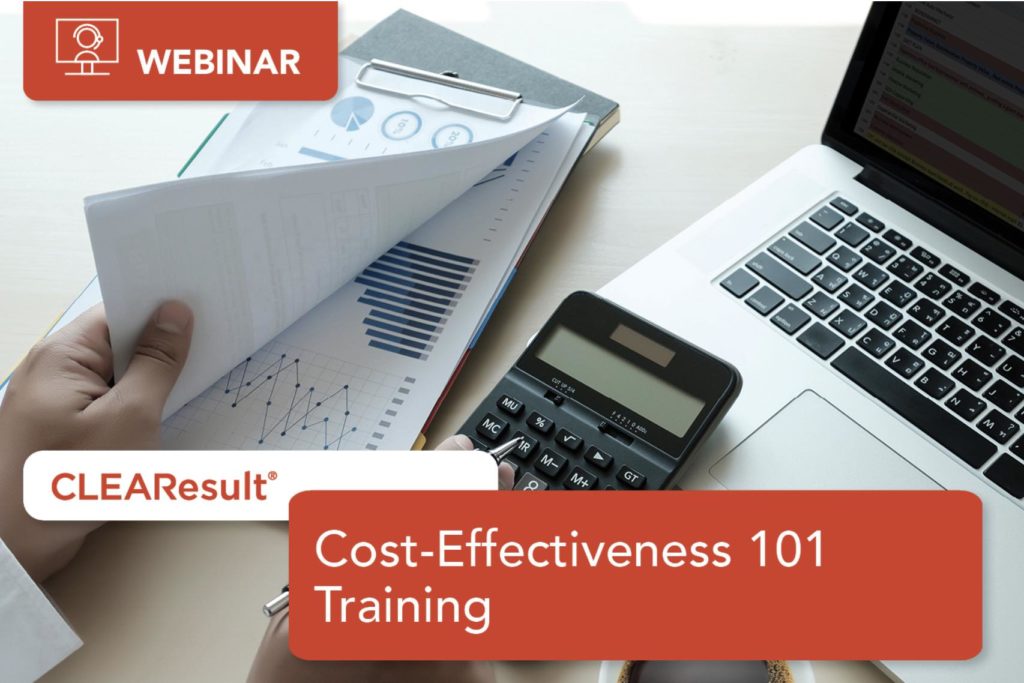 This training provides an introduction to energy efficiency cost-effectiveness tests. This webinar will cover the different types of cost tests, test inputs/levers, examples, and general topics. You will walk away with an understanding of how these tests work and the benefits to you and your teams.
Learning Objectives
Introduce or refresh on the 5 primary utility cost tests that determine cost-effectiveness
Understand common cost-effectiveness terminology
Gain insight on tests most commonly used in the US
Understand what costs and benefits are considered for each test
Work through examples of changing benefits and costs and how they impact cost-effectiveness results
Purpose of Cost-Effectiveness Tests
Measurement of whether the offerings are truly beneficial to impacted stakeholders
Critical part of the energy efficiency program planning process
Answers questions such as:

Is the offering effective overall?
How do programs impact rates, participants, etc.
What design adjustments make our programs more cost-effective?
Presenters
Rebecca Troutfetter
Vice President, Engineering & Corporate Impact | CLEAResult
Rebecca's experience spans nearly two decades in the energy efficiency industry. As Vice President of Engineering & Corporate impact Rebecca leads CLEAResult's Central Engineering and Emerging Technology teams providing engineering expertise and support to 220+ programs across the country. She has supported energy efficiency program implementation, design, policy, planning and/or evaluation work in 30+ states/provinces. She's served on state and national technical committees and was a contributing author on some of the original Technical Reference Manuals (TRMs) many of us use today. Her tenure with CLEAResult is 11+ years. In 2017, she helped create and now leads our CLEAResult Corporate Impact Reporting. She also serves as a mentor in our CREW Pathways program and was selected as the executive sponsor of our Black @Work DNA group.
Katy Brewer
Regulatory Policy, Design & Business Growth Analyst | CLEAResult
As Regulatory Policy, Design, and Business Growth Analyst, Katy provides support for the 22 states within CLEAResult's central region. Katy's experience primarily lies within the public sector, where she has years of experience in state government. Katy served as a policy analyst for the Indiana House committee on Utilities, Energy, and Telecommunications and led project management for the Indiana Department of Environmental Management prior to joining CLEAResult in April of 2022. Today, in close coordination with the National Association of State Energy Offices (NASEO), Katy is working to analyze and track the forthcoming industry impacts of the Infrastructure Investment and Jobs Act (IIJA) and the Inflation Reduction Act (IRA). Katy also holds a master's degree in environmental policy and a bachelor's degree in public policy from Purdue University.
More Recent Training Courses