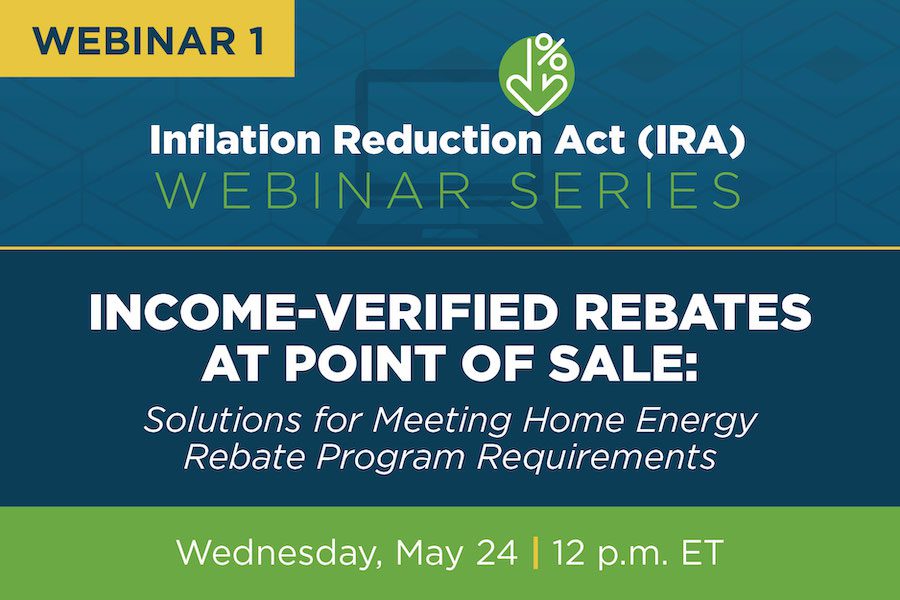 IRA Webinar: Income-Verified Rebates at Point of Sale: Solutions for Meeting Home Energy Rebate Program Requirements
Join us for the first webinar in our IRA series to get started on your action plan for the IRA. This webinar is a must-attend for contractors and implementers who are seeking to understand the requirements of the statute and explore practical solutions that can simplify the income verification process.
Our expert panel from the AnnDyl Policy Group and Promise will discuss the statute's requirements for income verification and showcase a software solution from Promise that can meet these requirements. Promise is a software company that has a proven track record of partnering with states to provide simple, secure payment, relief, and affordability solutions for low-income communities.
During the Q&A session, you will have the opportunity to ask questions and get insights on income verification, as well as share your feedback on what has worked in other programs. Don't miss out on this informative session that will help you navigate the requirements of the HEEHR Rebate Program for low- and moderate-income (LMI) households, as well as how potential software solutions could work in the field.
This webinar is free to anyone in the BPA network. BPA members will be able to access the on-demand playback of the webinar for free, which will be accessible through the BPA member resource library.
Presenters:
Robin Yochum, BPA (Moderator)
Kara Saul-Rinaldi, President & CEO, AnnDyl Policy Group
Phaedra Ellis-Lamkins, CEO, Promise
Daniel Mintz, Technology and Data, Promise