Historic Equitable Clean Energy Legislation Passes in Illinois
A new study suggests that a low-carb diet may be linked to an increased risk of developing atrial fibrillation, a common heart rhythm disorder. The study found that people who followed a low-carb diet were 18% more likely to develop atrial fibrillation than those who did not follow such a diet. However, experts caution that the study does not prove cause and effect, and more research is needed to confirm the findings.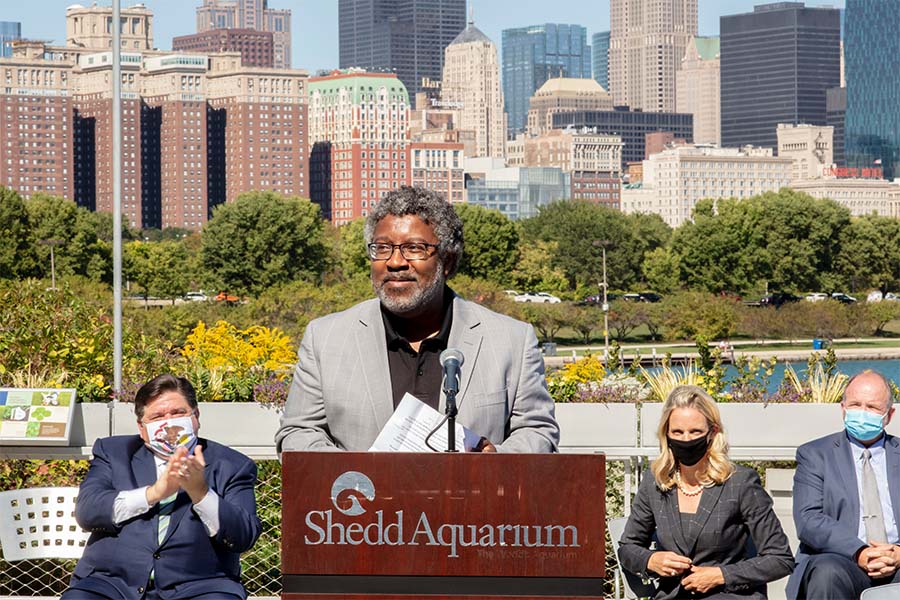 In September of this year, the Climate and Equitable Jobs Act (CEJA) was passed, making it the most equitable clean energy legislation in the nation. Bill SB2408 will provide:
Over $80 million per year for workforce and contractor development programs targeted in equity focused communities, including 13 hubs throughout the state,
Minimum diversity and equity requirements for all renewable energy projects, and dedicated support for disadvantaged contractors to participate in the clean energy economy,
New training programs for soon-to-be released people who are incarcerated for jobs in the solar and energy efficiency sectors, and
The creation of a Green Bank to finance clean energy projects and a Jobs and Environmental Justice Grant Program to provide seed capital for disadvantaged businesses.
Behind the bill is Delmar Gillus, COO of Elevate (pictured right), a national organization based in Chicago, that works to ensure everyone has access to clean air, water, and energy– no matter who they are or where they live.
Elevate believes that equity needs to be at the center of the climate conversation and has been a very active participant from both a policy and implementation perspective in ensuring everyone has access to the jobs and opportunities created by the clean energy economy. This includes a focus on workforce and contractor development training.
It's through this focus on equity that the organization assumed a significant role in developing workforce and contractor development programs. Gillus was heavily engaged in crafting the CEJA and was unanimously selected to step up and lead the equity agenda as an in-the-room negotiator. It's worth noting that this made him the first African American man to be on a negotiation team of an environmental bill in the state of Illinois.

Overview
CEJA puts Illinois on the path to 100% carbon-free power by 2045 by prioritizing the closing of fossil fuel plants, especially those in environmental justice communities. It also provides funding to get IL from 9% to 40% renewable energy by 2030 and 50% by 2040.
CEJA also protects consumers in three ways. First, it changes Illinois' utility ratemaking to focus on utility performance, reliability, and equity. Second, it implements ethics reform and transparency. And third, it supports just transition by creating a displaced workers bill of rights to protect and support those that are impacted by our transition to the clean energy economy.
Additionally, the bill focuses on equity by creating a $180 million per year energy transition fund of which $80 million per year is focused on workforce and contractor development—equity is baked into every section of the bill.

Community Impact
While this all sounds great on paper, Gillus knows the focus is on action. So, what does this all mean to the people in Illinois?
It means that Cheryl Johnson, from People for Community Recovery, has access to SEED CAPITAL money to build solar in her community.
It means the Rev Tony Pierce in Peoria has access to the PRIME Contractor Program that will provide Black Solar and Clean Energy contractors the resources they need to become lead contractors that create jobs in their communities.
It means that Troyce Polk from here in Chicago will have access to solar incentives to develop the projects he has been planning for years.
It means that Mike Atty, who has been a fearless champion for jobs in Metro East, has a workforce hub in his community that provides job training and support services such as tools, work clothes, and even childcare.
It means that Chris Williams, a third-generation African American electrician, can train the next generation of solar technicians in his community.
It means that Juliana Pino and Naomi Davis have the reporting, accountability, and transparency built into the bill to ensure the provisions reach those that it intends to help.
All of these community leaders were critical to creating this nation-leading legislation.

What's Next?
As Gillus said during the bill's signing event, "There is much work to do." Passing the bill is only the first part of the process. Now the hard work begins to ensure all communities benefit from the bill's provisions.
To ensure this happens, Gillus has several call-to-actions:
Invest in people and communities. The communities mentioned above is where innovation is happening—and they need continued support.
Engage community-based policy advocates and organizations. This bill proves that policy changes is real; if it can be done in Illinois, it can be done elsewhere.
Listen to communities, centering equity, building relationships, building trust, and engaging community assets. "What we did is replicable," says Gillus.
"We are at a monumental time in our history," says Gillus. "A time where a climate crisis, a once in a generation pandemic, and racial reckoning are all intersecting. We worked hard to ensure passing CEJA was a significant part of that solution and the good news is that CEJA can replicated and expanded on to help even more communities."

Edited by Macie Melendez, Editor In Chief of the Building Performance eJournal.
---
Stay Updated
Sign up for our mailing list to stay updated on all things home and building performance.
"*" indicates required fields
By submitting this form, I understand I am subscribing to an email list to receive ongoing communication from BPA.