Closing 2022 at ACEEE's Policy Forum and Looking Toward 2023
BPA's State Outreach Coordinator Zave Walter attended the ACEEE Energy Efficiency Policy Forum and now, after 15 years working in home performance, finally feels like the concept is going mainstream.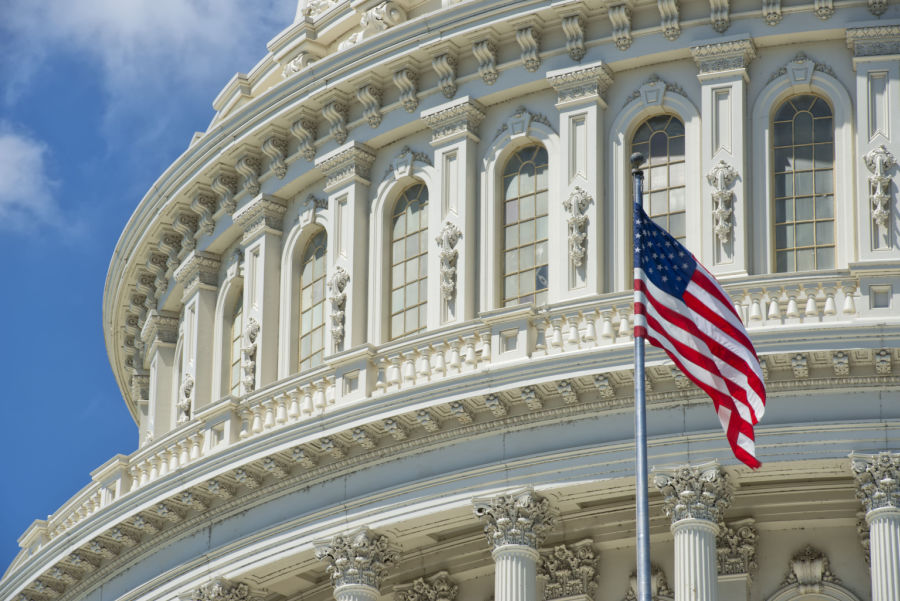 On December 8, I attended the American Council for an Energy-Efficient Economy (ACEEE) Energy Efficiency Policy Forum at the National Press Club in Washington, DC. I can honestly say after over 15 years working in home performance, I finally feel like the concept is going mainstream. All the hard work from a cooperation of associations and great people has culminated into a moment where the country realizes that humans deserve safe, comfortable, and affordable housing.
Senator Joe Manchin gave the keynote address at this event. He is one of the most dynamic politicians I have ever worked with. His personable nature, down-to-earth demeanor, and keen ear for listening immediately disarms constituents. In a political world where many are often pitching their agendas and trumpeting rhetoric, the West Virginia Senator spends more time talking about how to disarm partisan divide with common sense conversation. But, before I get to present day, let me first share my brief energy efficiency love story with the former Governor.
First, An Energy Efficiency Love Story
Senator Manchin and I met for the first time about 5 years ago at a bar in Martinsburg, West Virginia. It was a biker rally, and he just rode in from Fairmont where both of our ancestors immigrated to from Italy and Czechoslovakia. I was waiting patiently for an opportunity to approach him with my spiel, and my friend JB grabbed his attention abruptly saying, "Joe, I got a guy you need to meet." The elevator pitch was just as I practiced on thousands of homeowners before him, and he promised me he would get an energy audit on his own home.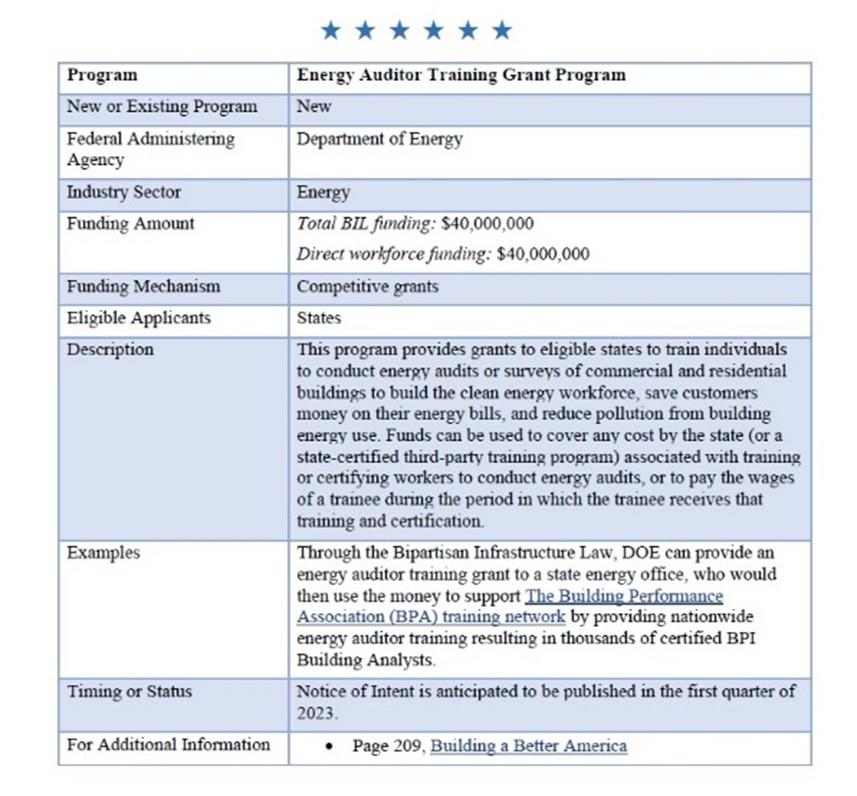 Over the years, I would shake his hand at various events and spend time talking with his amazing staffers educating on the nuanced benefits or details of residential energy efficiency dynamics. Our team at AnnDyl Policy Group would organize West Virginia lobby days to give a voice to our contractors, the Energy Office, and other stakeholders in program design and implementation. We trained over a hundred people including Realtors and high school shop students in BPI Building Science Principles using State Energy Program Funds, and expanded the workforce of certified energy auditors to handle almost any county in the Mountain State. Most recently, our Association and its partners helped enable a future influx of billions of dollars in investment by providing outreach and technical assistance to both state and federal stakeholders. Our work has only just begun with the advent of what seems like weekly DOE Requests for Information and guidance documents that require quick action, input, aggregation, and distribution to our Ally and Affiliate network.
Improvements in West Virginia
When I first moved to West Virginia, the state was ranked #49 on the ACEEE State Score card. Coming from NJ, which was probably closer to #4, it was quite the difference. There were no rebate programs, no 0% loans, and only a few die-hard RESNET HERS raters trying to move the needle. I was one of the only energy auditors available for existing homes, and through strategic partnerships with HVAC and insulation contractors, we probably did over a quarter-of-a-million dollars in whole-house retrofits for mostly environmentally focused customers in the eastern panhandle. Slowly but surely, with the help of the WV Home Builders Association Foundation, State Energy Office, and a handful of advocates from Energy Efficient West Virginia, we were able to institute trainings, educate decision makers, and prove out concepts that work for rural Appalachia.
After 6 years, the State of West Virginia has moved up to #44, so we must be doing something right. It pains me to boil down my efforts to that simple metric, but it feels fitting, and I honestly believe it accurately represents the traction made compared to other areas of the US. This movement isn't a quantification of our cumulative effort, but more of a representation to the saying, "If we can do it in West Virginia, we can do it anywhere." The lessons learned here have been invaluable, and the dichotomy is that our Senator was in a very pivotal position to help homes in America, but that may not get our state higher on the list in 2025. As long as we cure some of the major health and safety issues within rural housing stock and make it more affordable for folks to live where they want, I am happy to continue supporting the efforts.
ACEEE Keynote Address
The Keynote speech from Senator Manchin started off with his lived experienced having an energy audit and deep home retrofit completed on his own home. I'd like to think he got the idea from me, but he couldn't remember what company came in and did the work. For the sake of perspective, our Senator is part owner of one of the most successful coal suppliers in Appalachia. He has business interests in the Coal industries including Enersystems, which provides waste coal to a WV power plant. While it can be viewed as a conflict, it is apparent that even the most embedded politicians often find energy efficiency as a valuable resource. I believe he surprised many in the crowd with his centrist nature, and our CEO Steve Skodak commented to me about how impressive the Senator's speech was on putting aside politics and how it really resonated with him. This may be an indication of the larger picture of time versus the in-the-moment news clips and articles that often praise politicians today and villainize them tomorrow.
It is apparent that we are all in this for the long haul, as evidenced by many of my friends and colleagues in attendance at this event right in the middle of the holiday season. Steve Nadel and his staff facilitated a seamless event that felt almost curated in a very inclusive way. It was a real pleasure to get a private audience outside of the room with Senator Manchin, especially since I was accompanied by two of my favorite leaders (Larry Zarker of BPI and Steve Skodak of BPA) to help lend career building and camera support.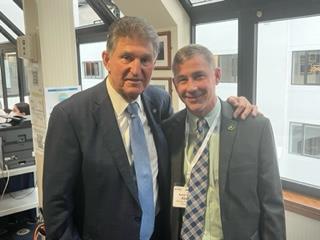 In hindsight, I feel like I behaved more like a power broker/fanboy than I probably should have. Had it not been for those two, I wouldn't be where I am today in my career. Larry Zarker has been with me since I first got certified many years ago and has counseled me through many iterations of my personal and professional life. He hosted me the night before with amazing hospitality, a great rack of lamb, and a beautiful fireside chat. Steve Skodak supports me in a way no other CEO has before, and I honestly believe he takes great personal satisfaction in helping me achieve my career goals. My regret of the day is not getting a picture with the three of us in it, and I should have immediately included them in the conversation in lieu of whispering in the Senator's ear about my support for the Mountain Valley Pipeline completion. We are all in this together building success through compromise, partnerships, and cooperation. At every opportunity, we should have the self-awareness to include, and make feel welcome, the others in the room.
Closing Out The 2022 Conference Season
The holidays are here, and this was an amazing event to close out the 2022 conference season. I am sure 2023 will have plenty of exciting events with the advent of many new, innovative programs that include a variety of stakeholders. We at BPA anticipate bringing together energy experts, insulation trades, the HVAC industry, solar installers, and all those people working hard to get consumer money on the street. There will be millions of work hours devoted to supporting state energy offices, advocates, weatherization institutions, trainers, and contractors guaranteed to result in reduced carbon emissions, energy savings, and humanitarian benefits. It is an exciting time to be part of something so important, so relevant, and so impactful that everyone wants to participate.
No matter what the skill set is, from laborer to lobbyist, everyone has a place in and around home performance. Making homes more healthy, cost-effective, and comfortable to live in cannot be outsourced, and all activities including hiring and facilitation happen at the local level. This is a boon of investment that can be specifically targeted to serve those who need it most, and most importantly, those that have been historically left out of such benefits.
Events such as this at the National Press Club certainly appear to be the epitome of discussion in a glass castle, but it has a real, direct connection to those on the ground. No one in attendance was there because of money, notoriety, or self-interest. We all realize the impacts of global climate change, the benefits of a robust labor market, and the value we bring to families living in substandard housing.
---
Stay Updated
Sign up for our mailing list to stay updated on all things home and building performance.
"*" indicates required fields
By submitting this form, I understand I am subscribing to an email list to receive ongoing communication from BPA.