Are You Using the Right Rebate and Tax Credit Language on Your Website?
The Inflation Reduction Act spiked consumer interest in energy efficiency home improvements and renewable energy projects, giving contractors an opportunity to capitalize on the increased attention.
To take full advantage of consumers' interest in energy efficiency rebates and tax credits, your website needs to use the same terminology homeowners use when they search for incentives online so they can find you and book your services. So how do you do that? The first step is figuring out what words and phrases your customers are typing into search engines like Google. This is called keyword research.
Energy Circle specializes in keyword research for high-efficiency home services businesses. We've dug into the data to figure out exactly how homeowners are searching for Inflation Reduction Act rebates and tax credits and, consequently, what keywords you should be using in your website content.
Here's what we found.
First Things First: Where the Data Comes From
There are several tools you can use to conduct keyword research. We use a tool called SEMRush, which gives us access to actual search queries so we can see how popular different keywords are. You can compare keywords based on a number of factors. For the purposes of this article, we're focusing on search volume. Keyword search volume refers to the average number of monthly searches that have been conducted for that word or phrase over the past 12 months.
Takeaway #1: Homeowners Know There Are Incentive Programs Out There
Keyword data doesn't just tell us how people are searching for a topic—it tells us whether they're searching for it at all. Low search volume shows that only a few people are searching for a particular term, which indicates a low level of interest or awareness.

There is good search volume for the terms "inflation reduction act tax credits" and "inflation reduction act rebates," which is strong evidence that consumers know there are incentives available and are looking for more details.
Takeaway #2: Consumers Don't Know What Incentive Programs Are Called
There are four primary incentives available to homeowners through the Inflation Reduction Act:
Energy Efficient Home Improvement Tax Credit (25C)
Residential Clean Energy Credit
High Efficiency Electric Home Rebate Act (HEEHRA)
Home Owner Managing Energy Savings (HOMES) Rebate Program
But when we look at the search volume for these terms, it's clear that not many homeowners are searching for them directly.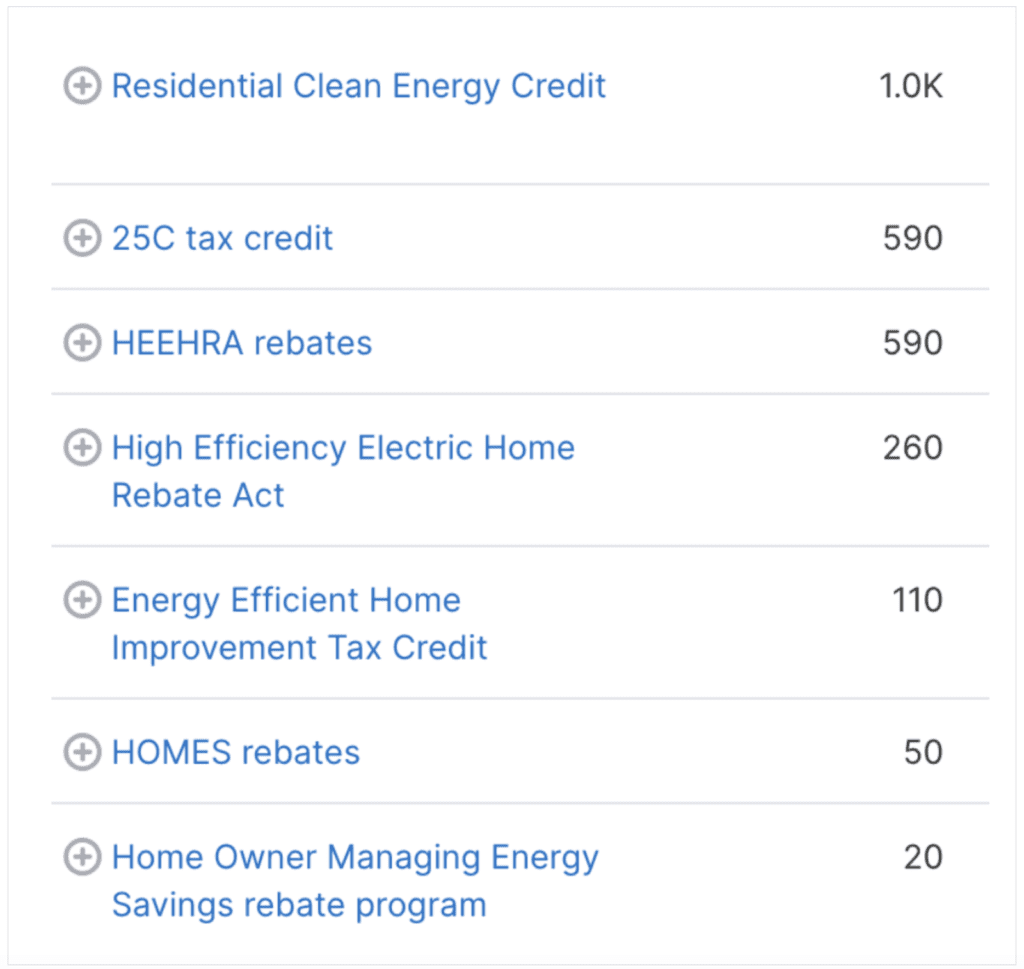 The Residential Clean Energy Credit (aka the solar tax credit) has been around for a long time, so it's not surprising that this search term has the highest amount of volume. The rest of these terms have much lower search volume, which confirms our suspicions that most consumers are not using official terminology when searching for Inflation Reduction Act incentives. It's interesting to note that the search volume for the HEEHRA rebates is significantly higher than the search volume for the HOMES rebates, but that's a topic for another article!
Takeaway #3: Most Consumers Search for Incentives by Service
When we modify the keyword with a specific product, we start to see a much higher search volume. It's clear, however, that there's more interest and/or awareness around incentives for some products, like heat pumps and solar panels, than others, like insulation.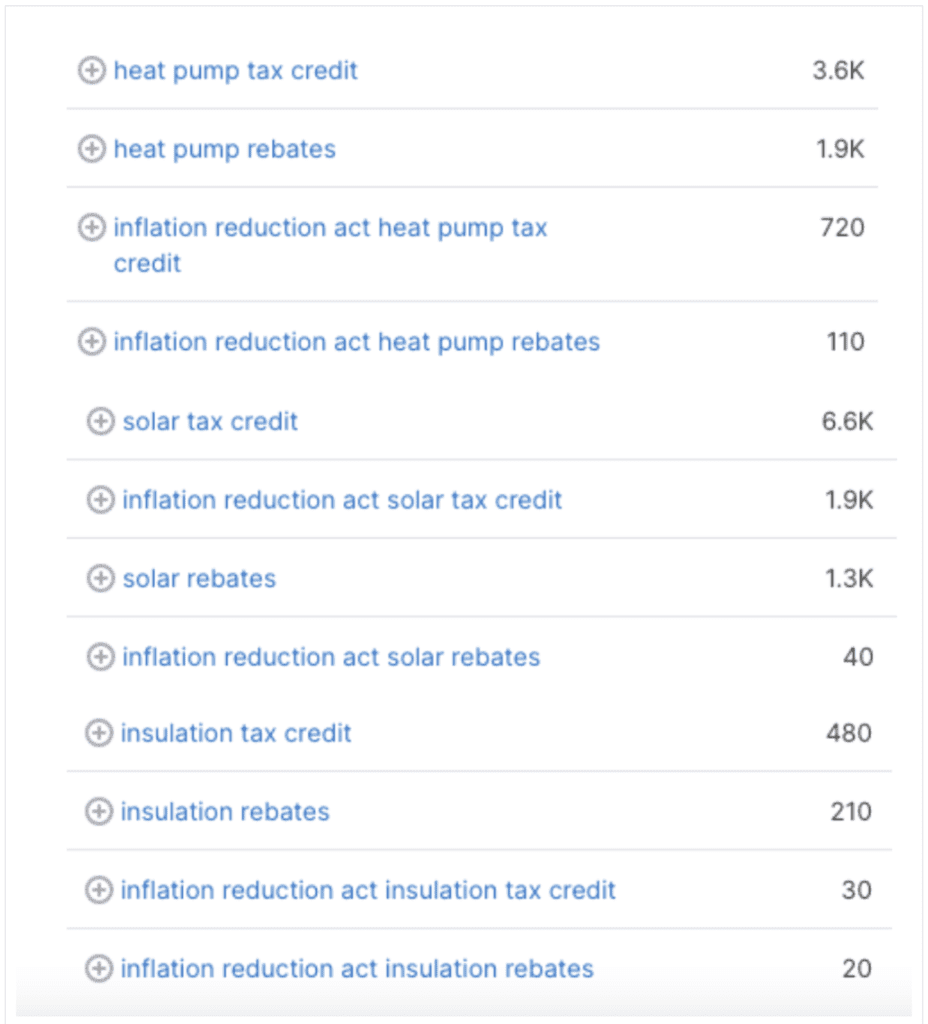 The Keywords You Need to Optimize For
To create awareness: The terms "inflation reduction act rebates" and "inflation reduction act tax credits" have high search volume but do not mention specific products or services. This indicates that searchers are interested in the incentives but don't know much about them. Use overarching terms like these to create awareness and share the details your customers are looking for.
To capture leads: Generic keywords like "rebates" and "tax credit" modified with a specific service are more likely to capture searchers who are further down the funnel. They know what service they want and are looking for incentives that could convince them to buy. Make sure you are targeting rebate and tax credit keywords for every eligible service that you offer to bring in valuable traffic from interested consumers.
Using the right keywords in your content will drive more traffic to your site and, ultimately, increase your leads.
This article was originally posted in the Energy Circle Blog and is republished with permission.
---
Stay Updated
Sign up for our mailing list to stay updated on all things home and building performance.
"*" indicates required fields
By submitting this form, I understand I am subscribing to an email list to receive ongoing communication from BPA.