Beyond Net Zero Lies the Great Frontier of Smart Energy
Let's assume you've done everything right and built a better-than-zero home. Adding the right smart controls can take the home up another level and satisfy the strictest "reach" code.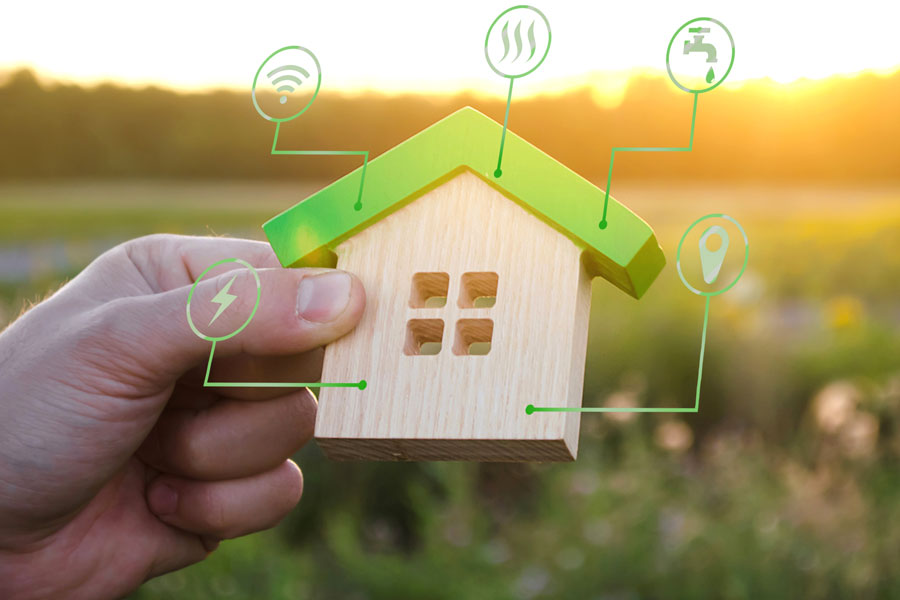 About a decade ago, I created a popular homebuilding infographic titled "the Green Building Pyramid." In it, I consolidated years of advice, interviews, and insights about the best "path" to a high-performance house.
It went something like this: start with the basics—siting, glass orientation, and location (proximity to work, play, and leisure activities).
From there, work from the ground up—insulated foundation, a tight envelope, advanced windows, and an unvented roof.
Next, bring in some efficient mechanicals, lighting, appliances, and electronics.
With all that complete, layer on smart devices and renewable power.
Things change. Most of the Pyramid still applies, but a larger percentage of mainstream builders now adhere to a similar workflow.
Builders don't need to be told, for instance, how important it is to seal the envelope fully. This has made the top of the Pyramid, starting with "Add Smart Controls" which is the next wide-open frontier in the evolution of home performance. The reason is threefold:
First: Building codes have become more demanding, especially in places such as California, where the revised Title 24 Energy Code is the strictest yet. The 2023 Code, for example, requires not only solar panels on every new home, but "storage ready" infrastructure for battery power. More jurisdictions also have adopted later versions of the International Residential Code. Some (again, led by California), are pursuing so-called "reach" codes, which exceed the requirements of local building officials.
Second: Clients do comprehensive online research about products and systems, often "pushing" builders toward more innovation. They want well-built, efficient homes.
Third: Smart controls have matured dramatically. The combination of interactive sensors, learning thermostats, WiFi-controlled HVAC and most recently, "smart" electrical panels has created numerous touch points where a home's energy footprint can be reduced.
A Closing Bonus
One of the things builders are finding is that smart controls, when integrated correctly, allow them to hand the keys of a new home to a buyer without giving the impression that they are simply walking away from the finished home. The new owner is literally in the driver's seat.
Kami Turky is CEO of Solar Energy Hackers, a solar startup based in Grand Island, New York. He notes that by adding in various smart and WiFi technologies, you can "future-proof" your home to a large degree. Turky describes himself as a "renewable energy engineer."
"There's a bunch of stuff you can do [to make buyers feel empowered]," Turky says. "All of which work together. Many people start with a smart home security system that can be updated as new technologies become available."
From there, he says, the world of smart controls in the home can expand to many other purposes. However, it's important to "put the emphasis on energy efficiency—let them know how this will help them save money on monthly energy bills AND reduce their environmental impacts."
With more heads-up control, he says, they're more likely to invest in renewable energy sources such as PV panels or wind turbines.
"Ultimately, you're giving them the ability to reduce their reliance on traditional energy sources."
And importantly, this ongoing efficiency "game" can be played without repeated visits from the homebuilder or smart control installer.
The Freedom Factor
Many of us now take for granted the ability to control an increasing number of products and systems in our homes from any place in the world with our smartphones.
This has had profound social as well as economic consequences that are just becoming clear. In a sense, it has set homeowners "free" from many of the risks and frustrations of home ownership. Not only can they operate their homes remotely, but they can also catch major problems before they become life-changing.
This has also enabled homeowners to share their homes with family members or short-term renters while they travel. At the same time, they have the ability to manage and reduce the home's overall energy demand. Let me give you five more examples:
Affordable Security. With low-cost cameras and motion sensors, we can take a month-long trip to visit family without wondering if squatters will occupy our living room when we return.
Remote HVAC. The combination of high-performance heat pumps with smart thermostats and APP-enabled scheduling We can correlate temperature and humidity sensors to "set and forget" our home's micro climate, knowing it will maintain just enough conditioning to keep pipes from freezing or growing mold from too much humidity.
Leak Detection. Smart leak detectors can monitor an entire home and even the underground irrigation system, shutting off instantly and notifying the owner when a leak is detected. Why risk a catastrophic pipe burst while you're at work or a kid's soccer game?
Smart Energy Panels. The ability to visualize energy use can have a big impact on behavior. This is even true among renters. Several companies have introduced home energy monitoring systems. Like leak detection, they typically require "training" to recognize the various devices in the home.
One new innovation, however, offers not only observation of power usage, but control: Schneider Electric's Square D Energy Center offers centralized power management right at the electrical panel. This is game-changing technology that formerly was only available for commercial properties.
Democratizing Sustainability and Resilience
I can remember 20 years ago that only luxury homes could afford a smart home system. Installing and programming one cost thousands extra, and every glitch sent the installer back to the home to troubleshoot. Accessing the interface was a job for an expert, not an option for the DIY buyer.
Those limitations are fading rapidly. Smart controls offer affordable, intuitive enhancements to home life.
It's an idea with wide appeal that's sure to resonate with today's homebuyers, who feel overwhelmed with the complexities of life. The goal is to allow technology to do what it's supposed to do: make our lives less frenetic and more sustainable.
It's a grand aspiration, one that's often superseded by tech that is too complex, too costly, or unnecessary. In this case, the success of the innovation can be put entirely in the hands of the end users.
One of the key aspects of smart controls such as the Energy Center is that they're designed to work flexibly with future equipment and code changes.
For example, the panels can not only accommodate solar arrays, generators and backup batteries, they also help the homeowner make sense of where and how the residents need critical energy. Which systems should be kept operational during a power outage and which can be temporarily shut down or put in standby mode?
For places such as California, where building codes are rapidly moving forward, smarter home control offers another powerful compliance tool.
While other States may move more slowly, California is riding high on its code successes. State officials claim that California's 2016 Building Energy Efficiency Standards in 2016 resulted in 29 percent energy savings for buildings over 2015, if built under those new rules. They're not likely to stop tweaking expectations.
The best way to get ahead of those is to harness the best tech available and put it in the hands of every future homeowner.
Learn more about the Square D Energy Center Smart Panel.
---
This article originally appeared on the Green Builder website and is reprinted with permission.
---
Stay Updated
Sign up for our mailing list to stay updated on all things home and building performance.
"*" indicates required fields
By submitting this form, I understand I am subscribing to an email list to receive ongoing communication from BPA.