BPI Building Analyst and Envelope Certifications Have Transformed into a Career Path
BPI came up with a novel approach that involves transforming the certifications into a career path starting with Building Analyst Technician (BA-T) and then offering the option to obtain the Building Analyst Professional (BA-P) designation.
If you haven't yet heard, the Building Performance Institute (BPI) Building Analyst and Envelope Certifications have now been updated into a career path.
I have taken the BPI Building Analyst written and field exams more times than I'd like to remember. In addition to recertifying several times over the last 12 years, I spent quite a bit of time as a Proctor. Watching someone walk through field exercises without being able to say anything was one of the least favorite activities in my career.
When it came time to get certified as a BPI HEP Energy Auditor and Quality Control Inspector, I found the activities very similar and a bit harder than expected. It always seemed like the biggest challenge were the "modifiers" in the written exams that gauge if the reader is paying attention. These detailed, written questions can pose a real problem when test-takers find written language difficult, or when English is a second language.
Why Make Changes to the Building Analyst and Envelope Certifications?
For years there were discussions about the overlap between the BPI Building Analyst and Envelope Certifications. So, in 2021, BPI brought together subject matter experts to review the two certifications and update them. They came up with a novel approach that involves transforming them into a career path starting with Building Analyst Technician (BA-T) and then offering the option to obtain the Building Analyst Professional (BA-P) designation.
What is the Building Analyst Certification?
Let's start with the basic knowledge base of the two credentials as they relate to the Building Analyst certification. The Building Analyst generally could do it all. The certification covered the basics of building science and diagnostic testing and data collection, as well as energy modeling and work scope development.
With the new changes, the BA-T covers the basics of building science including the why and how. Its job task analysis (JTA) includes diagnostic testing and data collecting. The BA-P enlarges upon those basic skills, translating them into what and how much. A BA-T will learn about the boundaries, terms, and factors to collect reliable data, while the BA-P will use that data in a methodical way to quantify attributes, assign values, and solve problems.
What is the BA-T?
The Building Analyst Technician is for people entering a home performance business that has received the BPI Building Science Principles certificate and are ready to get to work. Candidates attend training in person with online options to get familiar with whole-home assessments, standards, and interacting building systems. Once comfortable, they can challenge only a field exam with verbal questions. This would be especially helpful for those like me that get instant anxiety during long written exams, or for those with language barriers. John Jones, BPI National Technical Director states, "Technicians do technical work, they complete diagnostic tests and collect data. Most do not perform energy modeling and/or workscope development. When I was conducting in-field building science training for the BA certification, contractors would ask me why their technicians were being forced to do energy modeling and work scope development? The BA-T solves that problem."
What is BA-P?
The Building Analyst Professional is for BA-Ts who would like to take an additional step in their career. Building on previous knowledge and skills, a Building Analyst Professional will demonstrate additional abilities such as energy modeling, project administration, and in-depth analysis.
As a "house doctor," solving those hard to read moisture and airflow problems is the most important part of my job. It is often uncomfortable conditions such as hot upstairs, cold downstairs. Solving problems for customers will be key for our profession as construction quality and technology innovations continue to advance.
Comparing the BA-T and BA-P
The BA-T is limited to data collection and diagnostic testing, does not require the individual to analyze or evaluate the information collected with the exception of safety tests resulting in immediate safety risks, and is earned through a field exam, where the candidate demonstrates specific tasks in a specific fashion. These tasks include data collection and diagnostic testing commonly performed during a comprehensive home energy assessment.
While the hands-on testing rests in the BA-T, the aggregation, evaluation, and interpretation of those tests are covered in the BA-P written exam. A BA-T learns how to take combustion safety and blower door tests, but its up to the BA-P to interpret them and see if any further action or testing is required. A BA-T can measure the flow rate of a fan, but the BA-P will look at the system as a whole and determine exactly if or when, and how much ventilation is required.
Splitting these items in two can make the overall process more inclusive and equitable while giving individuals an opportunity to continue honing their skill set. Every good lumberjack stops to sharpen their axe once in a while, the same applies to a career in the evolving construction market.
How Do They Work Together?
We can layer the two credentials against the typical activities in a home over the course of a home performance project. The first work in the home will be done by the Building Analyst Technician. That individual will measure the home, identify what the energy assets are, inspect for any potential issues, and conduct a good survey of the entire situation. That information will be passed to the Building Analyst Professional, who will use it for project work scope design, energy modeling, and ultimately pass it to the customer for a purchase decision.
As a true professional, the BA-P credential digs deeper into understanding the home conditions and can provide a more comprehensive look using the whole house approach. This includes being able to break out the heating and cooling from baseload energy use, identify opportunities for water conservation, and a better understanding of indoor air quality. The inclusion of these items, which were not included in the Building Analyst certificate, will help increase value to the consumer.
Technology improvements over the last few years can reduce the amount of time needed to produce a scope of work. It used to take me 6 hours or more per Home Performance with Energy Star project in NJ to do the measuring, modeling, and paperwork. Some companies would split the tasks between an energy auditor, admin, and salesperson to share the workload. This often-added cost to a project when we sent more than one person to the home for different reasons on multiple occasions.
I'm sure my customers didn't like being disturbed by multiple visits to the home or the added expense, but it did enable an organization to play to the individual strengths of the workers. A salesperson may be great at modeling out the project, building out a good work scope, and explaining things to the customer. Speaking from experience, that same salesperson may be terrible at collecting ALL of the data, and often missed getting everything necessary for the program paperwork. Closer alignment of tasks to credentials may prove valuable in both contractor operations and program design.
A Deeper Look
Let's look at this in the context of a deeper process flow that could make sense for a home performance contractor, then we can separate the scenario across multiple contractors.
BPI's Building Science Principles is a prerequisite for the BA-T, so each Building Analyst Technician starts with a thorough base knowledge of building science The knowledge in the BA-T credential guides the worker all of the steps necessary to look the house, conduct diagnostic testing, gather the data, and ensure that all necessary information is correctly recorded.
Every Building Analyst Professional also holds a BA-T. A Building Analyst professional has all that same knowledge base but can also do additional activities, solve multiple step processes, and communicate best practices in various ways. Identifying the prospective savings, investment returns, and material or equipment requirements all extrapolate the basics into necessary components for project completion.
A Technician and a Professional can work together through a home performance project. For example, the Technician may be leading a crew and installing measures while the Professional is back in the office reviewing the test-out forms to see how well the project went.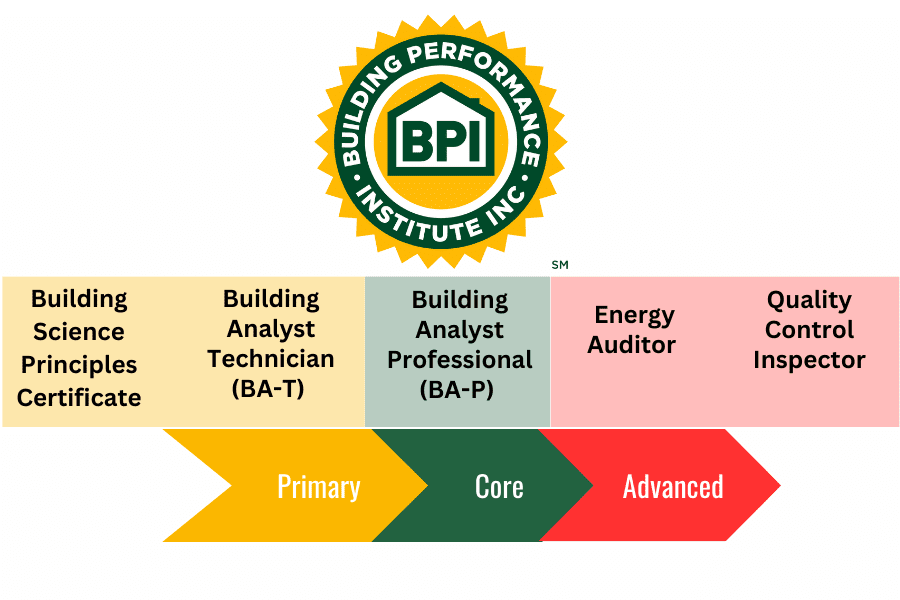 Credentials demonstrate competence to do a particular job. They are a critical part of important professions that we rely on every day, from IT to pharmacy technicians. Unfortunately, this is not widely understood in the context of home performance.
Getting a formal foundation in your craft and proving competency on an independent exam can be a catalyst of growth and personal confidence. These new credentials are designed to make getting started in the industry easier while providing a path forward to a rewarding career. Training and career education is not a "one and done" scenario, and every technician in a hot attic or wet crawlspace wants to see an opportunity for advancement.
Are you interested in more training for you or your staff? Visit https://building-performance.org/education/training/ to learn more about BAP, BAT, and all of the great industry credentials available from The Building Performance Institute www.bpi.org
---
Stay Updated
Sign up for our mailing list to stay updated on all things home and building performance.
"*" indicates required fields
By submitting this form, I understand I am subscribing to an email list to receive ongoing communication from BPA.