Contractors in Energy Efficiency: Brad Cockings
In honor of national Energy Efficiency Day, we're featuring one of our members, Brad Cockings. As the president of Titan ES, LLC, he works all year to make people's homes safer, healthier, and more energy efficient.
It's national Energy Efficiency Day and we're helping spread the good word on energy efficiency by publishing stories on our members—those contractors who work day in and day out to make people's homes safer, healthier, and more energy efficient.
Meet Brad Cockings
Brad Cockings is the president of Titan ES, LLC—an Oklahoma-based, Veteran and family-owned business that provides Oklahoma residents with energy efficiency upgrades, including blow-in attic and wall insulation, air sealing, and duct sealing. The Titan team has 24 years of construction experience and 12 years in the weatherization/insulation sector, and have weatherized more than 30,000 homes.
Titan has offices in both Oklahoma City and in Tulsa, so they cover the entire state. The company began doing weatherization services for local utility companies and while they still do that, they also do insulation and air sealing for commercial buildings and residences.
Brad's Goals
Brad's business goal is to see more money reach the homeowner. "We try to get as many homes we can done with the budget we're allowed," he says. "Right now, all of the money goes to the DOE and Department of Commerce on the state level, then to WAP [Weatherization Assistance Program] on the county level, but I'd like to see contractors, such as ourselves, get those funds to make sure we're putting as much as possible into the homes and it's not getting buried in administration costs."
In Oklahoma, this money is not privatized, and Brad believes that by giving funds directly to contractors, it can help whole-house programs continue well into the future, no matter if the administration changes or not. While he knows many details of IRA and HOPE for HOMES are still yet to be decided, he sincerely hopes the homeowner will stay top of mind. "If Joe Homeowner wants an energy audit, how will that be verified through these programs? How will contractors be vetted?" he asks. "We'd like to see these new funds extend to give opportunities to contractors."
Brad's Challenge
Brad's biggest challenge at Titan is training, both from a financial and functionality perspective. While his team consists of BPI-certified contractors, he says there's always more people that they want to get trained and certified. It's especially difficult, though, because they need every man and woman on deck, so to speak.
"It costs money for me to pull them off the job to do the training, then there's the actual cost of the training…it can be challenging," says Brad. "Any kind of funding through IRA that can offset that would be amazing."
While training will be highly beneficial to him and his business, he also notes that it will positively impact the industry in a big way.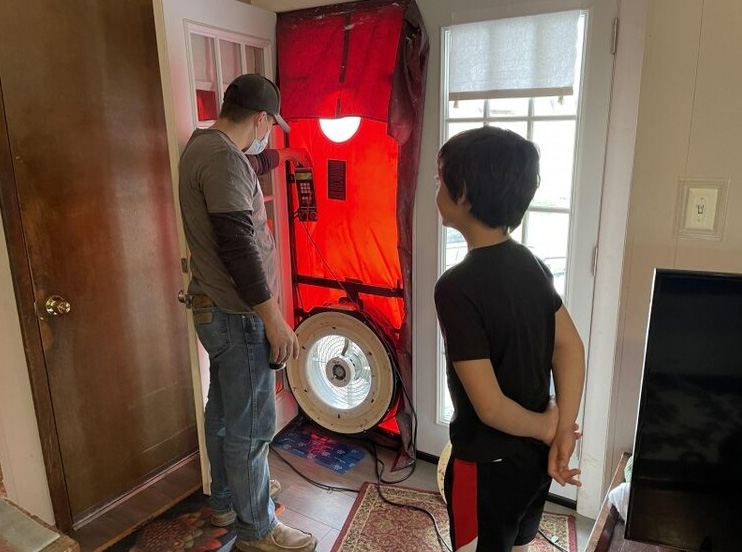 How the IRA Can Help
IRA contains $200 million that's allocated for state energy offices for training and education to contractors involved in the installation of home energy efficiency and electrification improvements. "I know there's a lot of money being invested in solar and renewables," says Brad. "But whole-house improvements can have an immediate impact on people financially, and as far as the comfort of their homes."
The $8.8 billion in IRA home energy efficiency and electrification rebates also give people an incentive to reach out. IRA incentives allow the public to seek out a service they normally wouldn't because in their mind they have higher priorities, or more tangible items, they want to invest in. "But now they can get rebates and tax incentives," says Brad. "It not only is good for energy reduction on the grid but also education for the public. Once they get the work done, they can feel it and they can see it."
Brad says that when he tells people that his company does weatherization, he often gets the "What's that?" response. He's hopeful now that the IRA will aid in educating the public. "It will teach them that their home is a living, breathing entity that can be improved upon," he says.
"There's a lot of good that's going to come out of IRA. It helps bring down the cost for the end user and it helps the industry make advances."
---
Stay Updated
Sign up for our mailing list to stay updated on all things home and building performance.
"*" indicates required fields
By submitting this form, I understand I am subscribing to an email list to receive ongoing communication from BPA.