5 Green Living Strategies Behind the Highest Solar Decathlon Scores
The U.S. Department of Energy Solar Decathlon® Build Challenge has been pushing student teams to design and build highly efficient homes powered entirely by renewable energy since 2002, challenging them to earn up to 1,000 points by incorporating new and innovative strategies to boost their scores. The 2020 Build Challenge showcased many eco-friendly strategies that not only helped boost team scores but also demonstrate a range of practical approaches to residential living that are likely to become more common in a decarbonized future.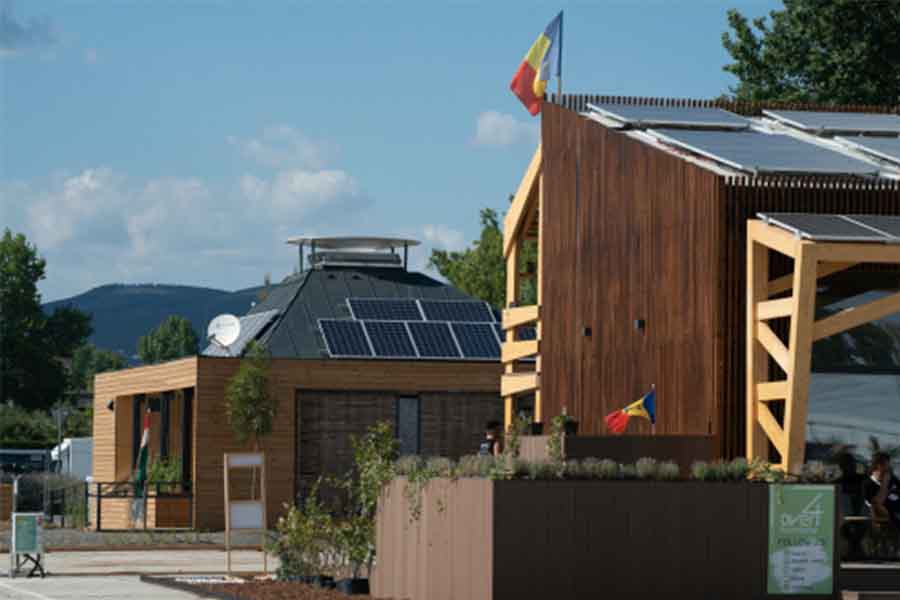 For almost two decades, the U.S. Department of Energy Solar Decathlon® Build Challenge has demonstrated high-performance building trends that are ready for widespread market adoption. This biennial collegiate competition has been challenging student teams to design and build highly efficient homes powered entirely by renewable energy since 2002.
Back then, a home powered with only sunlight was still a novel concept.[1] Since then, the competition has given the next-generation workforce hands-on experience with home energy upgrades, such as home automation controls, energy-recovery ventilation (ERV) systems, back-up power storage, and of course, insulation, insulation, and insulation.
Like the Olympic decathlon, the Solar Decathlon consists of 10 contests. Each Solar Decathlon contest is worth a maximum of 100 points, making the highest possible score 1,000 points. And the students always deliver new strategies to earn more points.
Some Solar Decathlon contests are considered "measured," which means they are scored through a combination of performance monitoring and task completion, like running a load of laundry or boiling water on the stove. Other contests are "juried," which means a panel of industry professionals assigns each team points after evaluating student presentations and written submissions.
As always, the Solar Decathlon jurors were wowed by the student teams at the 2020 Build Challenge, which was held virtually in April 2021. The eco-friendly strategies selected by the students not only helped boost team scores, but also demonstrate a range of practical approaches to residential living that are likely to become more common in a decarbonized future.

Innovative Heat Pump Deployment
The overall competition winner, the University of Colorado Boulder (CU Boulder), showcased a range of building performance improvement strategies in their zero energy ready SPARC House. Winning first place in the Architecture Contest, this design represents an achievable mountain town housing solution for seasonal workers, first-time home buyers, and permanent residents alike.

The SPARC House exterior showcases the CU Boulder team's thoughtful siting of two of the home's exterior heat pump units.
Photo from the U.S. Department of Energy Solar Decathlon/CU Boulder

The Solar Decathlon juries were impressed by the team's use of three single-zone heat pumps to allow the home's three modules to be thermally controlled separately. Furthermore, the team demonstrated smart siting of the outdoor units, placing two units along the southern façade to take advantage of solar thermal gain and extend the cold-climate operation range of the HVAC system. This innovative heating strategy functions alongside an ERV system to retain heat and preserve indoor humidity, increasing the home's interior comfort in the dry mountain climate. The SPARC team also earned bonus points for addressing cyber-attack threats through local device controls and incorporating an exterior pine-tar sealant, which was historically used by Coloradans to waterproof their skis.

Equity and Access Considerations
Students from the University of Waterloo worked with the Chippewas of Nawash Indigenous community and Habitat for Humanity Grey Bruce to create the Warrior Home. Not only did the students partner with local stakeholders to identify needs of families residing on the Neyaashiinigmiing Reserve, but they also performed detailed cost-benefit analyses to inform their design choices.
The jury was impressed with the Warrior Home team's "spot on" approach to balancing efficiency and affordability. For example, the team determined that a home battery system was not worth the investment, so they instead prioritized thermal control of the enclosure by insulating the house from foundation to roof. Such strategic decisions led to the Warrior Home's impressive ability to hold interior temperatures within comfort tolerances for 48 hours during a power outage, as well as a first-place finish in the Affordability Contest.

Biophilic Design Principles
For their Solar Decathlon entry, Mojave Bloom, Team Las Vegas created a home that supports veterans who are dealing with post-traumatic stress. The team's approach blended the sustainability requirements of the competition with best practices from environmental engineering, behavioral health, and architectural psychology to create a refuge from the outside world.
Mojave Bloom's sliding living green walls and operable window walls allow the user to manipulate space and control their own environment depending on weather conditions, social activities, and personal needs. Photo from the U.S. Department of Energy Solar Decathlon/University of Nevada, Las Vegas

The resulting home, which took first place in the Operations Contest, reduces common triggers for former service members. For example, the team chose recycled denim insulation for the ceilings to get the added benefit of acoustic absorption. They centered the living space around an interior courtyard, which provides controlled access to the outdoors, protection from the harsh desert environment, and a 360-view of the home's interior for increased situational awareness. Thoughtful features, like a living wall and circadian lighting, create a space where the homeowner is truly sheltered and supported.

Personalized Alexa Configurations
The University of Illinois team's Solar Decathlon entry, ADAPTHAUS, experimented with the concept of flexibility by giving residents configurable home modules to suit their changing needs over time. While targeted at individuals entering the housing market in Urbana-Champaign, ADAPTHAUS can expand to suit a growing family or downsize for empty-nesters later in life. Even the home's decking, canopy, and exterior façade are installed as modular elements that are independent of the house structure.
The team impressed jurors by taking home automation, personalization, and environmental control to the next level. ADAPTHAUS, which won first place in the Comfort and Environmental Quality Contest, can easily adapt to suit the homeowner's needs by integrating with the Amazon Alexa app. The team configured the user interface to add new capabilities, including appliance control, smart plug load management, and gamified energy consumption tips. Hey Alexa: How clever was that?

Top-to-Bottom Building Envelope
By this point, it's probably no secret what led Team Weber State to a first-place finish in the Energy Performance Contest. However, it is worth noting that the team from Ogden, Utah, achieved the highest energy performance scores in the competition despite the fact that their entry was a six-bedroom, three-bathroom, 2,450 square-foot traditional craftsman-style home.
The team built the foundation and basement walls with insulated concrete forms, a product that provides rigid foam insulation while also serving as the forms for pouring the cement structural core. The main level's exterior walls are framed with structural insulated panels (SIPs), a wall system that has very minimal thermal bridging and excellent insulation properties. Then, they topped off the home with raised heel roof trusses designed to allow full-depth insulation in the attic extending all the way out to the edge of the exterior walls. This helps to keep conditioned air inside the home and prevent the leading cause of ice dams on homes in Utah.


Students from the University of Waterloo sought to ensure occupant comfort with a balance of personal space, communal space, and functionality for each room in their Warrior House. Photo from the U.S. Department of Energy Solar Decathlon/University of Waterloo

These strategies represent just a few of the energy-smart approaches employed by this year's Solar Decathlon competitors. Team Netherlands from the Hogeschool Utrecht University of Applied Science schooled industry pros by not just reducing their home's carbon emissions, but also considering the house's circular economy life cycle and nitrogen emission footprint. Team Chile used a novel robotic manufacturing system to assemble their Casa FENIX entry to scale and simplify home manufacturing in the wake of natural disasters. And while the Kansas State team was busy taking 10 more orders for its Net Positive Studio home, the University of Denver team demonstrated the first existing home retrofit in the competition's nearly 20-year history.
The next Solar Decathlon Build Challenge, which for the first time in the program's history will be an all-local build format, is coming to a community near you in 2023. Already, the next group of green builders are developing creative solutions to solve real-world issues in their communities. Can you imagine what brilliant strategies the next class of Solar Decathletes will incorporate? A smart insulation approach may be the only guarantee.
[1] https://www.seia.org/solar-industry-research-data
---
Stay Updated
Sign up for our mailing list to stay updated on all things home and building performance.
"*" indicates required fields
By submitting this form, I understand I am subscribing to an email list to receive ongoing communication from BPA.