Bringing Awareness to Home Energy Efficiency
Isaac Smith and Arbor Otalora-Fadner share the importance of bringing awareness to home energy efficiency.
By: Isaac Smith & Arbor Otalora-Fadner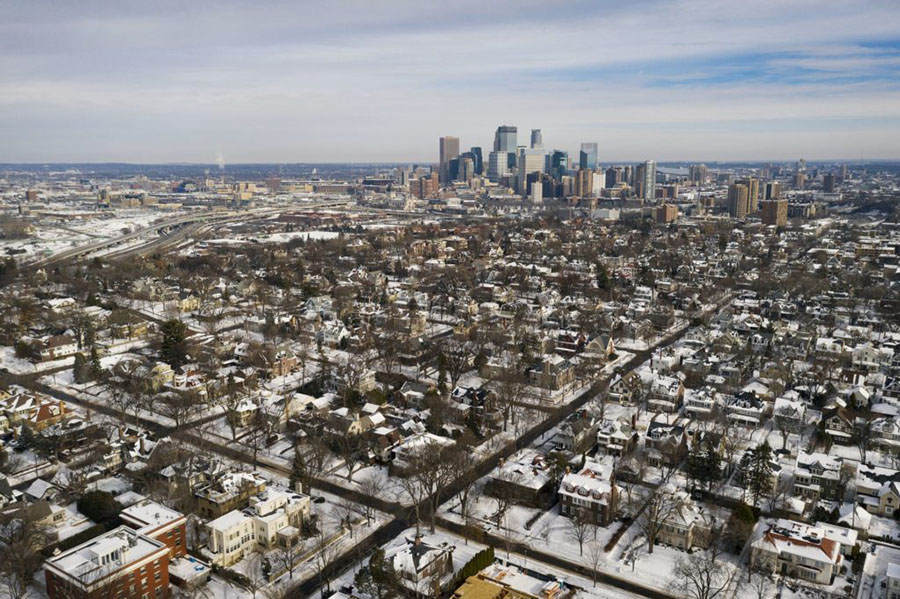 January 30, 2019 was the most recent time a polar vortex rolled over Minneapolis. Many schools closed for days as ambient air temperatures cratered. For a time, the city was colder than the North Pole.
Minneapolis has 420,000 residents and is one of the nation's biggest "cold cities." Residents have come to expect high energy bills in winter to stay comfortable. Part of the high cost comes from the generally low energy efficiency of Minneapolis homes: 90% of single-family homes were built before the adoption of energy codes, 27% have zero wall insulation, and 67% have inadequate attic insulation. Forty-two percent of heating systems have low efficiency. These residential energy inefficiencies add up—currently, 40% of citywide emissions come from the residential building sector.
In 2013, the City of Minneapolis committed to reducing greenhouse gas emissions by 80% by the year 2050. Tackling such a large goal required looking at the biggest areas of opportunity, which led policy makers to consider reducing emissions from the residential building sector.
Early data proved promising. If homes with inadequate insulation received retrofits, annual residential emissions would drop by 51,000 tons of carbon dioxide equivalent. Further, these homeowners would enjoy a collective $7.8 million in energy bill savings every year.
Goals Backed by Policy
The City set a goal of 75% of homeowners participating in whole-house energy retrofit programs by 2025. Simply mandating energy efficiency retrofits was not a workable option. Instead, the City needed a market-driven policy to encourage homeowners to make energy improvements.
There are optimistic signs about consumer behavior when people have information on energy efficiency. Studies have shown a 2%–6% sales premium for energy efficient homes when the efficiency was well advertised. Almost 5,500 homes are bought and sold each year in Minneapolis. This means thousands of opportunities each year to build consumer awareness of home energy efficiency. The City's vision was that a market with enough informed consumers would begin favoring energy efficient properties. This would then spur more energy improvements as homeowners saw their investments rewarded at resale.
The City began working with nonprofit Center For Energy And Environment (CEE) in 2019 to design an energy disclosure policy to set this in motion. A key purpose of policy development was to engage stakeholders early. Stakeholders included various City departments, the real estate business community, housing inspectors, contractors, and the public. The engagement paid off, and on February 15, 2019, the policy unanimously passed. The full energy disclosure policy came into effect on January 15, 2020.
The finalized policy involves three components: (1) adding energy efficiency items to home inspections; (2) making the data available to the public; and (3) facilitating action toward improvements.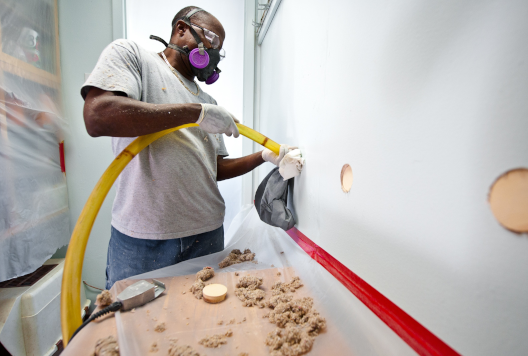 First, housing inspectors collect energy efficiency data as part of their normal presale inspection. Homes in Minneapolis already received presale inspections through the Truth in Sale of Housing (TISH) program—the City only needed to add energy efficiency items to the TISH inspection list. This proved to be a low-cost, high-compliance way to source energy data.
TISH inspectors assess four key physical assets of homes for energy efficiency: wall and attic insulation, storm windows, and heating systems. These assets can all be cost-effectively improved for high increases of efficiency. CEE designed the rating system with Minneapolis's older housing stock in mind. Every home, no matter what age, can reach its own top score of 100 by completing all the recommended upgrades. A home with a score of 100 would thus have full wall and attic insulation, well-fit storm panes in all windows, and an efficient heating system.
After the assessment, the data is shared with consumers through an Energy Disclosure Report. The report communicates the scores of the four assets, recommendations for improvement, and contact information for next steps. The Energy Disclosure Report, included in the full TISH report, is available publicly online, at home showings, and reviewed at closing.
Finally, the policy facilitates action by helping homeowners make energy improvements. Any home improvement project can be a complicated and expensive process. The City worked with CenterPoint Energy and CEE to address this issue by offering a free energy advisor service. CEE's Energy Advisors provide personalized coaching on energy questions and the improvement process. They can recommend quality contractors who offer fair pricing. The service can also connect homeowners to rebates and financing offered by the City, CenterPoint Energy, or CEE to help with the initial costs.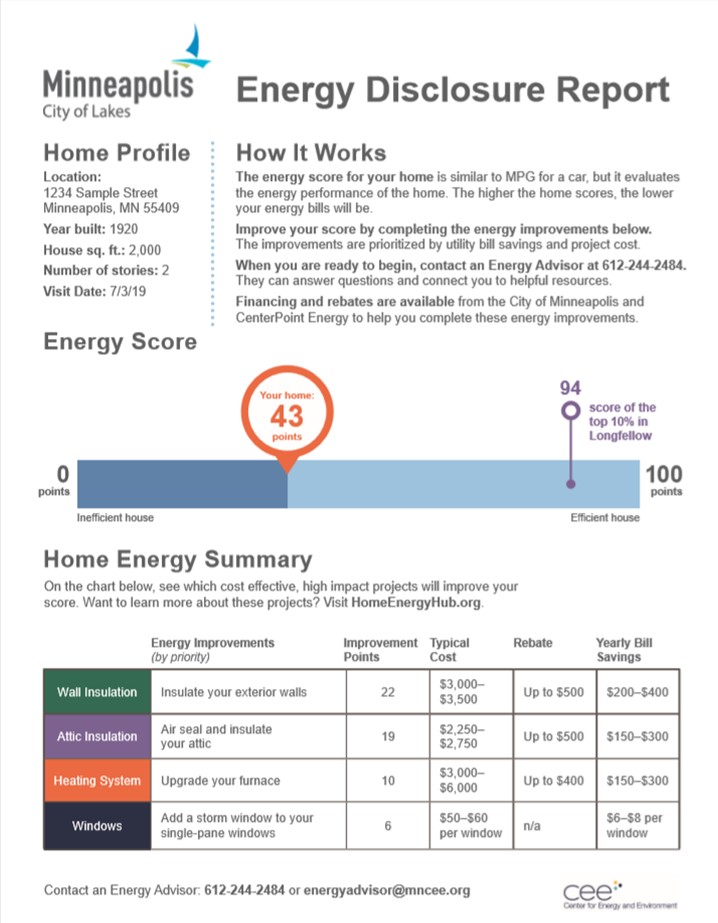 Awareness
The City and CEE began a campaign to build awareness when the policy went live in January 2020. General consumer awareness efforts included news articles, neighborhood posts, and bill inserts. The City and CEE also continued to engage real estate professionals, who are key players in the home buying and selling process. Webinars and other outreach helped address their concerns and build more understanding of the policy. Additionally, CEE started a direct mail campaign to new homeowners. Each new Minneapolis homeowner received three separate mailers with information on next steps. Those materials also refer homeowners to a website built by CEE (mncee.org/tish), which offers even more detailed information on how to proceed.
2020 was a challenging year to build and hold attention. However, as of October 2020, the results are trending the right way. Six thousand homes have received mailers. More than 200 homeowners have contacted Energy Advisors, and over 100 homeowners have moved forward with energy improvement projects. Residential energy efficiency remains a huge opportunity for reducing emissions. The City of Minneapolis, CenterPoint Energy, and CEE will continue their efforts, confident in the policy's ability to advance climate goals.
---
Stay Updated
Sign up for our mailing list to stay updated on all things home and building performance.
"*" indicates required fields
By submitting this form, I understand I am subscribing to an email list to receive ongoing communication from BPA.