The Latest From The Field – IHACI 2022
The Institute of Heating and Air Conditioning Industries (IHACI) is a nonprofit trade organization representing the Heating, Ventilation, and Air Conditioning (HVAC) industry. Once a year, IHACI hosts a tradeshow to showcase the latest products in the industry and provide educational sessions for its members.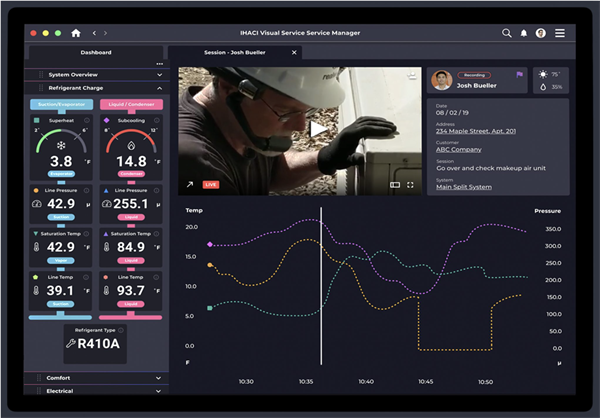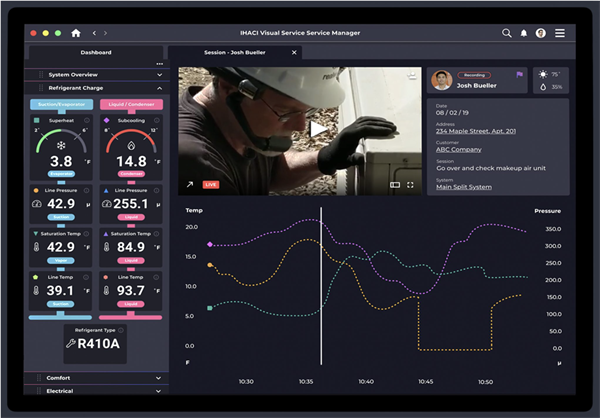 The IHACI Conference 2022 – Pasadena
The Institute of Heating and Air Conditioning Industries (IHACI) is a nonprofit trade organization representing the Heating, Ventilation, and Air Conditioning (HVAC) industry. Once a year, IHACI hosts a tradeshow to showcase the latest products in the industry and provide educational sessions for its members.
I attend the conference to keep current on trends and new products. One of my objectives is to see if manufacturers and suppliers are keeping up with policy changes in the state. The last IHACI conference I attended was in 2019. One of my primary goals then was to see if heat pumps were making headway and what new products were available.
IHACI 2019: Where Are the Heat Pumps?
Efficiency First has promoted the benefits of heat pumps for space heating for several years now. In 2019 I was curious to see if the HVAC industry was supporting their adoption.
I still recall my first impressions of that event. The tradeshow floor was familiar, with many vendors hawking their wares from their ten-foot by ten-foot tradeshow booths. All the major manufacturers were there. It looked to be a typical tradeshow.
As I wandered about, I kept an eye out for heat pumps. I had expected to see them everywhere. I was disappointed to have to search to find any. It seemed that furnaces and air conditioners were still the dominant solutions. A couple of manufacturers had heat pumps in their booths, but you had to look to find them.
The exception was Bosch, which was showcasing its new heat pump solution for the US market. This unit is a variable-capacity heat pump packaged as a conventional-looking product. Bosch offers two models for residential applications, a two-ton/three-ton unit, and a four-ton/five-ton unit, which keeps things simple. I was pleased to find a new variable-capacity heat pump amidst a sea of furnaces.
When I asked other manufacturers about heat pumps, the salespeople said these were high-end products for specific installations, such as regions where natural gas was not readily available. In short, heat pumps were not high-volume products for them yet.
Fast-forward to 2022: The Difference a Couple of Years Makes
COVID put the conference on hold for 2020. The 2021 conference required the typical COVID precautions— masks, social distancing, etc. I did not make the 2021 show.
Things have changed, and I was excited to attend this year to see what has transpired since 2019.
As I made my way into the tradeshow auditorium, I was shocked by how much of a difference a couple of years can make. Everywhere you looked, there were heat pumps in all forms and shapes. Ductless mini split heat pumps, more traditional split heat pump systems, window mount heat pumps, and, surprisingly, heat pump water heaters.
Inverter technology has changed the game and allows today's heat pumps to achieve incredible efficiency. I saw one unit rated at SEER 42 and HSPF 15. Even as an advocate who keeps up with the industry, I was unaware heat pumps had reached that level of performance.
More than Just Space Heating
Heat Pump Water Heaters (HPWH) at an HVAC trade show? At first glance, it seems a bit odd. Dig deeper and the reason is apparent.
California aims to replace gas water heaters with cleaner, more efficient heat pump water heaters across the state. To meet this lofty goal, the state is offering significant rebates for converting.
The challenge? The installation of heat pump water heaters often requires both electrical and plumbing. Plumbers can't do the electrical work to install them, and electricians can't do the plumbing.
However, because installing air conditioning systems requires both plumbing and electrical work, the California State License Board (CSLB) C-20 contractor license allows HVAC contractors to legally do both as part of their daily operations. This makes HVAC contractors perfectly positioned to install HPWHs. The powers that be recognize this fact and encourage HVAC contractors to add HPWHs to the list of things they offer. The rebate folks and HPWH manufacturers are hoping HVAC contractors will play a big role in getting the millions of HPWHs installed.
By the way, did I mention that California will eliminate the sale of gas appliances in 2030? It makes a ton of sense to focus on heat pump space and water heating now, as eventually, this will be the only choice.
Electric Service Vehicles?
Some other cool things were on display too.
Electric fleet service vehicles were a new addition. Short-haul electric box trucks, vans, and service trucks all make sense for HVAC service and installations. Use them during the day and charge them at night. It's nice to see this sector getting some attention.
Some Other Cool New Ideas
I spend most of my time behind a computer these days, but my inner contractor geek is still alive and well. I thought a handful of products at the trade show were great ideas that I wanted to share.
Disclaimer – we have not received any compensation from these manufacturers, nor is this a comprehensive list of the many offerings at the show. Typically, we don't promote a specific manufacturer or product. The best way to see the full range of products available now is to attend the event yourself.
The following are just a few things that I found exciting and wanted to share.
Visual Service. Here's a great idea – allow a seasoned veteran of the industry to support a new generation in the field virtually. This is precisely what Virtual Service aims to do. This effort, supported by IHACI, uses a digital interface to allow an HVAC technician in the field to share data remotely with an expert. The tech hooks up Bluetooth-enabled test equipment and then connects to a remote diagnostic session to determine what is happening in real time. Sessions can be logged for future reference or training. A report is available to allow the sales team to use measured data in their proposals. I thought this was one of the most impressive technologies at the show, and I see the opportunity for using it for a wide variety of applications.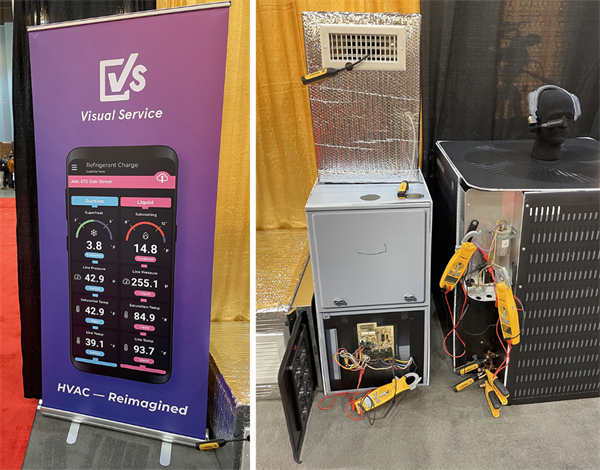 SmartLock Fittings. Refrigeration leaks are a real problem. Not only do they affect the performance of the equipment, but refrigerant leaks also have severe negative impacts on the environment. Usually, installing air conditioning requires joining refrigeration line sets by "brazing" them with heat. Brazing takes skill, a clean work environment, and nitrogen gas to do it right. Mini splits rely on flare fittings, which if done wrong can cause leaks. What if you could replace brazing and flare fittings with a compression fitting instead? The plumbing industry has relied on compression fittings for decades. Now that technology has been adapted for refrigeration line sets. This is a simple, obvious, and excellent solution.
AirZone Controls. Everyone loves their fancy thermostats. The problem is many of the newer HVAC units on the market require their own communicating thermostats to provide complete functionality. The result is that the new, super-efficient, variable-capacity units will only work if you use the manufacturer-supplied thermostat. It's no fun to tell your Nest thermostat-loving client that they can't use their Nest with their new system. Some manufacturers provide options but not all. AirZone's Aidoo Pro resolves this problem with a simple-to-install device that effectively translates the manufacturer's commands to the third-party thermostat. This technology allows complete control of the inverter features. In short, the third-party thermostat provides full functionality without the manufacturer's proprietary thermostat. I can think of more than one person I know who could benefit from this technology.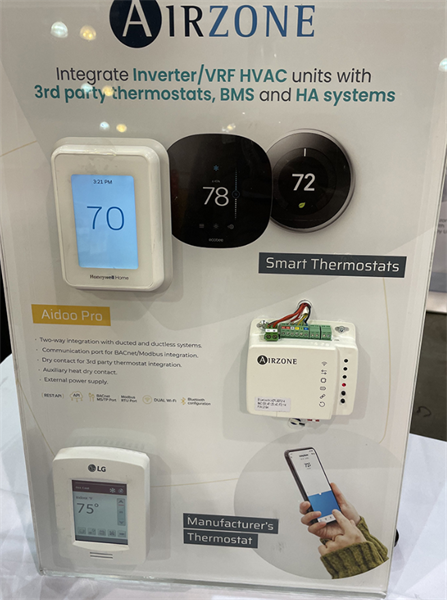 Whisper Fresh Select from Panasonic. Many builders and HVAC contractors use continuous-running bath fans to meet ventilation standards. The problem is, if you remove air from the building, new air must come in to replace it—and who knows where that air is coming from? Intended to compliment exhaust-only systems, Whisper Fresh provides filtered fresh air that matches the exhaust air output and creates a whole-home filtered ventilation solution. The best part is that you can install a filtered ventilation system for a fraction of the cost of a dedicated ventilation system, such as a Heat Recovery Ventilator (HRV). A filtered ventilation system can't condition the air like an HRV or ERV, but is an excellent solution in milder climates.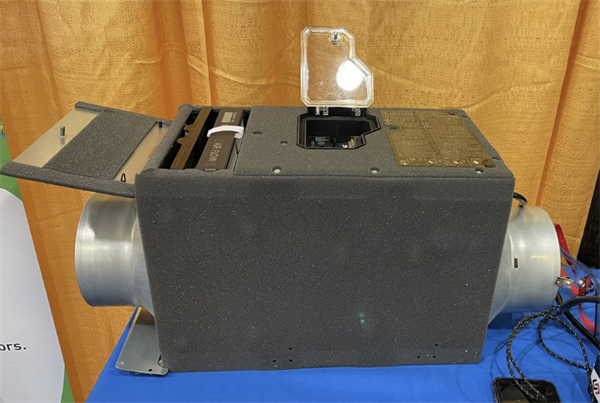 Whisper Air Repair from Panasonic. Covid made people pay attention indoor air quality in way they hadn't before. Panasonic responded with a new product called Whisper Air Repair. Technically, Whisper Air Repair is a spot air purification device that uses nano X-charged technology. In simpler terms, this standalone device uses moisture in the air and charged particles to purify contaminated air. Installation is super simple — mount it in the ceiling and provide power. It does not require ducts or hoses or anything. It is self-contained, maintenance-free, and uses a standard 110v source. The power draw is minimal, and the unit is silent. Whisper Air Repair deodorizes, inhibits pollutants, and moisturizes. Got a stinky room in your house? Mudroom, conference room, teenager's room? Why not add some spot purification and solve the problem? How cool is that?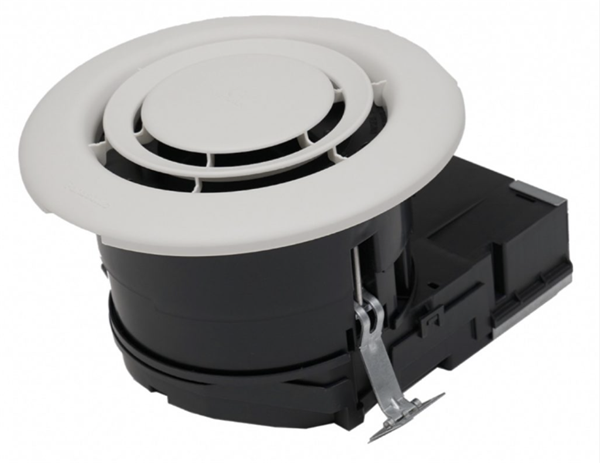 Overall, I was very encouraged by my 2022 IHACI tradeshow experience. Heat pumps are making huge strides, and there are all kinds to choose from, including heat pump water heaters. The show was busy, and the sessions I attended were informational. There were some interesting new products on display, and attendance suggests that people are more than willing to participate in these events in person again. It feels good to get back to normal and focus on the industry and long-term goals. If you are interested in staying abreast of trends in the HVAC industry and like to see new products, I think this is an excellent use of eight hours of your time.
This article originally appeared on the EFCA blog and is reprinted with permission.
---
Stay Updated
Sign up for our mailing list to stay updated on all things home and building performance.
"*" indicates required fields
By submitting this form, I understand I am subscribing to an email list to receive ongoing communication from BPA.