It's Time to Think About Heat Pumps
Heat pumps are becoming an attractive option for homes, especially those with older, inefficient heating systems. Heat pumps work like refrigerators and come in different types, such as ground and air source. They are highly efficient, can handle low temperatures, and have improved greatly in recent years. Ductless systems are an easy addition for homes and can help offset heating loads and provide cooling. Heat pumps are a great option for reducing energy demand and lowering heating costs.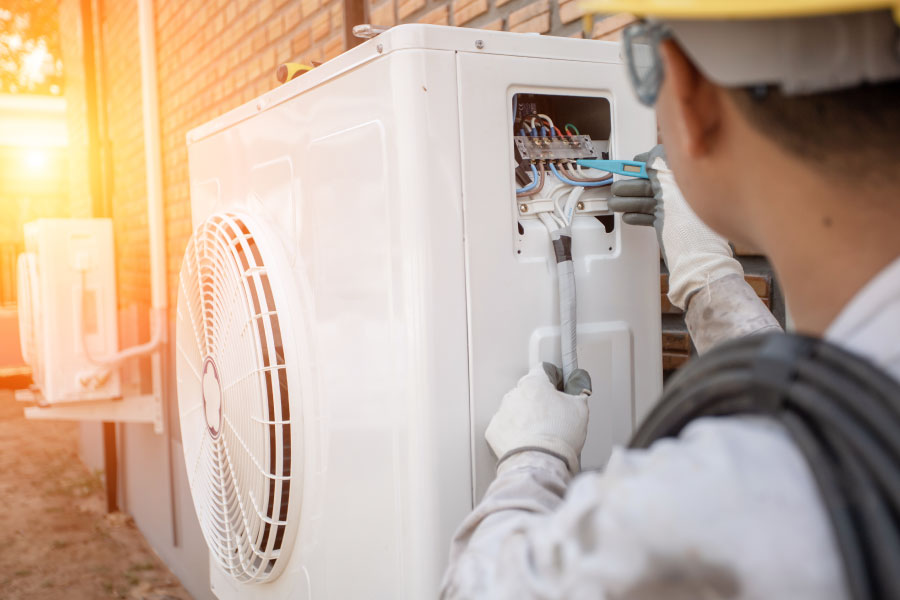 If you've spent your career working in this industry, you will have a basic idea of what a heat pump is. For those of you just starting, it's a refrigerator. Yes, that thing in your kitchen is a heat pump. Heat pumps work just like a refrigerator except it's a split system: one part of it sits outside or in the ground, and the other part is inside. It could mount on your wall, it could sit on the floor, or it can tie into ductwork that is already in the home. The outdoor unit is moving the heat either into the house or back to the outside/ground. The indoor unit is moving air that gets either heated or cooled down by refrigerant flowing to and from the outdoor part and the indoor part.
The refrigerator in your kitchen works in just one direction by pulling the heat out of the refrigerator and moving air underneath over coils. It's a dusty and crusty spot you'll see when you move that 35-year-old avocado-green fridge on the day that it dies, or when it's time for a kitchen remodel. The big difference between a fridge and a home heat pump is a reversing valve. It can move heat in and out of the house in both directions.
There is a variety of heat pump technologies, and they use different mediums to heat and cool spaces. The two main sources of extracting energy are ground and air source heat pumps. Ground source heat pumps pull heat out of the ground and move it into a home. The air source heat pumps have the same effect by pulling heat from the air. The magic happens in the refrigeration process. A simplified version of this process is as follows:
Compressor squeezes refrigerant gas, raising temperature and pressure
Refrigerant gas flows through indoor coil dumping heat to inside
When gas refrigerant dumps heat, it begins to liquefy
Liquid refrigerant enters an expansion device
When passing through expansion device, refrigerant expands, cools, and reduces pressure
Refrigerant continues through outdoor coil, absorbs heat, and boils back to gas
Cycle repeats at compressor

Refrigeration Cycle
With technology rapidly evolving, these modern heat pumps have been greatly improved. Systems installed 10 years ago are still functioning at high levels. No matter your level of experience, you may have heard the horror stories of 20- or 30-year-old heat pumps that cost a fortune to run. That's no longer the case. Today's heat pumps are inverter-driven so they work efficiently in cold climates. Just like the first clunky cell phones with their poor reception and terrible batteries, the heat pumps of today have come a long way. These modern heat pumps can handle low temperatures with great efficiency. The six heat pumps featured in this photo (right) have been heating six apartments in New England with no repairs and simple maintenance since 2012.
So, those are the basics of heat pumps. In the Heat Pump 101 session at the 2022 National Home Performance Conference and Trade Show, we will dive deeper into the different types, how they're used, and what they can do for electrification and decarbonization of our housing stock. We'll also cover why it's important to weatherize a home in order to install properly sized systems.

Why Heat Pumps?
We want to also discuss why these are great options for you and your customers. Many homes may be using older, inefficient, expensive propane or oil systems for heating. In the Northeast, boilers were often used leaving no possibility for air-conditioning. The U.S. Energy Information Administration states that 58% of homes in the Northeast use window/wall AC units. That is a massive opportunity to upgrade while also supporting efforts to reduce energy demand on the heating side.
Ductless systems are an easy addition for these homes; they help to offset some of the heating load and will supply cooling for the summer. They help eliminate noisy window air conditioners and free up windows. They are also easy to retrofit since there is no need to add bulky ductwork to the home. With irregular framing, small crawlspaces, shallow floor joists, etc., it often is hard to install traditional ductwork. Ductless system line sets can easily be added to the exterior of the home and indoor heads are mounted easily with simple brackets. The indoor unit is like installing an over-the-range microwave.
Central AC systems picked up steam beginning in the 80s for other regions (see figure below). The homes in shown in this figure most likely already had ductwork in place. With that said, these homes still can benefit from a replacement central heat pump. Converting these AC-only systems will again greatly reduce the overall heating costs using simple dual fuel smart thermostats. These central heat pumps will typically have higher energy efficiency ratings making cooling costs lower as well.
Data from the U.S. Energy Information Administration

Now is a great time to begin making the switch. With the rising price of fossil fuels and fluctuation of fuel costs, heat pumps become an attractive option. Data from the Air Conditioning, Heating, and Refrigeration Institute tells us the best gas furnace on the market is 99% efficient (there is only one option with that rating!). Heat pumps have efficiencies exceeding 100% and go all the way up to 300+% using the magic of the refrigeration cycle described earlier. Heat pumps work great everywhere, even in the coldest climates. The solutions will vary by location, and it will take a collection of technologies to find the right fit for your customer.


North East fuel pricing

Hopefully this quick primer motivates you to investigate heat pumps further. We think these systems will be a benefit to your customers, business partners, families, and friends!
---
Stay Updated
Sign up for our mailing list to stay updated on all things home and building performance.
"*" indicates required fields
By submitting this form, I understand I am subscribing to an email list to receive ongoing communication from BPA.