Mentorship Matters: Practicing Leadership in the Industry
Mentorships are a great way to educate the future workforce and make headway against a labor shortage that has long affected the building trades. Read how to establish programs and make the most of them for your business and employees.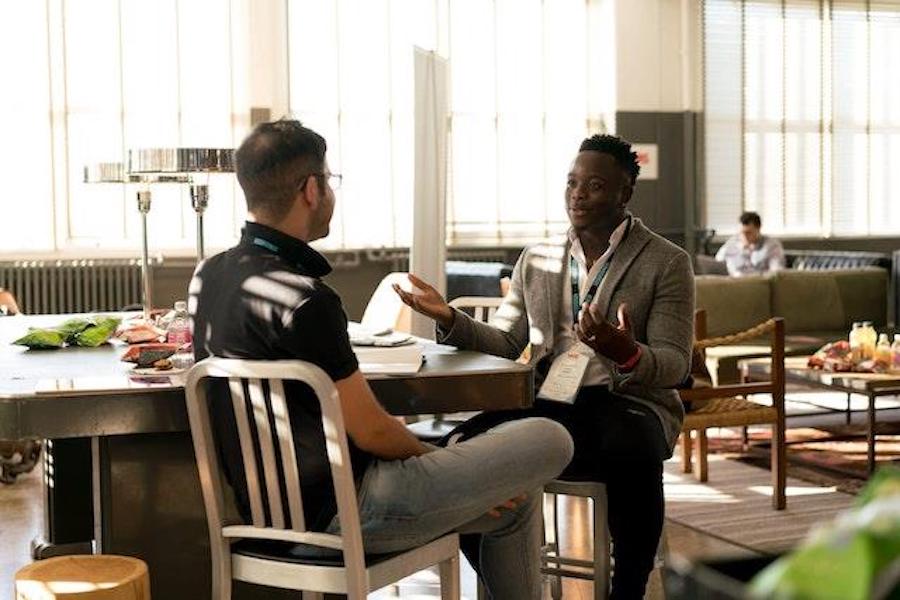 Many career paths within the construction industry have viable opportunities for interested professionals. Jobs focusing on improving building performance through increased energy efficiency aren't always in the spotlight—but they should be, and current leaders have a role to play.
How can experienced professionals nurture and develop the young talent the industry needs to cultivate? Mentorships are an optimal solution to educate the future workforce and make headway against a labor shortage that has long affected the building trades.
These are a few ways companies can start practicing leadership in the industry by creating mentorship programs.
---
Why Mentorship Matters in Building Performance
The field of building and home performance is gaining more attention each year. In the past few years alone, local, state and federal programs have cropped up to increase funding for weatherization, finance training and development for the clean energy industry and much more. Professionals in the building sciences and trades have a wealth of opportunities ahead to expand their services and aid in creating efficient, healthy buildings for our communities.
Here's the rub: Young people and job applicants of any age might not know these opportunities exist. There are lots of education and recruitment techniques that will aid here. But mentorships can help foster new talent in the field and open up career opportunities so everyone can benefit from the growth of the industry.
---
Formal or Informal Mentorship?
Mentorship can take a couple of forms in a workplace. The most common type of mentorship is informal. This is a relationship that may form organically between a new employee and someone they're learning from, whether that's their boss or an experienced coworker. Informal mentoring is an excellent way to create bonds at work. It's also a sign of a healthy work environment where workers feel comfortable sharing expertise without fear of competition.
However, some organizations will implement more formal mentorship programs. If a team has trouble with communication, this can help encourage growth when it might not organically occur. Formal programs can also aid people underrepresented in the industry, like women, network effectively when they may have historically been left out.
We'll focus on formal mentorship programs for this article. However, if you know your team will respond better in a less structured system, informal mentorship might be the way to go. Leaders can encourage these connections by setting up social get-togethers and pairing team members for education on new projects.
---
How to Establish Mentorship Opportunities
Creating mentorship programs is challenging if a company hasn't done it before. Team members need to understand the goals and be willing to get through the initial awkwardness of a new program to really dive in and reap the benefits.
These tips will help industry leaders make programs to teach and encourage the next generation of green professionals.
1. Set Goals for the Program
First, take some time to outline what you want participants to get out of a mentorship program. Specific objectives will depend on your organization's needs. Here are some examples:
Excite new workers about career progression in the building sciences
Create space for teams to discuss work-life balance and professional growth
Develop leaders to take the company to the next level of growth
Encourage skill development and specific industry knowledge
Once you have goals set, it's easier to structure a program that has the desired impact. After all, if you're not sure why you're doing something, it's going to be much harder to convince the workforce to get on board.
2. Establish Program Guidelines
Consistency is key for mentorship programs, or they'll fizzle out. Coordinators can lay the groundwork to set expectations, align the program with overarching goals and create a schedule that keeps mentors and mentees engaged over time.
Create an enrollment system—even if it's just an email—to gauge interest and get initial team members involved. Then, send each participant a list of expectations and begin pairing up workers who could learn from each other based on their goals. These expectations shouldn't be too detailed, but rather outline how often participants should meet up and what kinds of meetups or activities are suggested.
The organization coordinator can help in this with some planned events for mentorship. Asking experienced professionals to give short talks on an industry lesson or their own career path can open up conversation with attendees. Setting up a Q&A with leadership can help establish dialogue that mentors can continue. There are lots of beneficial and non-intensive ways to encourage participants to meet up and break the ice in a professional setting.
3. Calculate the Financial Aspects
Programs can't succeed if the financial aspects aren't in order by the time they launch. Anyone interested in starting a mentorship program should calculate factors like:
How many people they can train
Whether the company will cover any components (paying for a coffee or lunch once a month can incentivize participation)
Whether any associated training events will be on company time
Make these items clear to participants to reduce confusion. Mentorship programs don't need to be huge financial investments, but if paying for a meal or coffee run helps kick them off, then leaders might decide it's worth the expense for long-term growth and development.
4. Collect Feedback
No new workplace program is going to go off without a hitch. The important thing is to learn from obstacles.
Coordinators should check in with mentors and mentees periodically to get their thoughts on the program. Are they keeping up with regular meetups, or did it lack momentum? Are these relationships beneficial, or is it tough to make the connection feel organic?
Use this feedback to tweak and improve the program over time. Maybe more structure around meetup times or a more rotating schedule to help mentees learn from new mentors can help teams get more out of the program the next time around.
---
Mentorship as a Recruitment Tool in the Skilled Trades
Finally, how can mentorship aid contractors and companies with their labor needs? Leaders in the building performance industry can connect with young people in their area to network and share potential employment opportunities. Creating mentorship opportunities to learn more about the field can incentivize people to apply and foster more knowledge about the trade.
Many companies connect with local high schools, trade schools or community colleges to reach out to students at job fairs, career presentations and other formal events.
One model of this mentorship in action is in California, where state-led California Partnership Academies orient a high school learning community toward a vocational path. A high school in Los Angeles, for example, helps students connect with training and mentors in the energy-efficient/eco-friendly construction trades. Where these programs do not formally exist, professionals can build connections themselves to speak to interested students about their fields.
Looking to spread opportunities even further? Large companies also donate to nonprofit organizations to facilitate industry growth. Construction Testing & Engineering Inc. (CTE) recently gave $250,000 in grants to construction training programs in the Southeast region. Reaching out to businesses with that kind of capital could create the funding necessary to run a mentorship program and run training for new hires in the field.
Working with industry associations can do a lot of good when it comes to promoting education and career growth in a community. Training workshops, industry Q&As, and facility tours can all encourage applicants and showcase the many opportunities for growth in the field.
---
Make the Most of Mentorships in the Building Trades
Finding the right training in the construction industry is one of the primary reasons why mentorship matters. It's essential to start practicing leadership by creating programs specifically to train people in energy-efficient construction.
The world will demand more from the sector as the years pass, requiring a workforce ready to handle the challenges because they learned from the best.
Earning CEUs on the BPA Journal is a member-exclusive benefit. Please log in to complete the quiz and earn them or join as a member today.
---
Stay Updated
Sign up for our mailing list to stay updated on all things home and building performance.
"*" indicates required fields
By submitting this form, I understand I am subscribing to an email list to receive ongoing communication from BPA.