Net-Zero Passive-Style House Wins Top Sustainability Award
The Felicity House is a net-zero, passive-style house in Bellingham, Washington that won the Green Builder's Green Home of the Year award. The house was built to blend in with the historic neighborhood, while incorporating modern building techniques and sustainable materials. Key features of the house include a two-story, two-bedroom, 1,275-square-foot unit, a 450-square-foot accessory dwelling unit (ADU), a ramp for mobility needs, high-performance windows, continuous insulation, heat recovery ventilation, carbon-sequestering insulation, a 6.38-kilowatt net-zero solar array, and simple, sustainable finishes.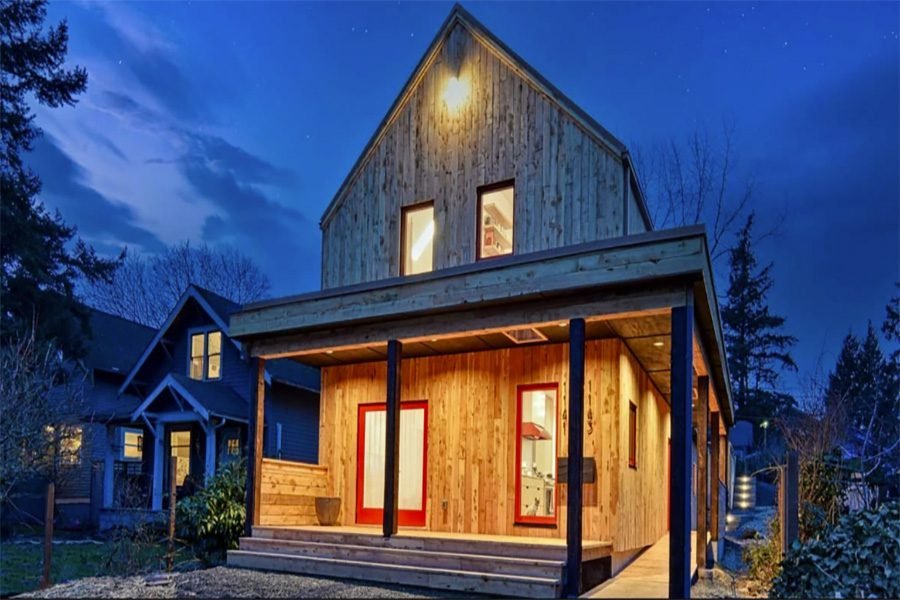 The Felicity House, Green Builder's Green Home of the Year grand winner, started out as a property that had not aged gracefully. Built in the early 1900s, the Bellingham, Washington residence had many toxic materials, did not meet current building code standards due to extremely steep stairs and low ceiling heights on the second floor, and was extremely uncomfortable, due to the lack of insulation and air sealing.
After a review of the existing home, the solution was simple: The whole thing had to go. But getting the job done was not as easy. Located in the historic York Neighborhood, where most homes were built between 1890 and 1910, any new structure needed to blend in with its elders.
"The owners wanted a house that was more modern in performance but wouldn't stand out against the neighboring buildings," says Dan Welch, founder of architecture firm [bundle] design studio. "Although the house has a more contemporary appearance and layout than its neighbors, using the historic massing makes the new house fit seamlessly into the existing fabric of the neighborhood."
Nicole Kimberling, the home's co-owner, agrees. The concept was to design a net-zero, passive-style house "where we could age in place on the same lot where we had already lived for 20 years," she notes.
The existing early 20th Century structure was replaced by a two-story, two-bedroom, 1,275-square-foot unit, which serves as a home and business location for Kimberling and co-owner Dawn Kimberling. There is also a 450-square-foot accessory dwelling unit (ADU) studio that is currently a rental, but will eventually become a retirement home once the Kimberlings choose to retire, according to Nicole Kimberling.
They're already planning ahead. To accommodate mobility needs that accompany growing older, the house was designed with a discreet ramp. Meanwhile, the studio incorporates ADA features such as a curbless shower, wet room style bathroom, a full kitchen and on-site laundry.

Smart Energy Efficiency Numbers
Welch and project builder Jason Wheeler, founder of Bellingham, Wash.-based Instinct Builders, utilized Passive House strategies to achieve a high level of comfort and energy efficiency. (The house and the ADU have Home Energy Rating System [HERS] Index ratings of zero and 13, respectively.) These strategies included high-performance windows (triple pane, with 0.15 U-Factor), continuous insulation (including exterior insulation), and heat recovery ventilation (70 cubic feet per minute [CFM] and 40 CFM, respectively).
"Rather than fighting against the historical nature of the neighborhood, the building was designed to embrace the traditional gable form," Welch says. "In doing so, the design simplified many of the energy-efficiency details."
For example, most of the surrounding buildings had limited roof overhangs. This design element was used to make clean transitions from wall to roof with the air barrier and continuous exterior insulation, Welch notes.
The owners also wanted to prioritize sustainable construction materials and methods. Felicity House was crafted with simple lines, minimal trim, zero-VOC finishes, and a rewarding pallet of colors and textures. Carbon-sequestering insulation (cork exterior and a cellulose cavity), and near-Passive House air tightness (the main home clocks in at 0.88 air changes per Hour [ACH] at 50 Pascals pressure; the ADU is at 1.5 ACH 50).
Using the most efficient mechanical systems and a 6.38 kilowatt (kW) net-zero solar array, Felicity House is self-powered, Kimberling adds. A typical electric bill for each home is about $10 per month.

Protecting Home from the Elements
Because the home is in the rainy Pacific Northwest, the building still needed protection from the weather. As most of the surrounding historic houses have front porches, simple flat roofing that could be used below as covered porches and above as roof decks was designed.
"These flat roofs provide weather protection to the building and occupants," Welch says. "[They also] create a working platform for future maintenance of the building, roof and photovoltaic (PV) system."
For the siding and decking, [bundle] design studio chose juniper which, like cedar, has natural oils that increase durability. Welch considers juniper a sustainable choice, as it is sourced from grassland restoration projects in Eastern Oregon where the trees are being removed because they use much more water than native species. In addition, much of the cladding is reclaimed, making it an even greener option.
"The siding will ensure that the home ages beautifully with time," Welch says. "We expect the owners will be sitting on the front porch waving to neighbors on the sidewalk, as has been happening at this site for the last 100 years."


Key Components
Following is a list of the key components and details of the Felicity House.
Appliances: Main house: 30-inch Samsung induction range, 24-inch Bosch dishwasher, 36-inch counter depth Bosch refrigerator, Beko compact heat pump dryer, Beko compact clothes washer. ADU: 18-inch Bosch dishwasher, 24-inch Bosch refrigerator, 24-inch Beko wall oven, 15-inch JennAir induction cooktop, Beko compact heat pump dryer, Beko compact clothes washer.
Building Envelope: Exterior insulation: Thermacork; WRB: Proclima Fronta Quattro; KlimaGuard air sealing tape
Cabinets, Shelves, Millwork: Smith & Vallee custom prefinished birch
Caulks and Sealants: Pro Clima Aerosana Visconn sealant
Countertops: Formica
Exterior Finishes: Open joint rainscreen Restoration Juniper siding
Foundation: Floor joists have 16-inch R-43 dense-packed cellulose
HVAC/Ducts: Diakin ducted and ductless mini split; central heat pump, 12.2 heating seasonal performance factor (HSPF) rating, 17.7 SEER, A/C variable-speed compressor
Insulation: Dense packed cellulose (wall cavity); 2-inch Thermacork (exterior insulation)
Landscaping: Future green roof
Lighting: 100 percent LED
Renewable Energy Systems: 6.38 kW photovoltaic solar array
Roof: Gable roof: 16-inch parallel cord trusses dense-packed with cellulose, topped with taped membrane, 2x battens for air gap, half hand plywood sheathing, self-adhered membrane, standing seam metal roof. Flat roof: 2-by-10 rafters dense-packed with cellulose, ½-inch plywood sheathing taped, R-12 tapered polyisocyanurate foam board, TPO membrane.
Ventilation: Main house: Zehnder CA 350; ADU: Zehnder CA 180 heat recovery ventilator (HRV), energy recovery ventilator (ERV); MERV 13 filters, boost switches in bathrooms
Water Conservation: Low-flow fixtures, PEX piping, compact plumbing
Water Heating: A.O. Smith 2.90 energy factor (EF), 80-gallon heat pump water heater
Windows, Skylights, Patio Doors: Triple-pane, argon-filled, low-e2, fiberglass frame; Cascadia windows with 0.15 U-Factor, solar heat gain coefficient (SHGC) of 0.43.
Images courtesy of Rebecca Greenwood, Greenwood Photographic Arts.

This article originally appeared on Green Builder Media and is reprinted with permission.
---
Stay Updated
Sign up for our mailing list to stay updated on all things home and building performance.
"*" indicates required fields
By submitting this form, I understand I am subscribing to an email list to receive ongoing communication from BPA.