Notes from the National Home Performance Conference's opening session in Seattle, WA.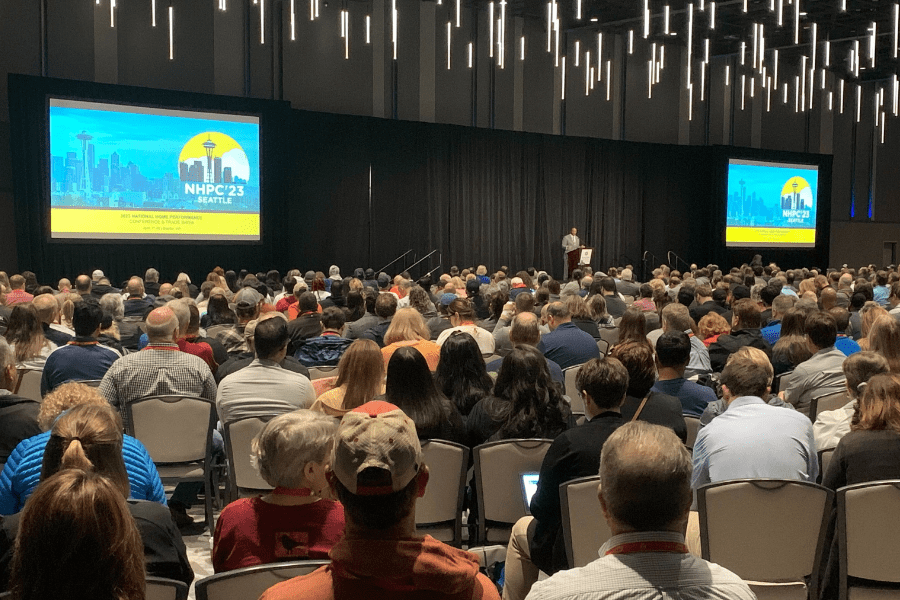 As our Chief Operating Officer Nate Natale said during our General Session at NHPC '23 today, "This is our week, my friends. This is where we come together, we learn, we connect, and we grow."
It's BPA's largest conference in its 37-year history. With more than 2,650 attendees, it's apparent that our industry is not only growing but that our strength is in our numbers. What's more, a little under half of our attendees this year are at their first-ever BPA event and just under one-third of them have 5 or less years of industry experience. That's great news, because, as Natale said, "If we're going to do the work this industry needs us to do, we're going to need a lot of new blood."
That was one main message from today's opening remarks—we're incredibly grateful for all of the people who take the time to be here and spend their money and resources to do so. And we're thrilled to see new faces and welcome partners such as the U.S. Department of Housing and Urban Development (HUD) this year.
Michelle Miller, Deputy Director of HUD's Office of Lead and Healthy Homes was one of three featured speakers at our welcome session today. She joined Dr. Henry McKoy from DOE's Office of State and Community Energy Programs and Washington State Governor Jay Inslee.
Miller spoke about the grants available through her program and on the intersection between health and housing. "Healthy housing is as essential as health care and Social Security," she said.
The theme of "home" and what that means was prevalent in today's general session. Dr. McKoy told attendees about the homes he grew up in—homes that didn't have heating. "It made for some cold memories," he said. "I remember laying in bed at night in the bed I shared with my sister and seeing breath come out of our mouths. At that time, I had no idea what weatherization was. But during those years, all I did was dream about a better home."
Now, Henry is a seasoned professional in business, community and economic development, policy, government, finance, energy, philanthropy, and the academic worlds. He knows what weatherization is and knows the power of our industry. "Even in the worst home, there's still room to dream," he said. "You all in this room have the ability to make those dreams."
That sentiment was echoed by Washington State Governor Jay Inslee who addressed the crowd by saying, "I could not be more thrilled to be in your presence because I consider this group of people to be the most important group of people on this planet today." Governor Inslee also said that right now we're in a clean energy revolution. "If you want to grow jobs, work on energy efficiency," he said. "What you're doing here by being in Seattle today is figuring out a way to have families have homes that are safe, energy efficient, and healthy."
With the influx of upcoming funding from the Inflation Reduction Act (IRA), we've got a lot of work ahead of us. As BPA Board Chair Paul Francisco said today, "It's like we're drinking from 12 fire hoses at once." While it may seem a bit daunting, Francisco said it's our industry's chance to transform people, families, communities, and lives. "We historically have focused on the home performance and energy side but we're hearing lately about the healthy homes side, about renewables, about resilience. It's coming from a lot of different directions and that's what we need," he said.
Francisco echoed Natale's earlier statement that together we can do this. Our industry can collectively change people's lives for the better and give hundreds of thousands of people homes that support their overall well-being.
How are we going to do it? If you ask Francisco, "one house at a time."
---
Stay Updated
Sign up for our mailing list to stay updated on all things home and building performance.
"*" indicates required fields
By submitting this form, I understand I am subscribing to an email list to receive ongoing communication from BPA.