Removing Barriers to Weatherization Services
In June 2022, the Connecticut Department of Energy and Environmental Protection (DEEP) announced the selection of a Program Operator for the Statewide Weatherization Barrier Remediation Program, partnering with the nationally recognized non-profit International Center for Appropriate and Sustainable Technology (ICAST).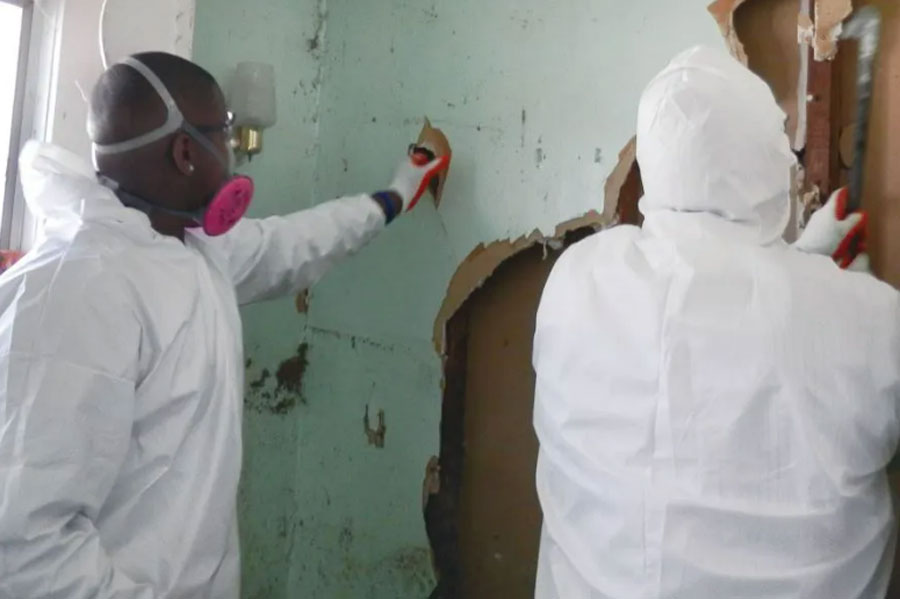 In June 2022, the Connecticut Department of Energy and Environmental Protection (DEEP) announced the selection of a Program Operator for the Statewide Weatherization Barrier Remediation Program, partnering with the nationally recognized non-profit International Center for Appropriate and Sustainable Technology (ICAST).
ICAST has a long history of establishing successful programs globally, providing sustainable solutions to underserved communities. This partnership will bring ICAST's community-oriented, thoughtful, and results-driven approach to Connecticut to deliver barrier remediation services to up-to 1,000 households. The new Weatherization Barrier Remediation Program combines health and safety improvements with statewide weatherization services to lower household energy costs and energy burdens and improve health outcomes.
With $12.3 million of initial funding, this program will address health and safety barriers such as mold and asbestos in up to 1,000 income-eligible households that will be prioritized based on demonstrated energy burden or overall need. After barrier remediation, households will receive energy efficiency improvements through either Connecticut's state-managed or utility-managed weatherization program for income-eligible households. Over half of this initial funding comes via the American Rescue Plan Act (ARPA), which was prioritized by Gov. Lamont in his budget last year to help those most vulnerable with their energy costs, a proposal that was ultimately approved by the legislature.
"Almost a quarter of Connecticut's low-income customers cannot access weatherization and energy efficiency services due to the presence of health and safety issues in the home such as mold, asbestos, and vermiculite. These barriers to weatherization lead to higher energy costs and are linked to conditions like asthma, increased cancer risks, respiratory illnesses, and more," Gov. Ned Lamont said. "Low-income households that participate in the program will experience healthier homes and can save money on their energy bills."
"Connecticut has an ambitious goal of weatherizing 80% of its housing stock by 2030 and this new partnership contract between the State and ICAST will address health and safety barriers, such as mold, asbestos, and other hazards, that prevent the weatherization of low-income residents' homes, a longstanding issue in Connecticut," DEEP Commissioner Katie Dykes said. With federal money from the Biden Administration's Infrastructure Investment and Jobs Act, as well as the American Rescue Plan Act, Connecticut can help ensure a safer, greener, more efficient housing stock and a healthier environment for Connecticut residents."
In addition to ARPA funding, the rest of the program's initial funding comes from the Federal Low Income Home Energy Assistance Program, administered by the Department of Social Services (DSS), and U.S. Department of Energy's State Energy Program funding, which aims to advance state-led energy initiatives and increase energy affordability.
"The Department of Social Services is pleased to provide funding for the Connecticut Weatherization Barrier Remediation Program. In these challenging economic times, any improvements that can increase energy efficiency and save on utility bills are important to help Connecticut families and individuals struggling to pay their bills. This funding will help eliminate health and safety barriers to weatherization projects, allowing the State to improve the health and safety of residents while also improving energy efficiency and saving money on costly electric bills," said DSS Commissioner Deidre Gifford.
"Equity calls for meaningful investments in low-income homes as a critical way to increase positive health outcomes and also to improve the future of Connecticut's families, safe and healthy living spaces are a big part of a family's stability," said Leticia Colon de Mejias, Executive Director of Efficiency for All. "Local clean-energy contractors are excited to get to work weatherizing homes that have been sidelined until now, due to a lack of funds to address health and safety issues. Now it is time to create resilience in many of the CT communities where many of us live and work."
"All families deserve the chance to thrive in their homes and I am thrilled to see these resources come together in a way that integrates health and safety repairs with weatherization," said Amy McLean, Vice-Chair of the Energy Efficiency Board. "With this program, homes can now take action when health and safety issues prevent access to weatherization."
"This program is a win-win for landlords, building owners, and renters alike. A healthier, safer and more energy efficient home benefits all," State Senator Rick Lopes, D-New Britain, said.
ICAST's goals will be to ensure the program addresses residents with the highest need, drawing from an existing pool of homes that have been deferred from the Home Energy Solutions – Income Eligible (HES-IE) Program and the Weatherization Assistance Program (WAP) because of these health and safety barriers.
The Program will be available to Connecticut income-eligible households in late 2022. Income-eligible customers interested in receiving a no-cost energy assessment can visit EnergizeCT.com or call 1-877-WISE USE or access Connecticut's Weatherization Assistance Program by calling 2-1-1 to find an Energy Assistance intake site near you.
Learn more about the Statewide Weatherization Barriers Remediation Program here.
Support the Weatherization Enhancement and Readiness Act
Connecticut isn't the only state with homeowners who have these problems. Did you know that 10 to 30% of low-income homeowners nationwide are passed over for weatherization assistance because their homes have other issues, like mold, asbestos, outdated wiring, and structural deficiencies, that must be addressed before they can become eligible for WAP? BPA needs your voice to tell Congress to close this gap by passing new legislation, the Weatherization Enhancement and Readiness Act!
This bill would address the backlog of WAP-ineligible homes by creating a Weatherization Readiness Program, which would provide grants to address structural, electrical, and health issues in low-income homes to allow them to qualify for WAP. The legislation would also nearly double the limit on how much assistance households can receive under WAP to $12,000, helping the program keep up with rising costs of building materials and allowing for more improvements per project.
Please join us by signing on to our grassroots letter asking congressional leaders to support improving the home performance of low-income households through the Weatherization Enhancement and Readiness Act. Adding your name to our growing list of advocates is a quick, easy, and effective way to make your voice heard as stakeholders and taxpayers to ensure our industry is supported.
---
The deadline for signing on to this grassroots letter has passed. You can find out more information on our advocacy page.
---
Stay Updated
Sign up for our mailing list to stay updated on all things home and building performance.
"*" indicates required fields
By submitting this form, I understand I am subscribing to an email list to receive ongoing communication from BPA.