Resilient Women Shaping Resilient Homes
The women of building performance are still coming across many barriers getting into this industry. The good news is they are pushing through them.
This is no job for a woman.
Can you carry that heavy box, honey?
Where is your boss?
You don't need that certification.
This is too difficult for you.
These are common phrases that women in our industry hear every single day from their customers and colleagues. Good news is that the women of building performance are resilient—and they chose to not let these phrases scare them away from the work. Instead, these women are becoming owners of their own businesses, becoming the first women in their states to gain certification, empowering other women around them, and saying, "I can do that" when faced with challenges.
Today, on day three of the National Home Performance Conference & Trade Show in Seattle, CleanFiber sponsored a Women in Building Performance breakfast and there was also a Women in Weatherization panel session, both of which I attended. My biggest takeaway: the women in this industry are rockstars. They push their way through barriers on a mission to help make homes healthier.
According to Department of Energy data, 34% of female energy workers feel they are recognized for their work, compared to 42% of men. Only 36% of women in energy said they are encouraged to go after additional opportunities, compared to 48% of men who feel the same.
In the Women in Weatherization session, one attendee said, "We're having to prove ourselves constantly to get respect. It feels like you have to know your job better than men just to be equal to men." While breastfeeding her infant in the back row, another woman shared that it "often feels like places are not set up for women."
There's a lot of misconceptions that get in the way too. One of the major ones I heard multiple times today was that it's assumed that women don't have the physical strength to do building performance and weatherization work on homes. So, the panel moderator asked an entire room full of women: Have you ever encountered anything on the job that you could not physically do? A resounding "no" filled the room.
So, the barriers are not physical. They are social and organizational. They are built into a male-dominated industry and perpetuated by the mindset that any work that gets your hands dirty must only be for men's hands.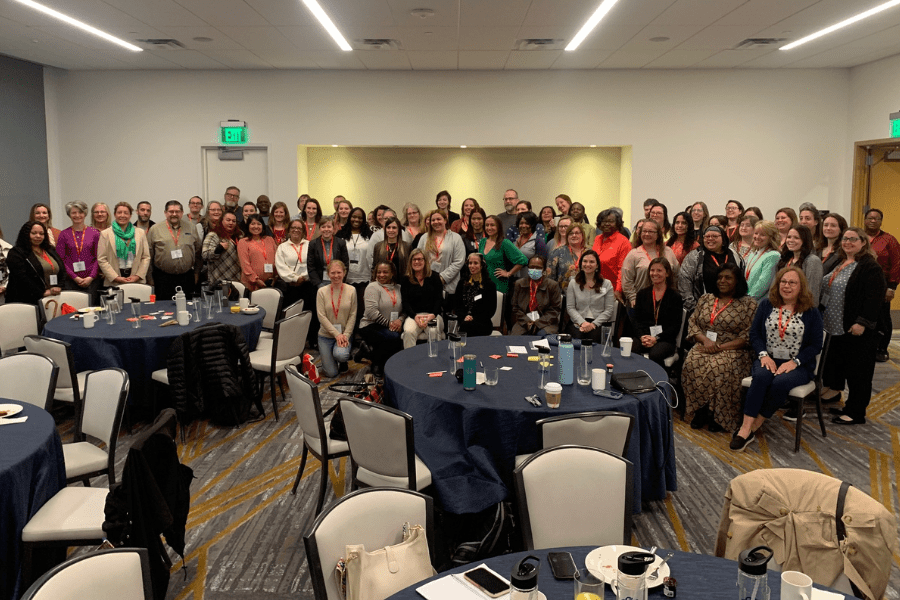 But it is changing. We are progressing. At this same conference 20 years ago, there would have been maybe 5 women at a breakfast. This morning there were more than 50. And, women today shared ways that they're making that number even bigger.
"When women apply, even for an office job, I tell them of other opportunities and ways to learn."
"I have new employees complete any prerequisites for training so that when a certification or training becomes available, they are ready to take advantage of it."
"I'm working to demystify the technical aspect because it's seen as too difficult for women."
"I'm letting women know that they know more than they think they know. If they're cold in their home and they're trying to stuff something under the door to stop the draft, then they already know more than they think they know."
"We're working to establish childcare before and after school to get women into the workforce."
Slowly but surely, the goal is to stop the trends of low representation, occupational segregation, and exclusion. Women bring emotional intelligence, attention to detail, and genuine care to the people they serve. Ideally, women will stop being undervalued in our industry and they'll soon see the opportunities that exist for them here—and hopefully they won't have to do it alone.
---
Stay Updated
Sign up for our mailing list to stay updated on all things home and building performance.
"*" indicates required fields
By submitting this form, I understand I am subscribing to an email list to receive ongoing communication from BPA.