Finding, hiring, and training the right people well is one of the most important investments of time and money any business owner can make. Rob Minnick of Minnick's Incorporated implemented the following steps within his business to ensure that they find, hire, and train the best candidates for every job.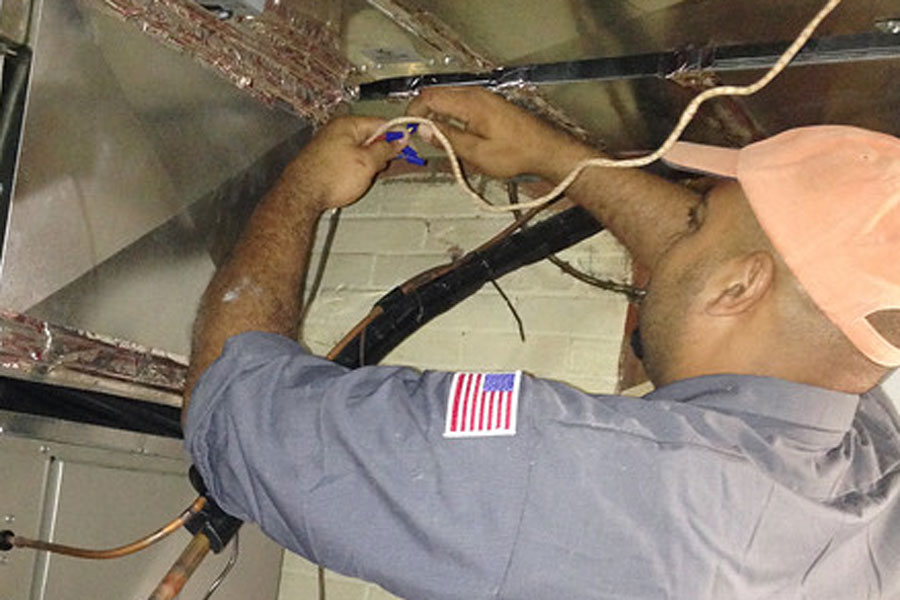 Finding, hiring, and training the right people well is one of the most important investments of time and money any business owner can make. Rushing through the hiring process or leaving any of the stages incomplete will lead to more work in the future—either because you're making up for work done incorrectly or because you have to replace the employee entirely. My company, Minnick's, implemented the following steps to ensure that we find, hire, and train the best candidates for every job.
Finding Talent
The job market fluctuates, and you may find your challenges shifting from having to choose among a dozen great candidates to finding any viable candidates at all. (This is another great reason to keep your good employees happy—keeping good employees is much easier and more cost-effective than finding and training new ones.) But even if you do everything perfectly, inevitably sooner or later you'll need to hire. So where can you find the best people with the least amount of effort? Here are several techniques that we've used with great success.
Agencies. Are there agencies that specialize in hiring for your industry? Hiring through an agency is an investment—and it may be hard to justify when you think about all of the free options available—but consider the big-picture costs of finding and interviewing candidates. If an agency can quickly and easily get you qualified individuals with little effort on your part, you'll save money by saving time.
Referrals. Great people tend to know great people, so ask your best employees if they can refer someone. Chances are they know people with the skill sets you're looking for, whether from school, networking events, or even just personal connections. An added bonus of hiring a referral is that the new employee has a built-in mentor—someone he or she will feel comfortable with from the start. That's why referrals tend to have the shortest learning curve.
Community job boards. Job boards—even for highly specialized work—can be a great way to connect with talented professionals who live in your community. If your community center or a local restaurant has a place to post a job, create an eye-catching flyer. Even if your future employee doesn't see the sign, someone who knows him or her might!
A lot of online communities hosted by cities or neighborhoods also have job boards. The biggest benefit here is that people can easily share your job post and your company website with potential new hires. You can even post an online application. (View BPA's Career Center here for recent industry job postings.)
The Application and Assessment Process
Most organizations have a standard application process that collects the data needed for the initial job screening. This allows them to quickly eliminate anyone who doesn't have the basic requirements for the job, and it also allows them to separate the qualified candidates from the most qualified candidates. The process Minnick's uses consists of a set of three interviews.
The First Interview: Hiring for Attitude
An interview is an opportunity for you to learn about the candidate and for the candidate to learn about you. You both need to decide if you're a good match, and you'll only be able to do that if you ask the right questions. In addition to asking the basic questions that establish the candidate's competence and availability, it's important to ask experiential questions to learn what makes the candidate succeed in his or her work environment.
Experiential questions require people to tap into their real-world positive and negative experiences. They are different from aspirational questions, which ask people to share their goals or what they believe is important. For example, an aspirational question might be "What do you value in your work environment?" Many candidates will answer that advancement opportunities are the most important part of a job. The aspirational question leads these candidates to share what is most important to them. But if instead you asked, "Why did you leave your last two jobs?" the same candidate might say that it was because another job paid better. The experiential question is more likely to yield an honest answer—whether the candidate realizes it or not.
Here are some experiential questions that we use:
Tell me about your current/most recent boss. What is something you wish he or she had been more aware of?
What's something you wish your current/most recent boss had done less of?
What's something you could have done to have enhanced your working relationship with your current/most recent boss?
If I talked to your current/most recent boss, what would he or she say your strengths are?
We know everyone has areas where they can improve. What would your current/most recent boss say your areas for improvement are?
A viable candidate at this point would actually have answers, and go into detail, as most give one- to two-word answers. You should also watch their body language, as it will show excitement when it is good and when it is not, their body will drop down. You feel nothing different than when you have a conversation like this with a family member and/or good friend. Even if your applicant pool isn't what you had hoped it would be, move only viable candidates to the second round of the interview process. If there is a red flag in the first interview, listen to your gut and ignore the temptation to try to get a better impression from the candidate next time.
The Second Interview: A Day on the Job and the Personality Assessment
Now that you and the candidate both have a feeling that this could be a good fit, you can detail what he or she would experience day to day. There's no better way to do this than by having your candidates spend a day in the field. In this way, they'll be able to experience the job they will be doing and confirm that they are interested in the work. They can also ask valuable questions—ones that they might not have thought of, or might not have felt comfortable asking in their initial interview.
Having candidates spend a day in the field also gives you an opportunity to see how they interact with your employees, and whether they would be a healthy addition to your team. We promote our core values in the work we do every day, and that's obvious when you meet our team. Giving candidates this day in the field helps us maintain those core values even as we add new team members.
Here are a few things we recommend you do when you conduct the second interview.
Have a list—even if it's just for you to see—of everything you want to cover and the approximate amount of time you'll need to cover it. This will keep you on track and decrease the chance that you'll miss anything important.
Involve other people when possible. If you have a trusted manager or subject matter expert who can talk to the candidate for a few minutes about a specific topic, integrate that person into the interview process. This can provide a nice change of pace. Not only is the candidate gaining a different perspective from within the organization, but you'll be able to observe the candidate interacting with others and get feedback from your current staff on the candidate.
Ask meaningful questions—ones that don't have obvious answers. As you describe various aspects of the job, you'll have the opportunity to turn the description into a conversation. You can occasionally ask candidates if they have ever done something similar and, if so, to tell you about it. Or if you know that they have already done similar work, ask them how that work differed from the job they are applying for. They key is to avoid asking things like "Do you think you could do that?" or "How does that sound?" These kinds of questions may be good to regain someone's attention if they've drifted off while you were talking to them, but they rarely provide any valuable information. If the "right" answer is obvious, don't bother asking!
Now it is time to conduct a personality assessment. The purpose of our personality assessment is to help us understand how this employee could potentially fit into our team, what behaviors, motivators and strengths they may have that we could use, and what opportunities for development we could provide. The assessment can also let you know if they are trying to game the assessment; would you want this person on your team? The assessment we use is DISC—one of the most widely used assessment tools in the United States. DISC is an acronym for
Dominance—the person places emphasis on accomplishing results, the bottom line, confidence;
Influence—the person places emphasis on influencing or persuading others, openness, relationships;
Steadiness—the person places emphasis on cooperation, sincerity, dependability; and
Conscientiousness—the person places emphasis on quality and accuracy, expertise, competency.
The DISC results tell us how the candidate will perform in the most common scenarios he or she is likely to encounter on the job. That, combined with what we learned from the interview, gives us a great picture of how the candidate will perform in our environment.
The Third Interview: Follow-up from Day 2 and Job Offer
Once candidates have successfully completed the first two interviews, you have one final opportunity to connect in a meaningful way and set the stage for them to join your organization. In the third interview, you can discuss any potential concerns you may have concerning the assessment. Go over those concerns and share the assessment with them. Also, for example, when they say they were working for an employee and mentioned they do not like working in attics. Talk about this and how important it is for the position they are applying for. You can also discuss any opportunities that are related to the assessment and the candidate's work history. In this way, you can not only confirm that this candidate is the best person for the job, but also help candidates to see why they should be excited to join your organization to continue their professional growth!
At this point, it is time to let them know if they are a good fit or not.
If so, go over your offer and the next steps.
This is also the time to emphasize details like the training schedule, pay, and specific job expectations. The candidate shouldn't be hearing anything for the first time at this point, but you can and should go over the most important points once more and provide a final opportunity to ask questions.
Orientation Checklist
Now that you've completed the hiring process, it's important to get your new employee off to a good start. You've put a lot of time and energy into finding the right candidate, so don't be tempted to rush the process. This is your opportunity to solidify the new employee's future with your company. From the start, you can make a meaningful connection, set expectations, and leave him or her feeling excited to be part of your organization.
An orientation checklist is a detailed list of everything an employee needs to learn within a designated period of time. Typically, an orientation is completed over the course of 90 days, so new employees have time to learn and apply new information while they are still being heavily supported. Within those 90 days, you can include benchmarks that identify what should happen, such as retaining a license or certification(s), completing an operation manual chapter, and/or demonstrating a task. For the first 12 weeks, we meet with their supervisor each week to go over the past week and the upcoming week with any questions they may have.
When onboarding new employees, you have to carefully balance new information with the opportunity to use what they have learned. This will keep them from feeling overwhelmed, and it will also help them to learn the materials on a deeper level.
Successful staffing requires time and effort, and building your team is one of the most important decisions you will make as a leader. The individuals you choose will deliver on the promise of your organization and represent your brand in the work they do. These steps will help you identify the right people for that very important job.
---
Stay Updated
Sign up for our mailing list to stay updated on all things home and building performance.
"*" indicates required fields
By submitting this form, I understand I am subscribing to an email list to receive ongoing communication from BPA.