Take Your Career to the Next Level With the Total Building Performance Certificate
This exciting new training ensures the competency of an energy expert to manage a project for total decarbonization.
Existing energy auditors, inspectors, and technicians within the whole-house building trade have an opportunity to become a new breed of general contractors that support a wide array of construction activities. With proper consumer disclosure, the person conducting an unbiased inspection can recommend a series of upgrades and profit at least 10% of the total project.
An energy expert is the best person to work as a liaison between the customer and contractors performing the work. Many self-motivated, smaller companies or individuals enjoy the autonomy of setting schedules, balancing office and field time, and helping to communicate traditional construction information in new and exciting ways. The addition of smart home technology, HVACR innovations, and renewable energy gives the whole-house approach a brand-new appeal.
Another brand-new, exciting addition to the building performance community is the Total Building Performance (TBP) Certificate of Knowledge program from the Building Performance Institute (BPI).
What's Total Building Performance?
To support BPI's Total Building Performance certificate, our Allied partners at Northeast Energy Efficiency Partnerships (NEEP) created training modules. These modules prepare individuals to take the Total Building Performance Certificate of Knowledge exam.
The certificate exam was designed through a multi-year process with a group of building science experts. Eight domains of knowledge were identified for an ideal whole-home retrofit general contractor. The certificate exam tests for these eight domains of knowledge. In preparation for the exam, participants can review free training modules for each domain.
This exciting new training ensures the competency of an energy expert to manage a project for total decarbonization. It includes BPA's Building Science Principles course and is stacked with great information.
I like the holistic approach that teaches trades people how to be true professionals in a home by setting proper client expectations and ensuring health and safety is number one. The pathway towards total decarbonization has resiliency at its core, and really supersedes any polarized climate conversations. The idea of saving humanity may really resonate with the younger generation that grew up hearing their world is going to end as a result of global warming. That is motivation to go to work everyday and make a difference in their community.
Ongoing Education
Ongoing education in the trades has fallen short of other professions while innovation continues to dramatically change the way homes are constructed. Many seasoned contractors often do not attend regular training sessions, acquire certifications, or continually seek to improve their business.
The way we speak to customers and how we go about any project is different now than it was many years ago. College classes, seminars, and even trade shows have not attracted the vast majority of street level owner operators due to time and cost. There has been an equity imbalance due to lack of resource access. With the advent of online video content, we can now reach these individuals in their work truck and on the job sites.
In addition to basic badges for technical competencies, there is a need to train the next level of workers necessary that can properly execute a work scope. Classes that provide a specific type of education around the whole building approach, that has not been given before, can uplift individuals previously denied basic business education.
Elevating Your Career
Proving your competency on a written or field practical exams shows your customers and peers that you have the professional skillset to accomplish that job and win that bid. It also gives the individual a sense of pride and confidence of learning something new and being able to apply it in the real world.
Home inspectors, retired builders, contractors, and career seekers can use this information to learn how to be their own general contractor. As the older generation ages out of the attics and crawlspaces, stops swinging hammers, and climbing ladders, they can have a place in project management.
If your body aches, but your mind is still sharp, now is the time to learn or relearn a new set of skills using up to date building technology, science, and testing. As the leader of the project, and liaison with the customer, a building professional can set their own schedule, build their own brand, and utilize new concepts to enhance their current operation.
Market pivots in your business are required in order to stay competitive, relevant, and sustainable. This includes adding additional skill sets to your arsenal to meet the needs of the market climate.
A Whole-House Market
There are dozens of points of measurement within a home that can impact its comfort, efficiency, and resiliency. This is especially true in the HVACR and building envelope space, and requires specific skill sets within each of those individual competencies. Oftentimes, the most stellar HVAC company is best relegated to doing what they do best, and as a subcontractor of an energy expert the testing burden can spread between different organizations and milestones.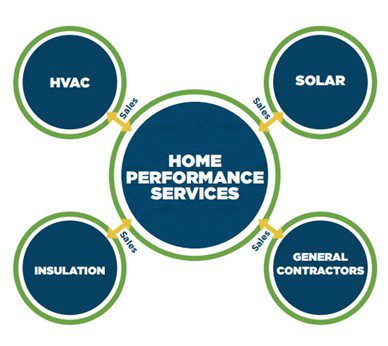 The ability to communicate between subcontractors is key to project success, laying this out in a written document informs everyone on the jobsite the various roles and responsibilities. Gathering a team of like-minded contractors with similar education can exponentially increase the value proposition of a project.
An energy auditor with a quality solar, HVACR, and insulation contractor can do higher volumes of deeper retrofits than any one company trying to figure it out individually. There may not be a reason to bring on an "in-house" crew doing something completely outside of the business model when different companies can partner together under one contract.
Shifting Your Focus
Getting back to basics and rethinking how we operate could sometimes seem daunting. The most successful people are willing to be introspective in both their personal and professional lives. Those of us in the home performance space have been doing things differently all around the country. Every year, in every territory, contracts or programs change and we do not know what the next set of requirements or rebates will be.
Shifting the focus towards updated ways of doing business can help everyone that has an impact on the consumption of natural resources in a home or building. Consumer sentiment is changing, the real estate market is changing, and we still need to button up the homes we have. These rising tides can float all industry boats by hitching our wagon to a just transition that decarbonizes homes and buildings.
That one energy expert in a region can consult on dozens of jobs per month with the right individual subcontractors. Exciting new technology programs enable the project to be faster, more transparent, and easier to sell and manage. Imagine if your iPad talked to the subcontractors iPad and all the while kept the customer informed. Simply using Microsoft Office, Google, or other file sharing software programs can connect companies in exciting new ways. Almost everyone went through a technology metamorphosis during the pandemic; professionals can now capitalize on that monumental change in consumer behavior. Even my own mother started texting and using social media.
The best way to gain skills and build relationships is through education. You can do this by attending in-person events (like BPA conferences) or through these online training and certificate programs.
The Total Building Performance Certificate of Knowledge is available now. This certificate will show that you have the knowledge to plan, assist, and guide residential deep energy retrofit. It offers a solid base of knowledge for certificate holders to develop a new line of business and establish trust with customers.
Plus, the pilot exam is free to the first 500 candidates. What are you waiting for? Learn more and apply to take the pilot exam.
---
Stay Updated
Sign up for our mailing list to stay updated on all things home and building performance.
"*" indicates required fields
By submitting this form, I understand I am subscribing to an email list to receive ongoing communication from BPA.