The City of Indianapolis' Progress Towards Energy Efficiency and Green Building
Indianapolis has many goals it hopes to achieve in the near future, and the city has made it clear it is willing to put in the time and work that it takes to do so equitably.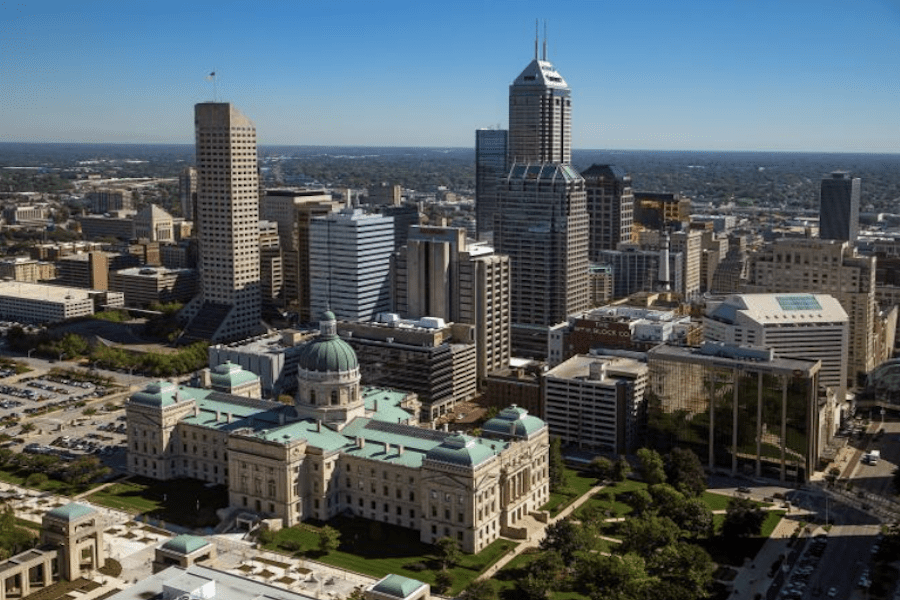 Indiana is among the top states in the Midwest with the highest energy burden, meaning its residents are spending a higher percentage of their gross household income on energy costs than other neighboring states. (Figure 1). Fortunately, the City of Indianapolis and its partners have committed to reducing the energy use of local buildings, which are among the biggest consumers of energy.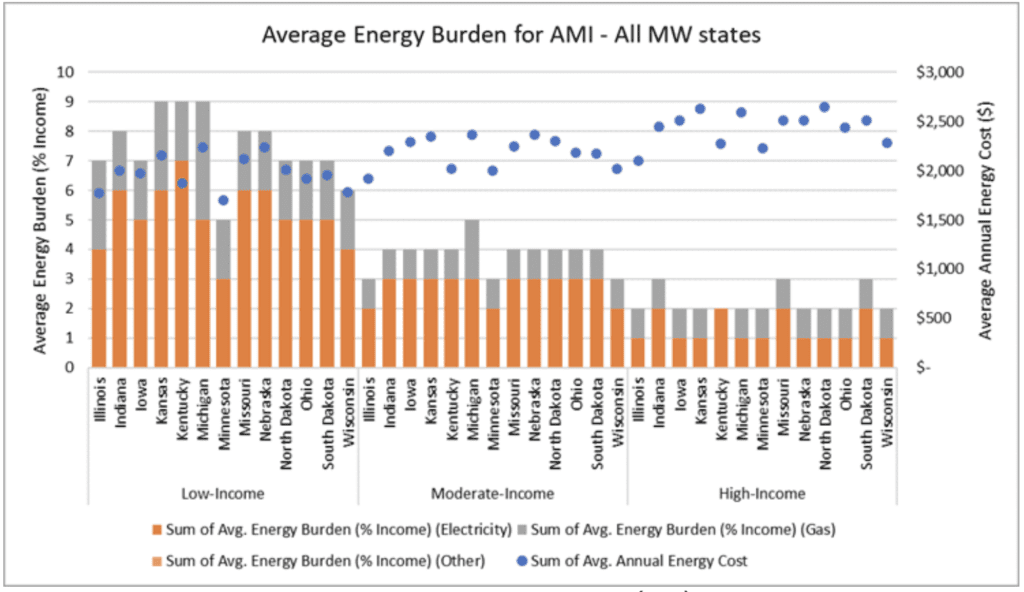 In 2019, Indianapolis developed and published the first sustainability and resiliency action plan in the City's history – Thrive Indianapolis (Thrive). Various City departments, Marion County agencies, community partners and residents all came together to outline 16 key objectives and 59 actions that the city hopes to achieve by 2025 in order to ultimately realize citywide carbon neutrality by 2050.
Buildings account for about 66% of Indianapolis' community-wide greenhouse gas (GHG) emissions, so it is no surprise that one of Thrive's eight overarching elements is the "built environment." Goals related to this element of the plan include decreasing overall building energy consumption and increasing the number of green buildings throughout the city. By 2025, the city hopes to reduce emissions from buildings by almost two million metric tons of carbon dioxide equivalent and double the number of its green buildings (i.e., LEED-certified or Energy Star® rated). Indianapolis also celebrated its first-ever city-owned certified green building in 2021 with the opening of the LEED-Silver Assessment and Intervention Center on its new Community Justice Campus, a structure intentionally designed to connect justice-involved individuals with mental health and addiction services while decreasing reliance on incarceration as a long-term solution.
In July 2021, the Indianapolis City-County Council passed the Benchmarking & Transparency Ordinance, which was developed by the Office of Sustainability in collaboration with stakeholders from across the city. In 2022, City properties greater than 50,000 square feet were the first to be required to track and submit their energy use, while these obligations remained voluntary for covered non-city properties in the commercial, multifamily and industrial sectors. Regardless of the size requirements for municipal buildings, the city benchmarked as many of its own properties as it could (about 17) in 2022, and 83 non-city properties voluntarily benchmarked their energy consumption that year, as well. These latter properties include the Indianapolis International Airport, the Indianapolis public library system, IU Health and Eskenazi Health, Lucas Oil Stadium, the Indiana Convention Center and the Indianapolis Public Schools, which have been realizing millions of dollars in savings from benchmarking for many years and are a great case study from which other cities can learn.
Beginning in 2023, those non-city buildings greater than 100,000 square feet are now required to benchmark, and the city must make shared benchmarking information available on a publicly accessible website. The information of covered City buildings will be shared first, with other covered buildings starting in 2026. Each following year, the city will publicize a summary of energy consumption statistics, an assessment of compliance rates, accuracy and issues affecting accuracy, changes across the covered properties portfolio over time and trends observed. All data included in the City's annual benchmarking report will be anonymized.
To promote compliance with the benchmarking ordinance, the City's Office of Sustainability is hosting free guided workshops, or "Data Jams," teaching certain building owners and facilities managers how to track utility data within the Energy Star® Portfolio Manager software program. The Data Jams will include technical support provided by the American Institute of Architects Indiana. Buildings that participate before June 1, 2023, are eligible for a free energy audit provided by the Indiana University–Purdue University Indianapolis Industrial Assessment Center. With this guidance, Indianapolis building owners will begin realizing lower utility costs and carbon emissions sooner than they anticipated.
Throughout its decarbonization work, City staff have also maintained a focus on equity. In April 2022, Indianapolis received new funding from the American Cities Climate Challenge Equity Capacity Building Fund to allow project staff to better integrate equity considerations into the benchmarking program, now referred to as "Thriving Buildings." Specifically, staff contracted with a local consultant to seek paid feedback from community members who own buildings or businesses and/or who may be interested in benchmarking their energy usage. The focus remained on community members from the most economically and socially marginalized areas of the city, where questions and challenges regarding compliance are likely to be the most prominent. By ensuring that its energy benchmarking program is more holistic, Indianapolis can stay true to its mission of creating an overall healthier and more resilient community for future years.
While developing Thrive Indianapolis, the city held specialized focus groups and training for certain populations, including re-entry, veterans, low-income, and those experiencing homelessness. To reach people where they felt most comfortable, City staff attended various community events and held regular pop-ups at public libraries and other central locations. The more voices a municipality has at the table when strategizing, developing, and implementing policies that address the climate crisis and environmental injustice, the more successful the policies and programs will be.
AES Indiana (formerly Indianapolis Power and Light), Indianapolis' local utility, also recognizes equity in its energy efficiency programs by offering free income-qualified weatherization assistance. Eligible homes receive an in-home assessment, installation of free energy-efficient fixtures, and recommendations of any additional weatherization improvements for which they may qualify. If, during the assessment, opportunities for weatherization upgrades are identified, such as insulation or air sealing, AES will ensure this work is completed at no cost to the homeowner. Through this program, as well as its other energy efficiency programs (e.g., rebates, instant discounts, free virtual home energy assessments, etc.), AES has demonstrated its commitment to the City's sustainability and resiliency objectives.
While Indianapolis still has many goals it hopes to achieve in the near future, the city has made it clear that it is willing to put in the time and work that it takes to do so equitably. MEEA looks forward to continuing this work with the Office of Sustainability and others to provide whatever help is needed in this pursuit.
This article was originally published in the MEEA blog and is republished with permission.
---
Stay Updated
Sign up for our mailing list to stay updated on all things home and building performance.
"*" indicates required fields
By submitting this form, I understand I am subscribing to an email list to receive ongoing communication from BPA.