Top 4 Takeaways from the 2023 CLEAResult Energy Forum Conference
The impact of the Inflation Reduction Act is top of mind.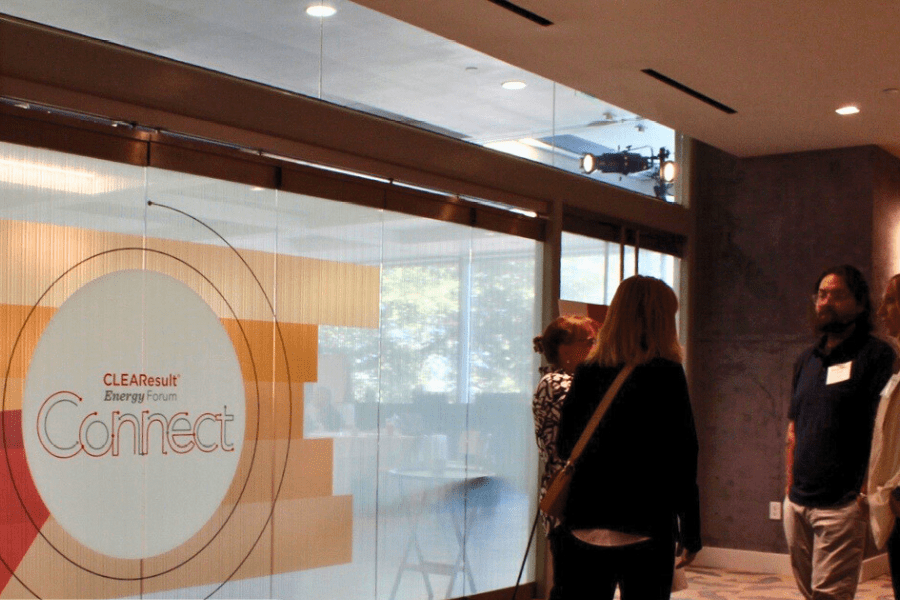 This July, the 2023 CLEAResult Energy Forum Conference brought over 150 utility representatives, state energy officials, CLEAResult staff, and visionary thought leaders together to Austin, Texas. Under the theme of "Connect," we explored how meaningful collaboration among industry leaders, partners and peers can open new opportunities for growth and drive collective success. Through panel discussions, roundtables, breakout sessions, and training workshops, our clients and partners shared their experiences and insights in addressing some of the energy industry's most pressing challenges.
Here are some of our top takeaways from a rich week of collaboration and discussion:
The impact of the Inflation Reduction Act is top of mind
With billions of dollars set to be distributed to the states for energy efficiency programs through 2022's Inflation Reduction Act (IRA) and program application guidelines just announced, many utilities are wondering how their programs can work directly with their local governments to ensure success for everyone.
As a model for early engagement and collaboration, Tennessee Valley Authority and the State of Tennessee urged utilities to start the conversation with their states (if they haven't already) to determine how they can best support each other's needs.

Program Portfolio Manager, Keith Canfield hosted a training on IRA Fundamentals and what to expect from Department of Energy guidance that provides further information on the timing and implementation of these IRA programs.

Though not part of the IRA, several of our Canadian clients have experienced blending federal, provincial, and utility funding to serve customers. They stressed the need to focus on the customer experience to ensure customers get the most money they can and don't leave the process confused.
Removing barriers to access programs
Utilities are committed to providing energy programming to all communities through new program designs, outreach methods and more.
Our Sustainable Diverse Partnerships panel focused on Energy Trust of Oregon's ambitious goals for equity and inclusion, how they are reframing "hard-to-reach" communities and leveraging a wide range of diverse partnerships to connect with those customers.

The residential program innovations breakout highlighted the unique challenges homeowners and renters face due to cost-of-living increases and how programs across the country are getting creative to meet their needs.

On the commercial side, midstream programs are essential to fill in the gap between large commercial and small-and-medium business program and our electric vehicle panel explored how to bring fleet electrification to even more businesses across the country.

The dynamic marketing roundtable delved into multi-cultural marketing tactics, prompting one client to share their success in organizing a block party in an underserved community that helped to build trust and grow participation.
Partnerships that help power greater program success
Utilities and implementers often can't do it alone and rely on the expertise or specialization of key partners to help programs reach their goals.
Our partners at Virtual Peaker helped us explore how to drive demand response program success through collaboration and align on program goals with clients to maximize realized savings.

We explored the importance of turning distributors and manufacturers into program advocates during our midstream session and how constant engagement can help programs navigate unforeseen obstacles and forecast more accurately.

The Sustainable Diverse Partnerships panel highlighted specific examples of how diverse partnerships opened doors to communities in rural Oregon that had not been involved in energy programs for years. Pat Watts, President and CEO of FCI Management, shared her journey as a business owner and what utilities and implementers can do to help small diverse partners flourish.
A human touch is still needed
In many territories, new technology and program complexity have made energy efficiency programs harder to navigate and many customers are left with more questions than answers. This is where person-to-person interaction can still make a major difference.
One of our breakout sessions focused on the benefits of energy concierges (or advisors) to help homeowners navigate complex programs involving multiple utilities and government-run programs. Direct support for these customers, built into the program design, has resulted in more savings and high customer satisfaction.

Decarbonization and strategic energy management (SEM) are other areas where working directly with people, with the support of technology, is driving great results. This session also talked about making in-roads with industrial customers in a rural territory who may need energy efficiency upgrades framed in a different way.
We left the week energized and motivated to continue to change the way people use energy and build programs that reflect the communities they serve. Plus, there is more content to come! Stay tuned for more content from this event and thank you to everyone who attended the 2023 CLEAResult Energy Forum. We're looking forward to doing it again in 2024!
This article was originally published in the CLEAResult blog and is reprinted with permission.
---
Stay Updated
Sign up for our mailing list to stay updated on all things home and building performance.
"*" indicates required fields
By submitting this form, I understand I am subscribing to an email list to receive ongoing communication from BPA.