What a 20 Million Heat Pump Commitment Means for the US
A consortium of US states and territories announced a commitment to deploy 20 million heat pumps by 2030. Here's why that matters.
By: Michael Gartman, Russell Unger, Rachel Golden, Jingyi Tang, and Ryan Shea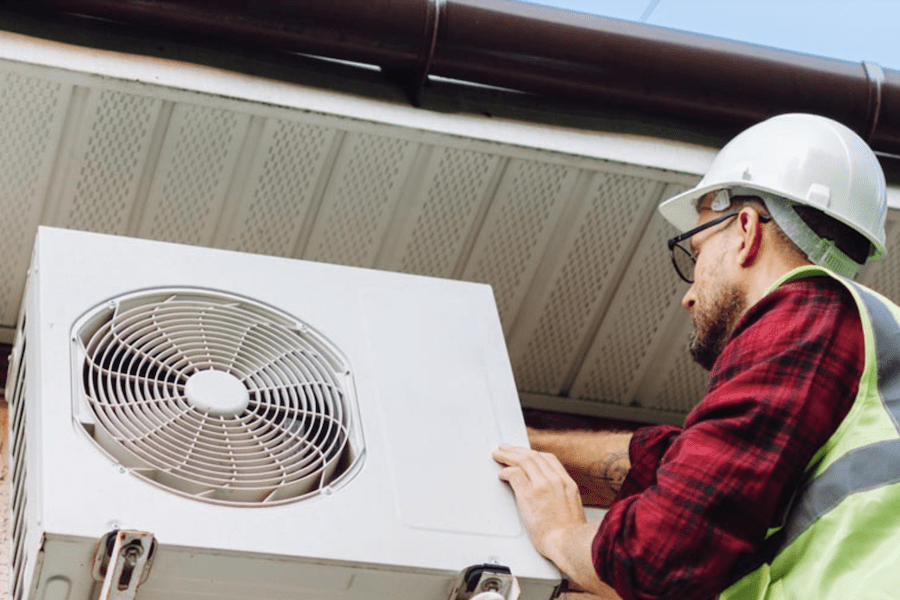 A consortium of US states and territories representing more than half of the US economy announced a commitment to collectively reach 20 million residential electric heat pump installations by 2030. At least 40 percent of benefits flow to disadvantaged communities. This new target from the bipartisan coalition of 25 governors known as the US Climate Alliance was announced alongside a series of multi-state policy goals and commitments to eliminate building emissions. This commitment demonstrates the widespread support for building electrification across the country.
Why It Matters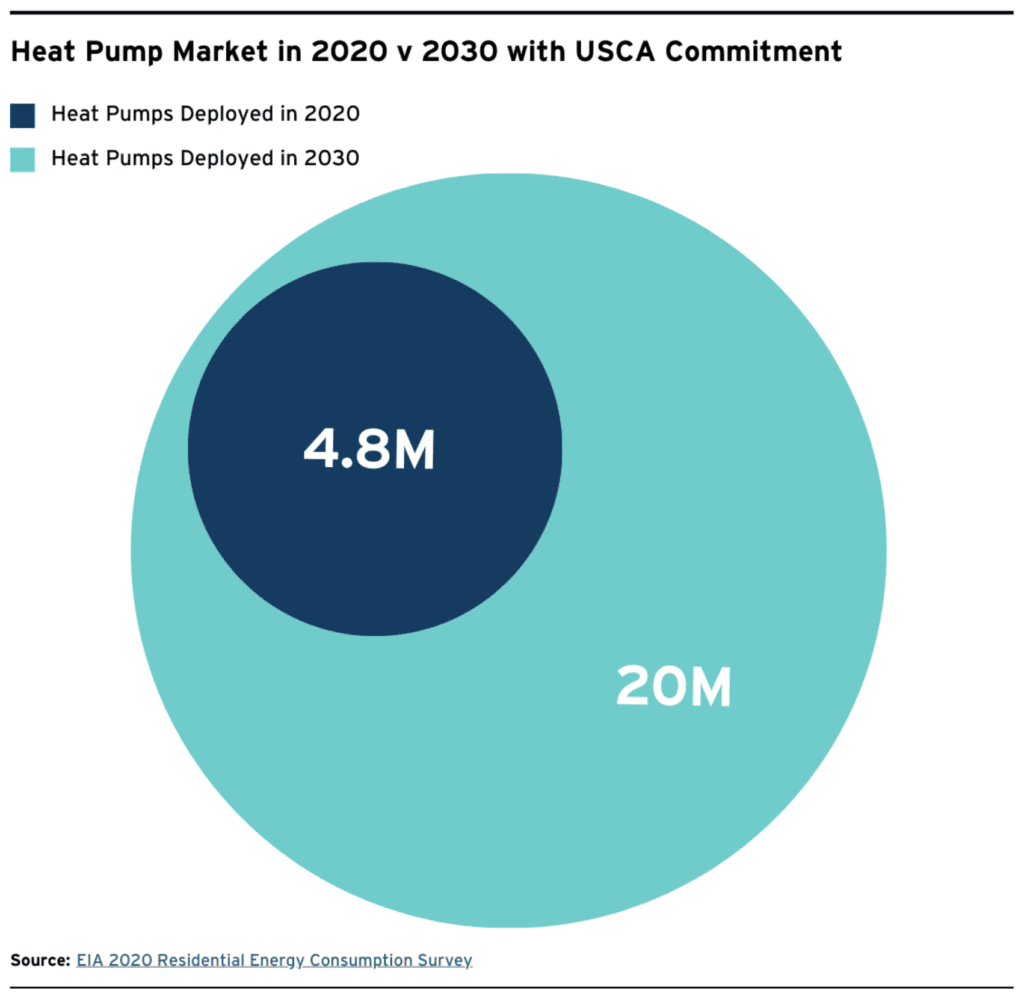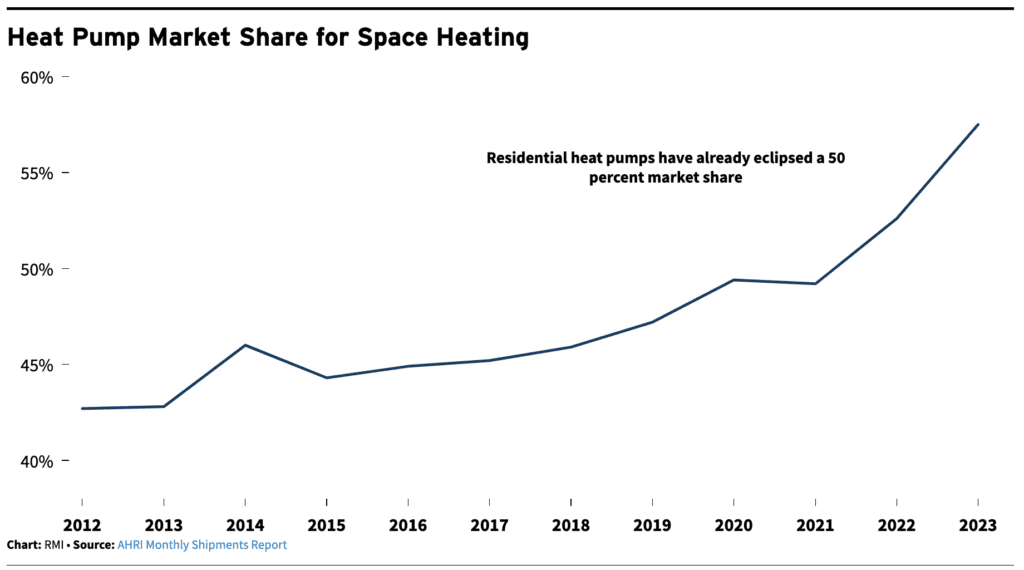 Heat pumps and heat pump water heaters are core decarbonization technologies that allow buildings to switch from burning fossil fuels for heating and hot water to using electricity instead. Making this switch can reduce home heating emissions in every US state by 35–93 percent while saving lives through improved air quality and protecting residents from volatile gas commodity prices.
Meeting the goal set by these governors would quadruple the number of residential heat pumps and heat pump water heaters operating in these states between 2020 and 2030, bringing the states within reach of the deployment needed to hit US climate targets. It would also drive the creation of good-paying jobs while advancing equity for low-income families and communities of color that bear a disproportionate cost and energy burden.
With this new commitment and sustained leadership by the Biden administration, communities across the United States are poised to take part in an international movement toward fossil-free homes and workplaces: the EU has targeted 30 million new heat pump installations in this decade, and countries covering over 70 percent of global heating demand now offer incentives for heat pumps.
Pathways to Accelerate Heat Pump Adoption
A combination of economics and policy will drive heat pump installations. Many heat pumps will go where they are already cost-effective without incentives while others will follow paths carved by funding from the Inflation Reduction Act (IRA) and state policy. We can expect to see the most progress in these sectors:
Low-Income Households
Before the Inflation Reduction Act (IRA), heat pumps and other electrification upgrades were unreachable for many low-income households, which often cannot tap the financing and incentives available to middle- and upper-income households. With new rebates of up to $8,000 for heat pumps and $6,500 for panel upgrades and wiring, the IRA and complementary state or utility incentives open the door for low-income homes to be more efficient, resilient, and comfortable. The governors' commitment to prioritize heat pump deployment in disadvantaged communities in line with Justice40 Initiative principles helps to ensure these states will take additional steps toward equitable access.
New Homes
Building all-electric new homes with heat pumps is less expensive than building a mixed-fuel (gas and electric) home. The economic case gets even stronger with IRA incentives offering up to $5,000 for homes constructed to the Zero Energy Ready Home standard. The policies for capturing this opportunity are already established in three states (New York, Washington, and California) and over 100 jurisdictions that require or strongly encourage developers to build all-electric.
Electric Resistance and Delivered Fuel Systems
Roughly 20 million homes rely on electric resistance heaters, and 10 million use delivered fuels (fuel oil and propane) for heating. These systems are expensive to operate and found disproportionately in low- and moderate-income households. An equitable transition that replaces electric resistance and delivers fuel-powered heating with heat pumps can save residents an average of $2,100 and $1,700 in annual energy costs, respectively.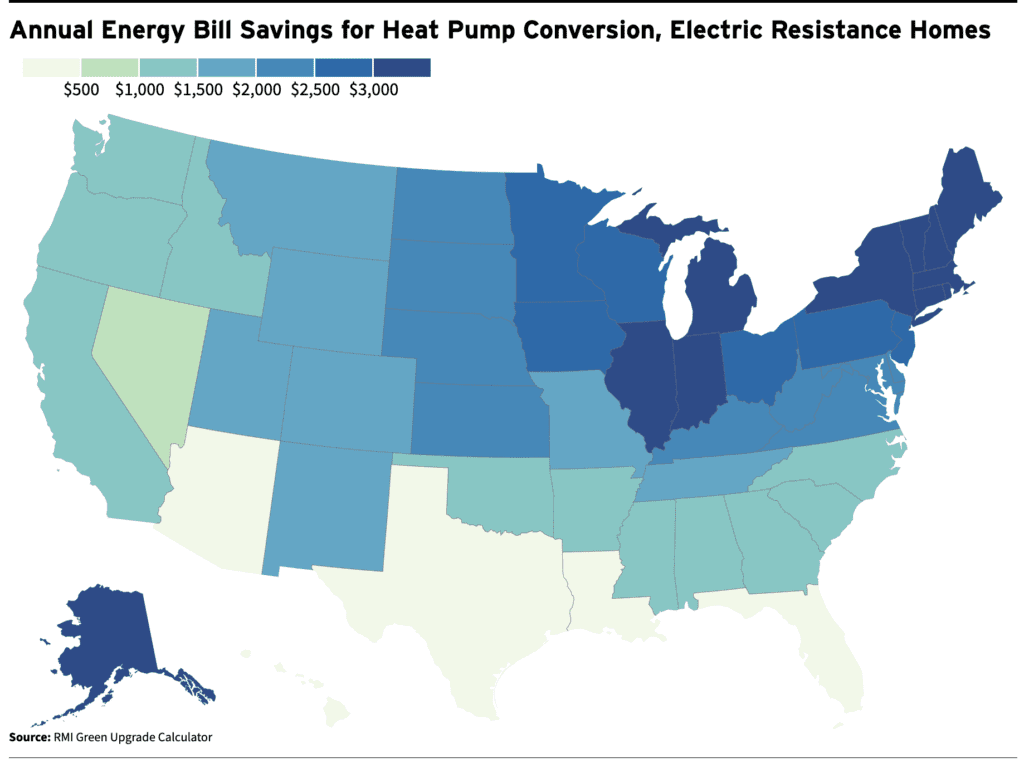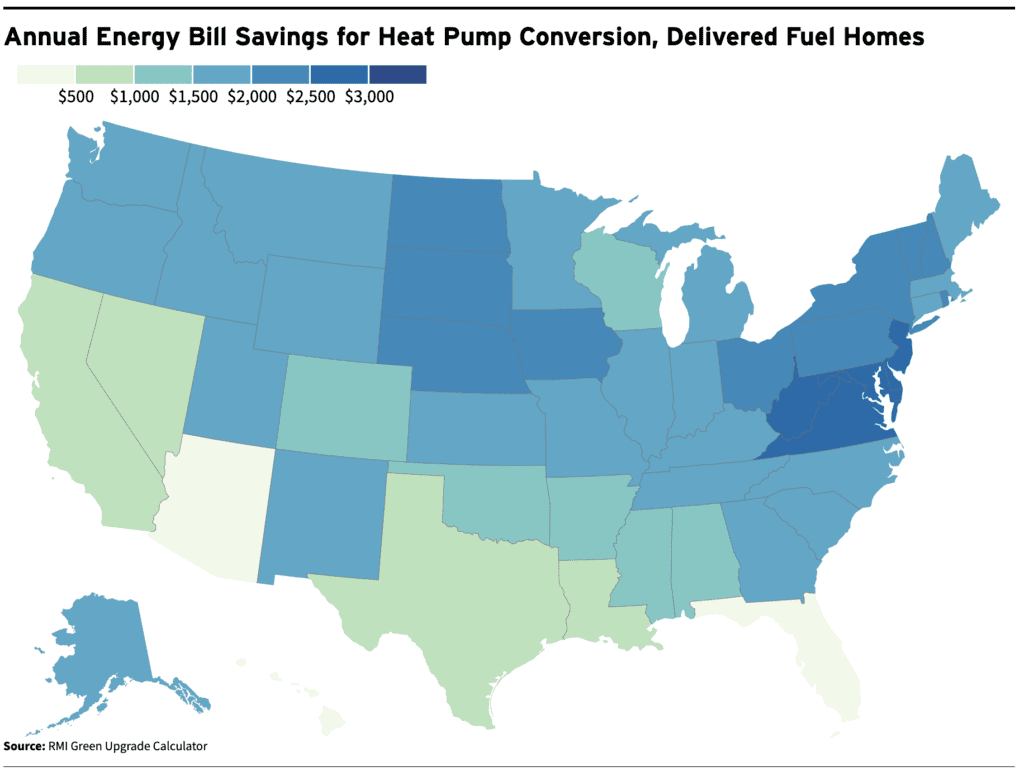 Air Conditioning System Replacements
Heat pumps are essentially efficient air conditioning units that can run in reverse to also provide heat. Encouraging homeowners to swap in heat pumps when their existing air conditioner dies overcomes many hurdles: it taps an existing workforce of AC contractors; electrical capacity is less likely to be an issue with central AC; and it avoids "emergency" installation in the dead of winter.
Homes with Solar
Solar-powered homes see improved returns for heat pump conversions because solar often generates cheaper electricity than the grid provides. Heat pumps, in turn, can improve the economics of residential solar installations by providing increased load for larger, more cost-effective solar systems. With new IRA incentives covering 30 to 70 percent of solar system costs, there has never been a better time to bundle these two clean energy measures.
What Happens Next is Crucial
The leadership demonstrated by US Climate Alliance governors, combined with the many market opportunities for heat pumps today, is encouraging. For the states to reach their heat pump commitments in a timely and equitable manner, however, they will also need to develop complementary building decarbonization policies.
The most immediate step is for states to leverage new federal IRA funding to help low- and moderate-income homes upgrade and electrify. States can act now to implement the US Department of Energy's flagship Home Energy Rebate programs to provide significant funds to low-income households. Pairing these rebates with other federal, state, local, and utility incentives can help deliver whole-home retrofits and more resilient neighborhoods. New incentive programs will have greater impact and contractor uptake if they are made accessible through universal applications, streamlined reporting, timely payments, and public awareness – underscoring the importance of today's commitment to streamline incentives and educate consumers.
Beyond leveraging IRA funding, states should take complementary steps to ensure electrification is affordable to the most marginalized and lowest-income communities. This includes unlocking new state and utility funding, scaling successful low-income electrification pilots into statewide programs, establishing inclusive financing programs, rate reform, and low-income bill and tenant protections.
Lastly, regulations must align utilities, manufacturers, builders, and contractors around decarbonization. Strong models exist for these regulations, including building codes, appliance pollution standards, and clean heat standards. RMI's building electrification factsheets provide a resource for state policymakers and advocates as they advance this critical work.
This article was originally published on the RMI website and is republished with permission.
---
Stay Updated
Sign up for our mailing list to stay updated on all things home and building performance.
"*" indicates required fields
By submitting this form, I understand I am subscribing to an email list to receive ongoing communication from BPA.