Women in Home Performance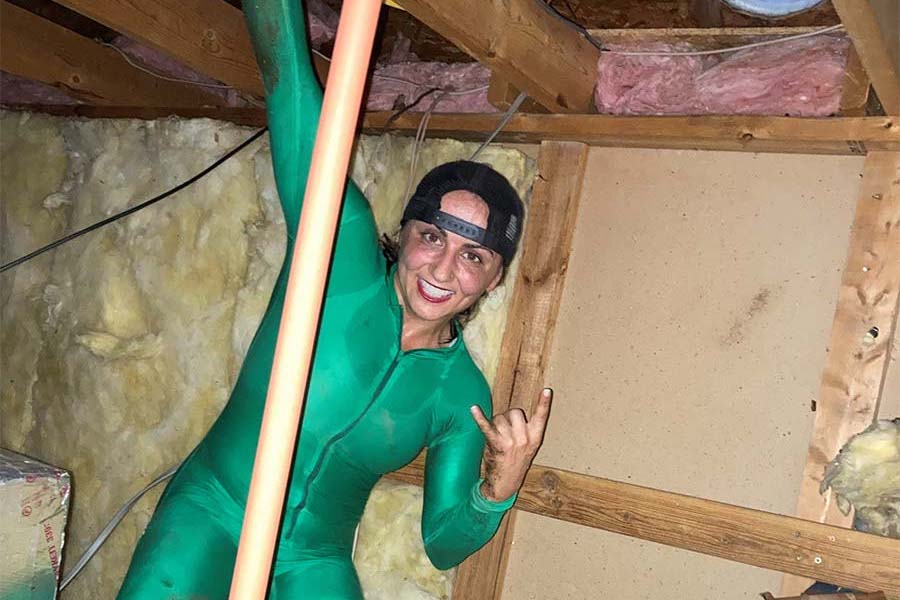 This month, we've shared several articles from our archives focused on women in home performance. (If you missed them, they're here.) But, as they say, there's truly no time like the present. In reading the older articles I wrote, I learned a lot about how our industry has changed—and in some ways, how it stayed the same. One glaring change is the language in which we speak about women. In recent years, there's been quite a shift in how our society views women—their power, their potential, their worth—and it's changed both how women are treated in professional settings and how they treat each other.
These overarching changes are felt in the building performance industry, too. It's no secret that women are strong, capable beings, but sometimes they have to prove themselves to be heard.
I spoke with three business-owning women—Jessica Azarelo, Elena Chrimat, and Leticia Colon de Mejias—to get their stories and perspectives on owning a business in this male-dominated industry.
Jessica Azarelo, Attic Queen
Jessica Azarelo is known in Florida as the Attic Queen—a title she donned just a year ago. After a challenging period in her life that left her out of money and without a home, Azarelo reinvented herself at the age of 34. With the help of her life coach and finally learning when to say "no" to things she didn't want, Azarelo took a hold of her future and said "yes" to a job in the industry.
"For the first year I worked for another company starting in the office, then helping on installs, then became a team lead, and then sales," she says. "I was a huge staple in the company and I was proud to help it grow, but unfortunately, I had never even heard of two very important words: building science."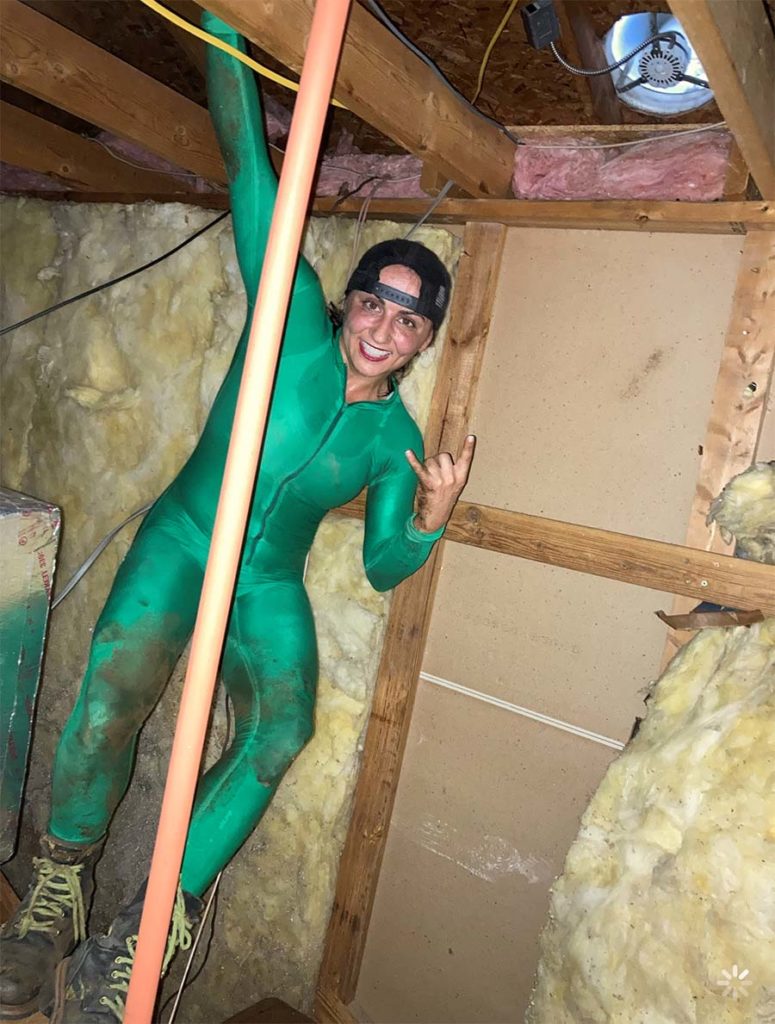 Azarelo took her first formalized training from Ken Allison of IDI Distributors—and then actually got fired for it! "That was a game changer that opened the door to a whole new world," she says. In the last year and a half, she's traveled to seven different cities to learn about building science and also obtained several BPI certifications. "I can assure you the classroom is nothing like being in the field," she says. "Both are extremely important."
Attic Queen, LLC is nearly 1 year old and has an established warehouse, a box truck that houses a brand-new 25HP diesel vacuum setup, and a pickup truck painted in "Attic Queen green" that hauls two other trailers. Azarelo's focus right now is on quality, not quantity, but she sees growth in the next year. "I want to be known for having a great company culture and providing the best service to my clients. I'd also like to have a second location in Florida. Personally, I'd like to be coaching two or three women who are new to the industry and helping them along their journey in the building performance industry! I'd love nothing more than to have Attic Queens all over the country!"
Her advice for women about the enter the field is this: "Never doubt yourself and if you are unsure of something, be up front. It's an opportunity for you to learn something and people will respect you more." As for women who are well-established in building performance, she says, "Don't look at competition as competition. One-hundred million homes need to be fixed by 2050, on top of all the new construction going up every year. It's going to take an army to accomplish that and there's no way I can do it on my own!"
Azarelo finds her passion for home performance in helping others and quite literally improving their health and lives by making their homes safer to live in. "I have a responsibility to my employees to be a great leader to teach them and support them. And for my customers, I have a responsibility to make their home healthy and or more efficient. When you realize in life nothing is more important than health and happiness—and you genuinely enjoy who you are—that is when you win life!"
---
Leticia Colon de Mejias, Energy Efficiencies Solutions (EES)
"When I told my husband and father I had started a business in building efficiency, they literally laughed at me. When they realized I was serious, they were shocked," says Leticia Colon de Mejias, owner of Energy Efficiencies Solutions. Her business idea came about during a lunchtime walk. Upon learning that the number-one cause of climate change was building emissions and electric generation for buildings, and that this harms human health, she felt compelled to do something about it. One day, during a lunch break from teaching adult students at a hospital and managing workforce development programs, Colon de Mejias thought, "What if I used what I know to help others save energy and save the people and the planet?" And that began her journey.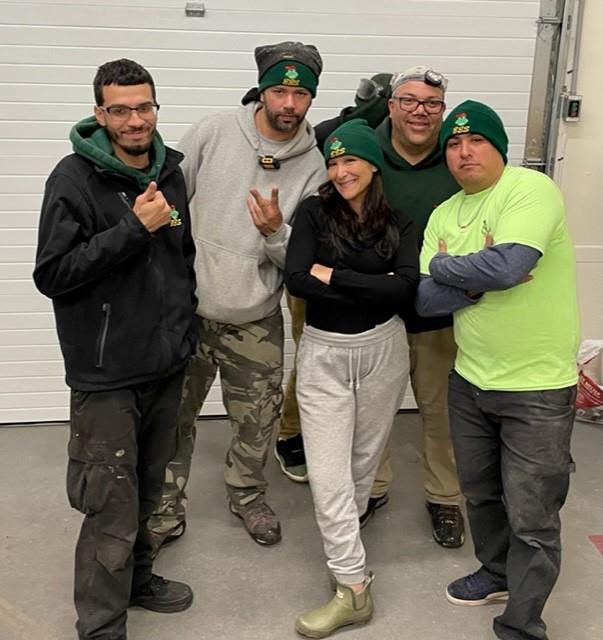 Since its inception in 2010, EES has had the chance to provide congressional testimony, serve customers, save lives through its work, provide jobs, and educate communities. What started as one crew and Mejias has now turned into a team of 20 and several crews that serve 5 to 10 homes a day with assessments. In total, EES has insulated over 3,000 homes, completed over 14,000 energy assessments, and comprehensively upgraded over 10 million square feet of housing complexes. They've also built two nonprofits that help educate the community on energy issues and climate action.
Colon de Mejias' husband even joined the team two years in. "Things change when you don't give up. People give in," she says. As for women who are interested in joining the home performance industry? "Women can do this," says Colon de Mejias. "It is rewarding. Once you earn your wings, you can fly high."
Colon de Mejias is inspired by the women who work alongside her and who came before her. To them, she says, "Keep going. You may be the light that inspires the next generation of women who make the world a better place for all of us."
---
Elena Chrimat, Ideal Air Conditioning and Insulation
Elena Chrimat is a self-starter. After 8 months of applying to more than 100 jobs during the market crash of 2008, Chrimat decided to make her own job. "At that time, one of our utilities here in Arizona was paying for people to become BPI certified, so I went through the class through their program sponsor, which happened to be a nonprofit weatherization agency as well," she explains. She did well on the exams but needed some hands-on experience, so she volunteered and worked with the utility for free for about a month. "My husband was working for a solar integrator at the time, so we piggy-backed off of that company's marketing events and would perform energy audits on the weekends," she says. It didn't take long for Chrimat and her husband to realize that there was a need for a performance-based contractor in the Phoenix area, so they aimed to fill that role. It took a while to get going, but eventually they had enough clients to make a business. "Once our demand grew and we couldn't finish all of our jobs on the weekends, we went all in!" she says.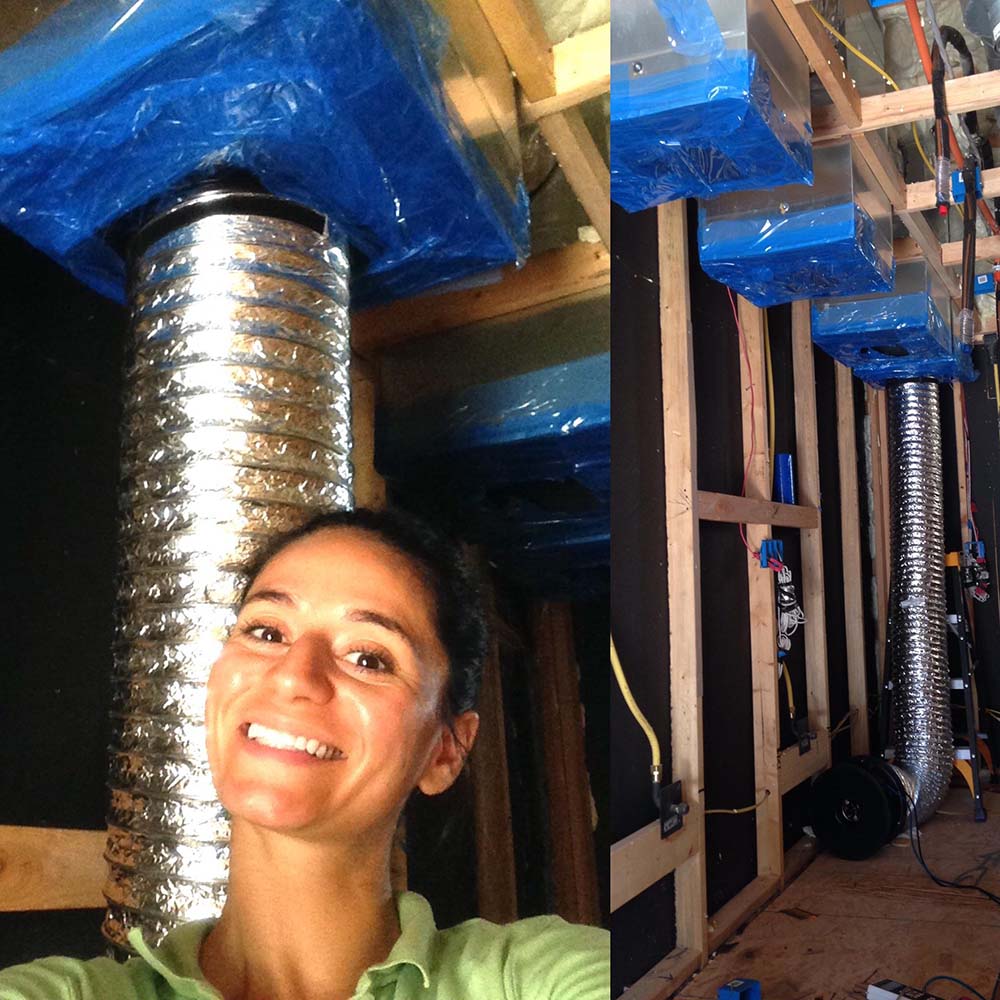 "We worked construction every weekend for the first few years, and I would run energy audits during the week out of a 1989 Toyota Land Cruiser! We hired our first employee in 2011 and in 2012, we moved into our own rental space and had a place to call home!" says Chrimat. In the last 10 years, her company has gone from $400,000 in revenue and 3 employees to over 20 employees on pace to hit $6 million in revenue this year. When it began, the company was mainly focused on energy audits and minimal home performance work. But in 2013, Chrimat and her husband realized they needed to add in-house HVAC services to their business model.
As for the future, their main goal is to be better than the year prior. "And if we miss it?" asks Chrimat. "Learn from it, try again, and succeed!" To get where she's at today, Chrimat had to work hard and earn the respect of customers and employees. "Being a woman in a male-dominated industry, especially when we first started, was really challenging. You truly have to show people that you know what you're doing in order to gain respect," she says. But she doesn't let that bother her. "I know my capabilities and know my worth."
For any women interested in this industry, Chrimat also offers herself as a guide. "If you're reading this and you're a woman not knowing where to start, I encourage you to just go for it! If you need help, feel free to reach out to me and I will do whatever I can to help guide you!" she says. But the main thing she wants women to know is that they can do whatever they set their minds to. "You need to believe that you are just as good, if not better, and can do it," says Chrimat. "If you don't believe it, then others won't believe it either."
---
Stay Updated
Sign up for our mailing list to stay updated on all things home and building performance.
"*" indicates required fields
By submitting this form, I understand I am subscribing to an email list to receive ongoing communication from BPA.