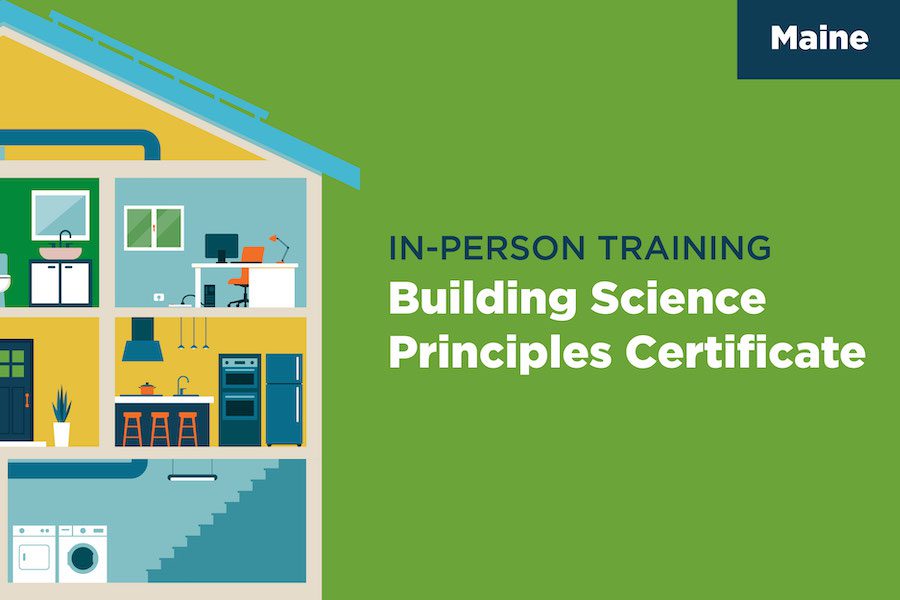 Building Science Principles Certificate of Knowledge Course-Maine
Full-Day Class for Maine Residents
Join our comprehensive, full-day class that will prepare you to take the BPI Building Science Principles (BSP) Certificate of Knowledge exam. The BSP is your first step into the world of energy efficient home performance. The class is limited to the first 25 individuals who register.
Class Details
Wednesday, September 13, 2023, from 9:00 a.m. to 3:00 p.m.
(You will have the option to take the certification exam from 3 p.m. to 5 p.m.)
Gateway Community Services Maine
501 Forest Ave.
Portland, ME 04103
---
Who Should Take This Class?
Great for building trade professionals, home inspectors, remodelers, sales reps and installers of HVAC/windows/solar, policy and program managers, students, and individuals aspiring to enter the energy efficiency industry.
What You Will Learn
Widely used industry terminology related to building science
Understanding the intricacies of the building envelope, heating, AC, insulation, mechanical ventilation, lighting, appliances, and other home systems, along with their impact on occupant comfort, health, and the home's durability
Gaining the skills to effectively educate your customers about potential building performance issues and knowing when to engage a certified expert from BPI
What You Need to Know about the Class
The class is being offered for free for the first 25 individuals who register.
You must register here to take the class.
The class is open to individuals aged 18 and above who are fluent in English. (The book and exam are available in Spanish, but the class will be conducted exclusively in English.)
Lunch will be provided at no cost.
You may take the class without taking the exam.
What You Need to Know about the Exam
The exam is being offered at no cost.
The exam will be given the same day as the class training from 3:00pm – 5:00pm.
Register for the exam and digital book here.
You must bring a laptop to take the exam.
You may take the class without taking the exam.
Once you register, watch your email for instructions on how to get access to the digital reference guide book and exam code.
Agenda
| | |
| --- | --- |
| 9:00 – 9:15 a.m. | Welcome & Sign In |
| 9:15 – 11:00 a.m. | Teaching |
| 11:00 – 11:10 a.m. | Break |
| 11:10 a.m. – 12:30 p.m. | Teaching |
| 12:30 – 1:00 p.m. | Lunch |
| 1:00 – 3:00 p.m. | Teaching |
| 3:00 – 5:00 p.m. | Continue with course or provide the exam option |
---
More About Building Science Principles Certificate Exam
The BSP Certificate of Knowledge can be earned by studying the guide and then challenging the BSP online exam from your computer. The BSP exam is a 100-question multiple choice exam with a passing score of 70%. Once you successfully complete the exam, you can print your personalized BSP certificate from a computer connected to a working printer.