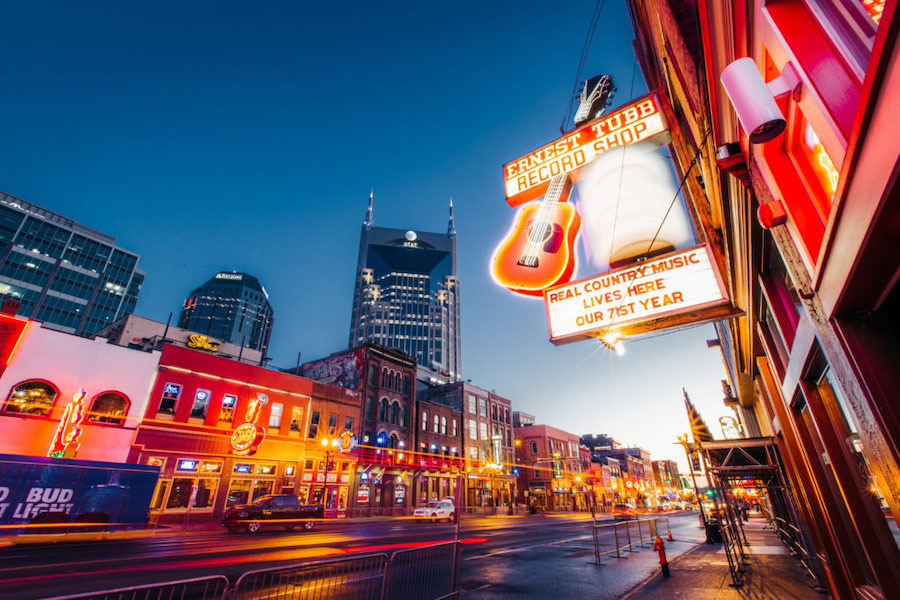 Comfort, Convenience, and Country Music—Nashville Has It All
Written by Katie Miller, BPA's Director of Marketing and Communications
After more than two years of being grounded by the COVID-19 pandemic, the BPA conference and education team had the pleasure of visiting Nashville, TN for a pre-conference site visit. As you probably know, the 2022 National Home Performance Conference will take place this year in Nashville April 11-14. While it may seem like BPA conferences come together seamlessly and with little effort (sarcasm), I can assure you that the pre-planning phase for these events begins well before the conference starts! So to prepare for this year's conference, we packed our bags and headed to Music City!
First stop: the Nashville Airport. Our direct flight from Pittsburgh to Nashville was pretty easy and without incident. Our arrival time was super early and Chris Docchio, Director of Strategic Partnerships, and Nate Natale, Chief Operating Officer, arrived at the Omni Nashville Hotel around 7 am. Yeah, you read that right—7 am! Nate chose to stay at Margaritaville Hotel Nashville (more on that later) and he continued on in the Uber to the hotel, which was about a block away. Long-time BPA meeting planner, Lois Miller, also joined us to help prepare for the conference.
I assumed we'd spend the morning drinking coffee at the hotel's onsite cafe, Bongo Java, catching up on emails, preparing for the day's events, and waiting until we could check in around 3 pm. It turns out, this hotel registration staff was on-point and ready to welcome us right then, at 7 am! Great service, fast check-ins, and friendly faces sent us on our way up to our individual rooms. And let me tell you, these rooms are fantastic! Even if the rooms weren't comped (thanks Omni Nashville!), I'd be happy to pay the $269 (special conference rate) per night to stay at this downtown location. The Omni describes the rooms as "urban elegance with a vintage touch," and I couldn't have said it better. The city views are spectacular, the beds are SO comfortable, and everything was well appointed. If you can get a room here, I would recommend it! Oh, and it's connected to the Country Music Hall of Fame!
Once we settled in, it was already time to head to lunch. Nate, being the foodie he is, planned a great meal for us at Martin's BBQ, which is literally a stone's throw away from the Omni Nashville Hotel. We walked over, sat in the upstairs beer garden, and enjoyed fried catfish, pulled pork, and smoked turkey sammies. The lunch crowd was pretty calm that day but you could tell this place really comes to life at night!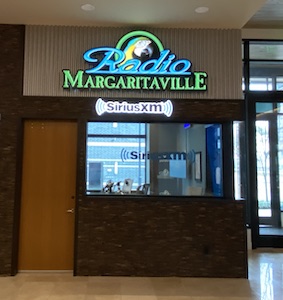 Next, it was time to check out one of our overflow hotels, Margaritaville Hotel Nashville. Nate stayed here for our trip to get a feel for the space. If you're looking for a funky and bright spot to rest your head, look no further! This space was super fun, fresh, and about a 5-minute walk back to the Omni. If you stay here, look for the Sirius XM Radio Margaritaville station right in the lobby!
We decided to walk down to the Broadway Historic District where all the action is! If you're not familiar with the Broadway tourist area, it is the major thoroughfare in downtown Nashville. This location is renowned for honky tonks, live country music, restaurants, retail shops, and more! Cowboy boots, guitars slung across backs, and live music poured out of pretty much every bar all day long. We made a quick stop into Robert's Western World for a libation and to hear some local talent. You really don't want to miss this spot as they bill themselves as the "undisputed home of traditional country music." (As well as a delicious-looking fried bologna sandwich!)
After our walk down Broadway, it was time to really get to work. We toured all of the session rooms and trade show spaces, as well as decided where we'll set up registration and networking areas. To help with crowd control, Nate and Lois discussed opening registration on Sunday before the conference starts. (If you're reading this, I'll let you in on a little secret: Plan to check-in at registration on Sunday to avoid waiting in line to register on Monday morning!)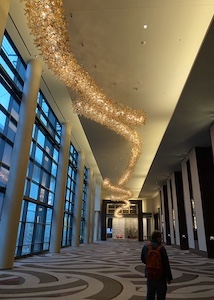 Chris and I moved on to the trade show space. Because the Omni has such great, sweeping views of the city, we're opting to keep the trade show booths outside of the ballroom and place them along the walls of the beautifully wide corridors. The trade show really is at the heart of the conference and this layout allows for tons of interaction, great natural lighting, and easy access to session rooms, reception areas, and coffee stations. Host sponsor, TVA, has a large booth and lounge area planned for attendees, and the wide-open space keeps people from being on top of each other while still connecting. We really think this trade show configuration is going to make exhibitors and attendees happy—and that is what we're aiming for!
So there you have it: a brief summary of our site visit to Nashville, home of the 2022 National Conference! If you haven't registered, I'd recommend doing that right now. The early rate of $895 for non-members and $745 for members ends on March 11, 2022. After that, prices go up by $100. I'd also suggest booking a room at the Omni Hotel Nashville before it's too late. Lois informed us that the hotel is almost 50% full for our conference dates and rooms will sell out soon. Overflow rooms (such as those at Margaritaville) will be available in a few weeks, and we'll be releasing more overflow rooms with special discounted rates, as needed.
So attendees, exhibitors, sponsors, and friends, plan to join us in Nashville, TN, April 11-14 for the 2022 National Home Performance Conference and Trade Show—we can't wait to see you there!