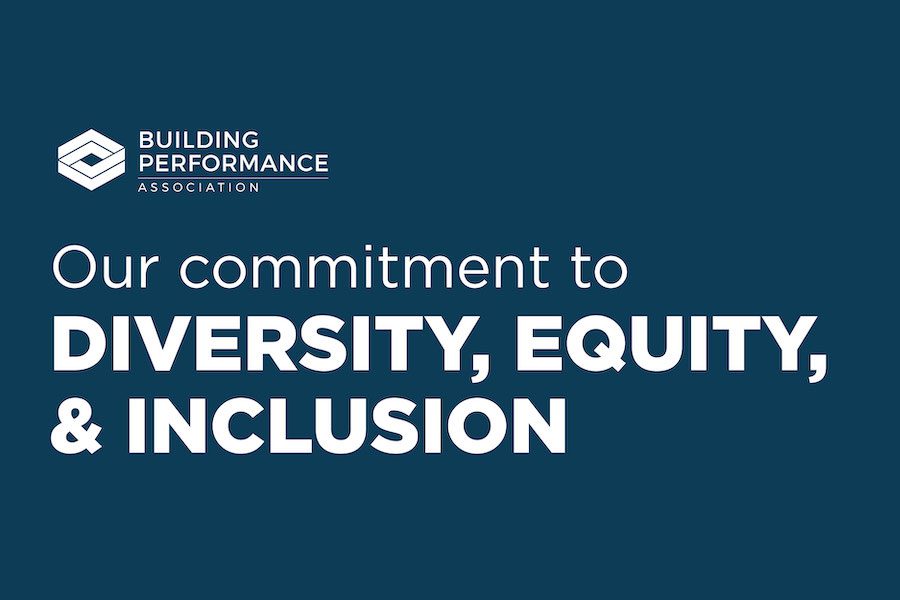 BPA's 10 DEI Guiding Principles
BPA's Diversity Equity and Inclusion (DEI) committee understands that the hard work of DEI is for leaders who are ready to be honest, to get uncomfortable, and most of all, who are ready to center efforts not on those who have already succeeded, but on those who have longed and fought and worked and tried again and again for change. That's how we create true change.
"This is an important matter not only for BPA, but across many societal landscapes. As we witness increased diverse participation in the home performance industry, it is critical to ensure that our policies are reflective of the industry," says committee chair Darnell Johnson.
"It's of utmost importance that the building performance industry adopt practices that provide process equity and improve the involvement of underserved communities," says BPA CEO Steve Skodak.
What We're Doing
BPA is adopting the following guiding principles before we begin a larger conversation with the industry. By adopting these principles internally, we can ensure that organizational decision making will be done through the lens of equity and that the Association is not merely being transactional about DEI, but transformative instead.
10 Guiding Principles
Acknowledge Bias. We acknowledge that individual and institutional bias have excluded marginalized members of our organization.
Centering. We recognize that our organization includes everyone. However, we commit to centering this work on the pain, frustration, and anger of the marginalized members of our organization and not solely on the comfort of the majority.
Transparency. We commit to communicating openly with our members on our work toward equity and inclusion, and receiving and incorporating their feedback as our work continues.
Accountability. We commit to holding ourselves and each other responsible for both failure and success.
Specificity. We recognize that our policies and procedures have had different negative effects on marginalized communities, and we commit to being specific on which policies will be assisting which groups and how.
Realistic. We acknowledge that this DEI process cannot address all the challenges that our organization faces, while also recognizing that those challenges may affect our ability to meet DEI goals.
Measurability. We will set out actionable goals and measure our progress toward those goals.
Values. We understand our values as an organization and will work to center those values on equity.
Acceptance. We acknowledge that the organization that exists at the end of this process might be different than the one we had when we started, and we accept that as we start this journey.
Empathy. We will listen to the stories of those who have been marginalized and we will not deny their lived experiences. Their stories are not subjective. Their stories are true.