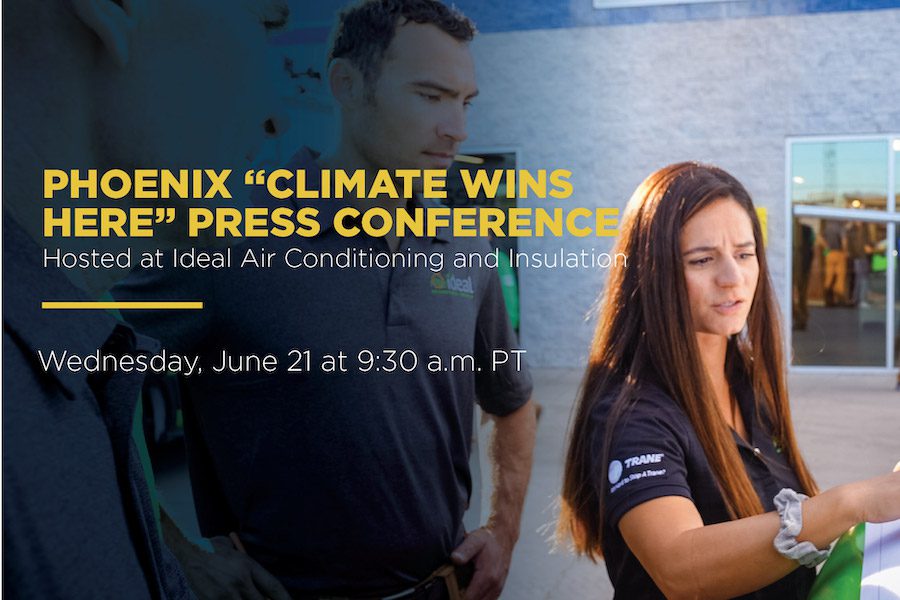 Phoenix "Climate Wins Here" Press Conference
This Wednesday, June 21 at 9:30 a.m. PT, the Phoenix Climate Wins Here" Press Conference will be hosted at Ideal Air Conditioning and Insulation. This business is owned by BPA Board Member, Elena Chrimat.
About the Event
This conference will cover the economic benefits Arizonans stand to gain from the federal grants allocated to Arizona's new Office of Resiliency. These funds will facilitate the rollout of broad clean energy investments, positioning the state as a leader in clean, affordable energy.
Among the many federal investments in the state, nearly $77 million will be allocated to the Home Energy Performance-Based Whole-House Rebates Program (HOMES) and an additional $76.4 million will benefit the High-Efficiency Electric Home Rebate Program (HEEHR).
Speakers
Governor Katie Hobbs
Mayor Kate Gallego, City of Phoenix
Director Maren Mahoney, Office of Resiliency, Office of Governor Katie Hobbs
Bianca Buliga, Director, Marketing and Communications, Arizona Technology Council
Elena Chrimat, Co-owner, Ideal Air Conditioning and Insulation and Founding Board Member of the Building Performance Association
Michael Barrio, Senior Policy Principal, West, Advanced Energy United
Kelly Trombley, Manager State Policy, Ceres