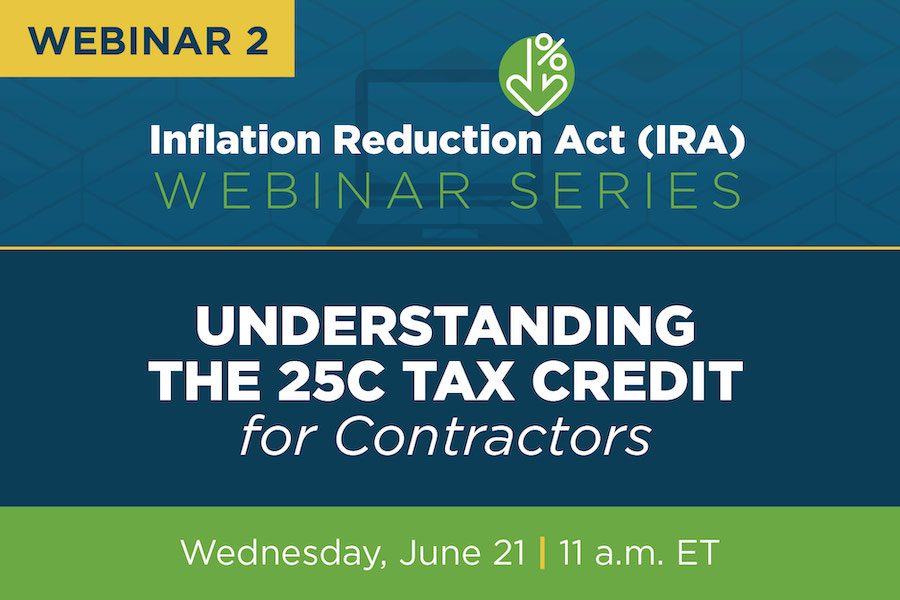 IRA Webinar 2: Understanding the 25C Tax Credit for Contractors
Join us for the second webinar in our IRA series covering 25C Tax Credits.
Join Curt Rich, President of the North American Insulation Manufacturers Association (NAIMA), and Kara Saul Rinaldi, Chief Policy Officer of BPA, to learn about the newly expanded and extended Inflation Reduction Act (IRA) 25C Tax Credit.
This credit is currently available to homeowners who add insulation, HVAC, and other energy saving equipment to their home, including having an energy audit performed. 25C offers consumers an annual credit up to 30% of the cost of qualified building envelope improvements and energy efficient appliances – with a potential maximum total annual credit of $3,200 (depending on which products are installed).
This webinar is free for all paid BPA members and available to anyone who purchased the series package last month. Non-members may access this live event for $150. If you previously purchased the webinar package, you will be able to access this webinar at no additional cost.