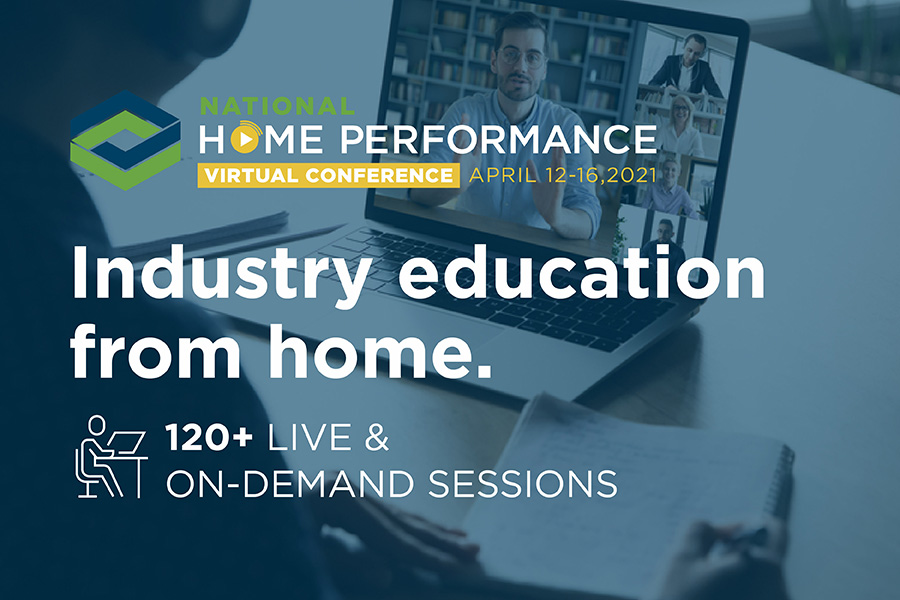 NHPC21 Virtual Conference Roundup – Day 3
We're halfway through our National Home Performance Virtual Conference and my focus for this blog is wellness.
Today, I attended two sessions: Diversity in the Home Performance Workforce and Electric Vehicles & Smart Homes. Two very different topics, but both with incredible presenters. But before I get into my takeaways for those sessions, I want to talk about The Power of Conserving Energy: 1 hour of Mindful Movement—a social event that took place yesterday afternoon as part of the conference's wellness series. Obviously, efficiency is in our bones; it's what we live and breathe. You do a great job of helping your clients find efficiency, helping their homes breathe…but are YOU breathing?
This hour-long session gave attendees the chance to do just that. Take some time out of their busy day to unwind and concentrate on wellness.
"Having an opportunity to get in touch with my breath and to get moving during a stressful week in front of the screen was a much welcomed respite," says Nate Natale, BPA's Vice President of Education and Events. "I hope our attendees found it helpful as well. I have better energy for this afternoon than I did in the morning and I hope people come back on Friday morning for the final session."
So, if you missed this opportunity, be sure to join the last wellness session on Friday: Optimize & Restore—1 hour of alignment-based movement to improve physical and mental health. Who doesn't need that?
---
Okay, now onto a different kind of wellness: diversity. Our world is changing, people are learning, and we all have the chance to do better. That begins with us. Inside our homes, with the ones we love, with the ones we choose to work with. The contractors you hire will be inside people's homes, helping them improve their lives.
In the Diversity in the Home Performance Workforce session, Sandy Fazeli, Managing Director of Policy for the National Association of State Energy Officials said, "To be able to reach homes that are not the standard, white, middle-class home, we need a workforce that can help create trusting relationships." She was referring to memories of growing up. She lived in a household where a contractor who understood them, their language, and their culture was much more important than if or where he was certified. And she believes it's important to teach an upcoming workforce about diversity, and ultimately about respect for people and their homes.

Sandy also touched on some positives for our industry. Like the fact that "jobs in energy efficiency offer a 28% premium over the national wage" and that these jobs can "offer a ramp into a very lucrative energy career." Not only do we need diversity, but we can offer good paying jobs. Now let's shout it from the rooftops! Let's show people our industry cares in more ways than one.
In the afternoon, I attended Electric Vehicles & Smart Homes. I'm going to stretch this session's connection to wellness just a bit, but bear with me. While weatherization and low-cost retrofits are a big part of what we do, so are smart homes or smart features of homes. If a customer of yours is interested in a smart home, they're likely also a person interested in an electric vehicle. But electric vehicles need to be charged at home, which uses energy. So, how can we integrate these vehicles into our energy efficient homes? As the session presenters noted, adoption of electric vehicles is expected to grow rapidly and with it the need to integrate these vehicles into the smart home and the overall electric system. For the wellness of your business, you need to answer that question. (See what I did there?)

This session looked at many ways to integrate EVs into homes and gave the attendees a look at real-world experience from companies who help manage charging, such as Enel X. As Karen Hsu of the company said, adding EVs "is a big load for a single-family residence but it's also the most flexible load." Meaning that owners don't necessarily have to charge during peak times, as they've found they're using cars for daily commutes. "Most EV drivers need between 40 minutes and 3 hours to charge, and that can happen anywhere in about a 12-hour period."
Lastly, I want to talk about social wellness. We've all adjusted a lot in this past year. Which is why I am particularly fond of the networking sessions this conference offers. A real, virtual chance to speak live to other people. Other people in the same spot as you (metaphorically, of course). Their home, attending a virtual conference just like you. It's nice to see their faces and have honest conversations. Conversations about sessions, about work, about current events, or just to tell stories of the past. If you haven't attended those yet, we've got more this week. You can find them here.