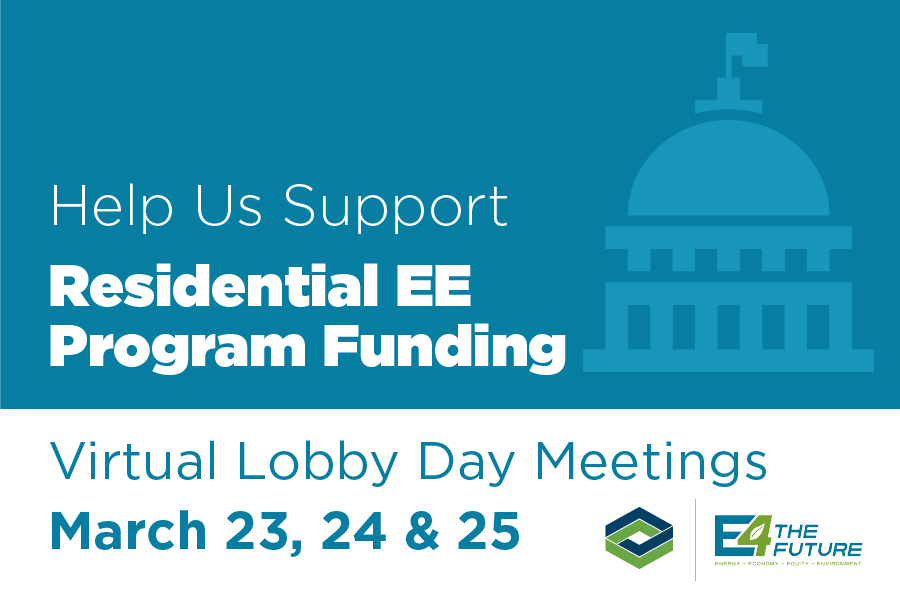 Virtually Support Residential EE Programs on Capitol Hill
These events have concluded. Thanks to all who supported energy efficiency!
---
Do you care about HPwES? Home Energy Score? Government support for other residential energy efficiency initiatives? Well, now is your time to tell them!
The Building Performance Association, in collaboration with E4TheFuture, is hosting a series of virtual lobby day meetings March 23, 24, and 25, 2021 via Zoom, urging congressional staff to increase funding to critical residential energy efficiency programs.
Virtual lobby days allow you to join from anywhere you've got an internet connection. There will be 4 to 5 meetings per day, but you can join as many as you'd like! BPA will provide the materials and talking points—all you have to do is Zoom in and talk about your business.
Appropriations
Each year Congress determines funding for governmental departments, agencies, offices, and the programs they implement—including the Department of Energy's vital residential energy efficiency programs. BPA submits written requests in support of our key programs, and this year we will be asking for a significant increase to get our members back to work in a big way in the wake of the pandemic.
Our requests center on increase funding for Residential Buildings Integration, which oversees Home Performance with Energy Star (HPwES) and Home Energy Score, has thousands of important partnerships with industry stakeholders, and is absolutely vital in supporting and advancing the residential energy efficiency industry. We will also be asking for significant increases to the Weatherization Assistance Program and State Energy Program.
Be Heard!
Your participation will be incredibly important to securing increased funding. Congress wants to hear directly from the folks that will be impacted by this funding, and that means YOU!
We look forward to virtually hitting the Hill with you!