Efficiency For All's M=POWER Workforce Program is Building Bridges as they Tear Down Walls
EFA M= POWER's workforce programs prepare participants to quickly move beyond entry-level energy efficiency roles.
By: Leticia Colon de Mejias
Efficiency For All (EFA) is a nonprofit located in Connecticut. We collect and reflect energy policy and planning reports and information to keep stakeholders and leaders informed. We also advocate for the stabilization and expansion of local and national energy efficiency programs that protect human health and the environment, provide local jobs, increase positive economic outcomes, and reduce short- and long-term energy costs.
The Problem: A Lack of Qualified Workers
Connecticut, and the nation as a whole, are facing a lack of qualified workers for available energy efficiency jobs and clean energy jobs. These energy efficiency (EE) career paths include entry-level and building science certified insulation, energy auditors, EE support techs, insulation installers and insulation support techs, office administrators, window installers, electricians, heat pump installers, mold remediators, customer service representatives, and office billers. This lack of qualified workers is exacerbated by the need to develop certified efficiency for workers to support the expanded federal and local investments in efficiency and clean energy jobs to meet our new state and federal climate and energy goals.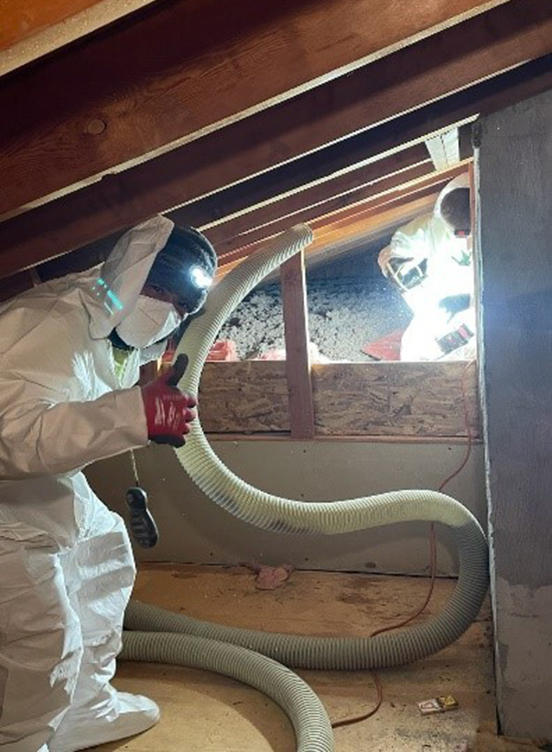 As the nation and our new federal administration begins to reinvest in the energy efficiency industry and clean energy industry, this workforce gap continues to widen both locally and nationally. Energy efficiency is still the most cost-effective way to lower energy costs and energy-related pollution, while closing the energy affordability gap, and addressing the connections between health and housing. The energy we don't waste is the cheapest and cleanest source of energy for all people. 
Many job seekers are unaware of the growing energy efficiency and clean energy career industries. Others lack the proper skillsets needed to apply for the local and growing energy efficiency roles in our great state. EFA's M=POWER is our fast-track solution.
The Solution: M=POWER
Our EFA M= POWER workforce programs prepare participants to quickly move beyond entry-level energy efficiency roles. Our training seeks to diversify who receives the benefits of long-term career growth opportunities.
This program directly connects incoming applicants with the required certifications as well as core soft skills required for any customer service career. Our Contractor Network worked collaboratively with the public utilities and EFA to create a standard set of certifications which are commonly required to work in the Connecticut clean energy industry. These courses are completed during the six-week, in-person M=POWER training program. Courses are taught by nationally certified master instructors. Mentoring and study groups help participants prepare for the rigorous math, science, and writing portions of the exams. Students also complete public speaking and customer service training.
Upon completion of the program, each participant will earn the following certifications:
BPI Building Analyst
BPI Envelope Professional
BPI Multifamily Building Analyst (MFBA)
Infiltration and Duct Leakage
Healthy Home Evaluator.
Occupational Safety and Health Administration (OSHA)
Occupational Safety and Health Administration (OSHA Confined Space)
Lead Renovation, Repair and Painting Rule (RRP)
DOE Home Energy Score Exam Prep
Our training includes holistic approaches combined with wraparound services, career coaching, and physical tools. We intentionally teach students how to manage money, how to budget for a rainy day, and how to use their tools. We also teach them about the T's and P's, which are talking, teamwork, tenacity, and talents coupled with planning, prosperity, and peaceful action-based approaches to problem solving.
Diversity, Equity, and Inclusion
M=POWER continues to create and implement successful diversity, equity, and inclusion (DEI) workforce programs across Connecticut.
Our recruiting places DEI at the forefront of training implementation plans. We meet people where they are. We shore up any potential areas of growth, while simultaneously providing guidance and training that helps these vulnerable individuals navigate new waters of workplace responsibilities and life changes that full-time work creates including benefits as well as cliff planning where when income increases, families sometimes lose some or all economic support.
More than 30 Connecticut residents from vulnerable communities have already attained nationally recognized certifications through EFA's supportive programs. All 30 have been successfully placed in clean energy careers. More importantly, participants gained improved economic resilience and cross-cutting benefits. These individuals are gainfully employed in our state and have attained stable housing and transportation, hope, and a path to a bright stable future.
Our program success is part of Connecticut's economic success as our adult learners become meaningful, contributing, engaged members of our local economy. They are now taxpayers, contributors to our combined improved environmental outcomes, and on the way to home ownership and prosperity.
EFA's focus on inclusivity intentionally seeks out and engages people that may have been unaware of these growing clean energy opportunities. We seek to connect underrepresented populations, and environmental justice zones to the importance of our energy infrastructure transition to clean energy. EFA works hard to reach all corners of Connecticut and to connect with all ethnic groups, to provide fair access to information, education, and job placement opportunities.
Imagine the possibilities of what we as a state or our nation can achieve if we invest in our local communities. We can put Americans to work solving for the cumulative impacts of environmental justice and climate change together through action-based approaches.
---
Stay Updated
Sign up for our mailing list to stay updated on all things home and building performance.
"*" indicates required fields
By submitting this form, I understand I am subscribing to an email list to receive ongoing communication from BPA.