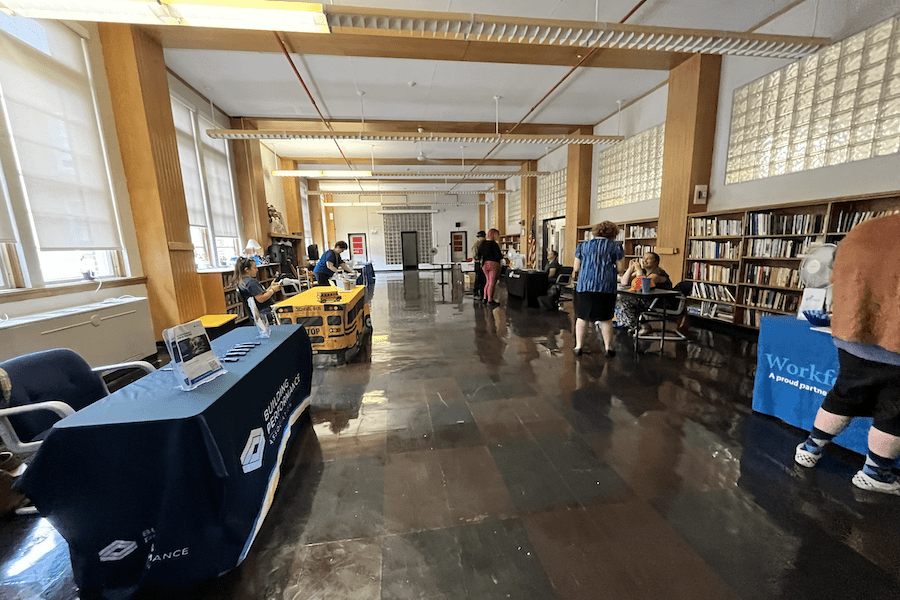 Make an Impact: Explore Careers in Sustainability at Maine Job Fairs
Are you passionate about sustainability and looking to find a job that makes a difference? Your journey towards making an impact could start at a job fair near you here in Maine! As the people on our planet become increasingly aware of the environmental challenges we face, the field of sustainability continues to gain momentum.
More than ever, innovative and creative minds are needed to shape our transition towards a sustainable, low-carbon economy. Hailey Champagne, an AmeriCorps VISTA member who is currently working in partnership with the Maine Building Performance Association (Maine BPA), is speaking with those passionate about starting a career in sustainability and clean energy at multiple job fairs throughout the state.
Why Visit a Job Fair?
Visiting a job fair gives you the opportunity to connect and explore potential careers, apprenticeships, and resources that could propel you into this important field of work. Plus, there's the chance to share your passion for sustainability. If you are interested, Hailey is providing attendees with the unique opportunity to be interviewed on camera for a video blog. This is a great way to share your enthusiasm and inspire others to join the cause!
Dive Into a Wealth of Resources
We understand that knowledge is power, and it takes time to read and comprehend the information involved in starting a career in sustainability in Maine. At the BPA booth, you will find an array of brochures and informative materials to take home. These resources will provide you with in-depth insights into the realm of sustainability and clean energy, enabling you to make informed decisions at your own pace.
Jump Start Your Career
This job fair could be the launchpad for your career in sustainability and clean energy. Whether you're seeking an entry-level position, an apprenticeship, or a leadership role, you can visit Hailey at the BPA booth to find opportunities that match your interest and skill set.
A job fair is more than an event—it's a catalyst for change. It's where passion meets opportunity. We invite you to come and explore the wealth of opportunities waiting for you in the sustainability and clean energy sectors. Every action counts. Every person matters. Together, we can build a sustainable future.
Upcoming Job Fairs in Maine in 2023:
The Springvale Hiring Event/Job Fair: Every Thursday from 3:00 pm – 5:00 pm through August 24th
Hire-a-Vet campaign at the Augusta Civic Center: August 17th from 10:30 am – 3:00 pm
Lewiston Career Center Fair: August 22nd from 10:00 am – 12:00 pm
Eastern Maine Community College Job Fair: September 21 from 10:30 am to 3:00 pm
The Point in South Portland Job Fair: October 19th from 10:30 am to 3:00 pm
Auburn Mall Job Fair: November 9th from 10:30 am to 3:00 pm