Savings Back in Your Pocket!
Earn 2% Back on All Your Home Depot Purchases
Free Access for Industry Stakeholders
Enrollment in our Home Depot ProXtra Program is free. Enjoy special savings and services, such as local store support, 20% off paint, volume discounts, purchase tracker, and green spend reporting. With no spending minimum, you can sign up today and start earning cash back at dollar one.
If you have questions, please contact our National Account Manager, Michael Campbell at Michael_J_Campbell@homedepot.com
*Participation in this program is subject to terms and conditions.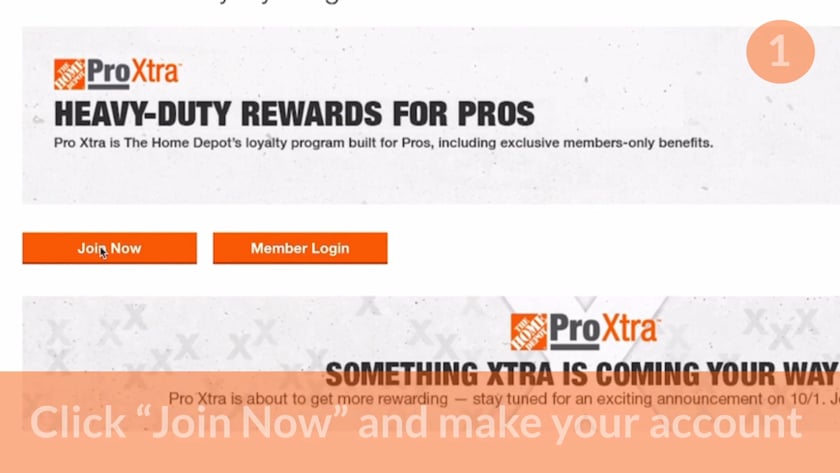 Simple Steps to Start Saving
Watch our quick enrollment tutorial video and see full instructions for signing up below.
If you have any questions about registration, please contact Michael Campbell - Michael_J_Campbell@homedepot.com
Start Saving Today.
Your agreement code is BPA-USC.
Create Account

Complete required fields and check box for "Yes, enroll me in the Pro Xtra loyalty program", then click "Next"

Complete Registration

Enter in your company information into the required fields, select your Business or Trade type, and click "Register for Pro Xtra"

Access Account Profile

Click the drop-down menu in the top right of the page and select "Account Profile"

Scroll to Pricing

Scroll down the page and choose "Pricing"

Scroll Down to National Account Incentives AND Add Agreement Code

Choose Learn More Then, enter in Agreement Code BPA-USC. Hit validate code

Access Cards & Accounts

Click the drop-down menu in the top right of the page next to your name and select "Cards & Accounts"
Download our enrollment guide with full details and benefits of this program, as well as the steps for signing up.