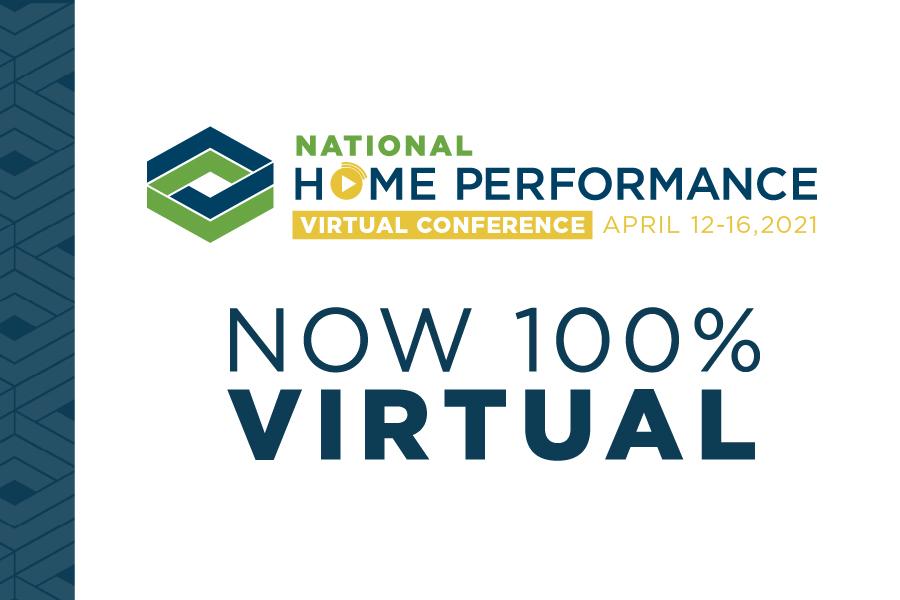 NHPC 2021 to be 100% Virtual
"It's like déjà vu all over again." – Yogi Berra
It is with heavy hearts that we announce the move of this year's National Home Performance Conference to a fully virtual event. It was our sincere hope that we'd be able to offer a true hybrid event—giving those who are ready to travel the opportunity to get together and those who are not, a great virtual experience. Unfortunately, time is not on our side this year.
Safety is Our Top Priority
The nation, the state of Texas, Travis County, and the great city of Austin are just not far enough along in the pandemic response for BPA to feel comfortable convening our industry. As an organization that leads in the area of health and the built environment, we must be prudent in our decision making. The risks to you and our staff through travel and time spent together are just too great at this time. We hadn't planned on making this decision for another month in order to assess how far we've come with the vaccine rollout and where infection rates stand. However, we were informed last week that the Austin Convention Center, where we had acquired space that would have doubled the conference's footprint, had been converted to a field hospital to treat COVID patients from around Central Texas. The city projects that the convention center will function as a field hospital at least through March. This was the proverbial last straw and with all of the available information, the BPA Board of Directors and staff made the decision to move to a fully virtual event.
The Show Must Go On
The good news is that the show goes on! Our annual exchange of information and insights is too important not to proceed, and that is exactly what we are going to do. When we pivoted the 2020 National Conference to virtual, we were brand new to the virtual event game and we were among the first to put ourselves out there. Judging by your feedback, we did it with great success. Now, we have a year under our belts, and we are excited about the improvements and additions you will experience this year.
What to Expect from the Virtual Event
There will be more details to come in the days and weeks ahead, but we did want to share some general information about what to expect.
Our BPA Learning Library will be where everything education happens this year. So, unlike last year, you will have one login. Plus, your transcripts and CEUs will automatically update based on what sessions you attend.
We will have multiple, concurrent live sessions streaming. This will allow you to choose from a variety of live sessions at a given time and still be able to see what you missed later via the on-demand library.
We will have more fun and different networking opportunities, and at least one way to give back to the city of Austin that we will be missing dearly!
Hang in there!