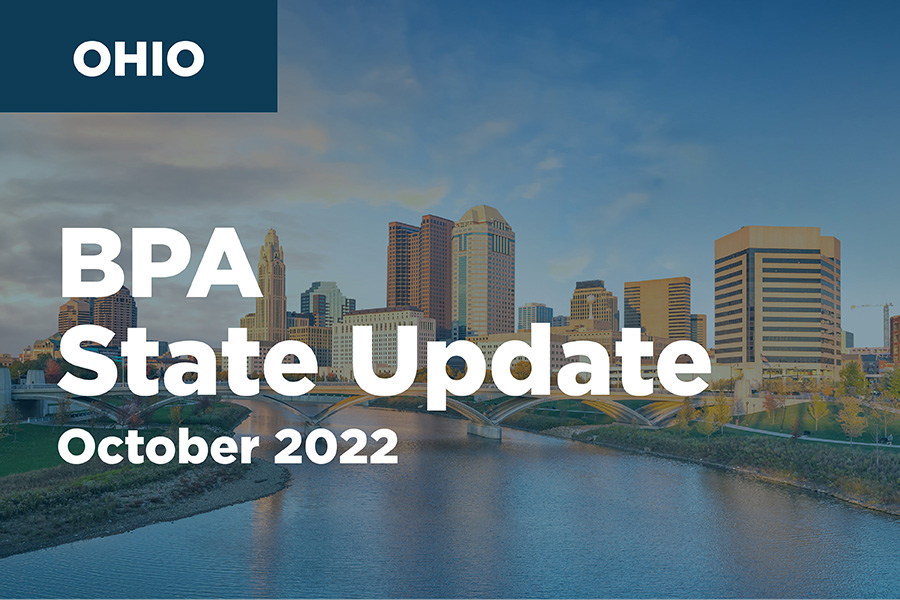 October 2022 – Ohio Policy Update
BPA tracks the latest policy updates and legislative issues in many states across the nation. See the latest policy information for Ohio as of October 2022.
Disclaimer: Inclusion of any bills/regulations in this state policy update does not equate to BPA's endorsement.
---
The Public Utility Commission of Ohio has announced that it is seeking public comments on opportunities to use federal funding through the Infrastructure Investment Jobs Act of 2021 to improve grid resilience and energy reliability. Passed by US Congress in 2021, IIJA provides substantial funding to Ohio and nationwide to finance energy efficiency and clean energy measures in homes and buildings (more details below).
The Ohio Legislature continues to consider legislation to partially reverse a 2019 law (HB 6), which revoked the state's Energy Efficiency Resource Standard and gutted funding for utility energy efficiency programs. The new bill, HB 389, would set an annual energy savings goal of 0.5% below the prior year and directs utilities to administer residential and commercial energy efficiency programs. Last November, the legislation passed through the House Committee with an amendment that requires utilities' resource portfolios to be designed to emphasize smart technology measures including smart thermostats. However, at the time of this writing, the legislature has not taken any action on the bill since last year (see more details on HB 389 below).
Regulatory Monitor:
ASE Ohio – a regulated electric utility that provides service to over 527,000 customers in West Central Ohio – filed its latest Electric Security Plan (ESP) with the Public Utilities Commission of Ohio (PUCO). The ESP was proposed by ASE Ohio to "enhance and upgrade the utility's network and improve service reliability" including through new energy efficiency programs for residential and low-income customers such as cost savings strategies utilizing smart thermostat technology. If approved by PUCO, ASE Ohio will impose an initial $1 surcharge on the customers' utility to fund the ESP.
PUCO held a public hearing on August 24 regarding potential funding opportunities to improve electric grid resilience in Ohio. PUCO is seeking public comment ahead of its application for federal funding under the "Preventing Outages and Enhancing the Resilience of the Electric Grid" formula grant program which was created by the IIJA of 2021 to provide grants to States across the U.S. for grid resilience measures including installation of weatherization equipment and advanced metering infrastructure. PUCO is seeking comments on this, and any other potential uses for IIJA funding by September 12.
The Public Utilities Commission of Ohio (PUCO) closed public comments in May after a series of workshops to solicit stakeholder input on utility energy efficiency programs. PUCO will utilize input from the public comments and workshops to "help develop cost-effective energy efficiency programs to manage electric generation costs and determine how those programs fit into Ohio's competitive electric and natural gas marketplaces."
PUCO has approved statewide utility AEP Ohio's gridSMART project. As a result, the utility will install advanced metering infrastructure (AMI) for approximately 475,000 customers. AEP Ohio will also provide $500,000 to launch a new program offering rebates to customers for the purchase and installation of smart thermostats. The order from PUCO authorizes customers to own their data from AMI and choose to share that data with any third party. More details on when AEP will begin to deploy smart meters and launch the smart thermostat rebate program are still to come.
Legislative Monitor:
2022 Regular Session Dates: January 3 until December 31. **Note: Session remains ongoing throughout the year.
Bills currently under consideration:
HB 389 Regards energy efficiency and peak demand reduction portfolios sets a requirement for utilities to achieve 0.5% annual energy savings and directs electric utilities to administer residential and commercial energy efficiency and peak demand reduction programs. The bill specifically requires state utilities to deploy residential smart technology including thermostats and heat pump water heaters to achieve peak demand energy reduction and requires each utility to design their resource portfolios with an emphasis on smart technology measures including thermostats, lighting, and appliances. The bill also requires that utilities administer at least one low-income residential energy savings program. HB 389 was introduced on August 12 with bipartisan sponsorship and received a unanimous vote to pass in the House Committee on Public Utilities on November 18. The bill has not yet seen a vote in the full chamber.
HB 57 / SB 44 Repeal HB 6 of the 133rd General Assembly seeks to continue funding and state programs pertaining to energy efficiency provided through electric utilities designed to retrofit and upgrade homes for energy savings and peak demand reduction. Introduced on February 2, 2021, the bill passed unanimously in the Senate on March 3, 2021 and was referred over to the House Committee on Public Utilities, where both versions of the bill have not had an initial hearing or committee vote.