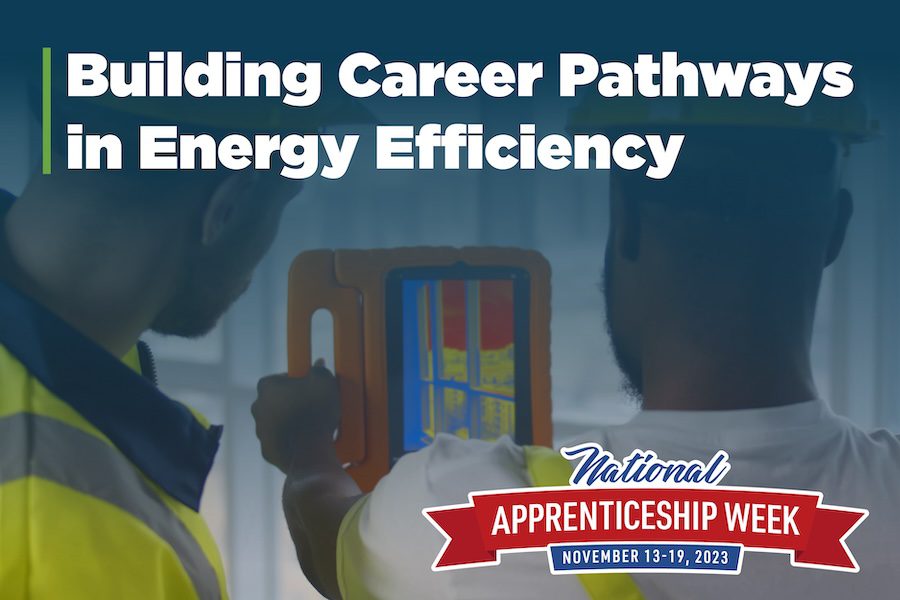 Registered Apprenticeships: Building Career Pathways in Energy Efficiency
By: Brook Vernon, State Outreach Coordinator
More than 2.2 million Americans work within the energy efficiency space, according to the recent Energy Efficiency Jobs in America report by E4TheFuture. Why then are careers in energy efficiency not more well known?
Plumbers and electricians are recognized as necessary trades for the performance of a home; however, a lack of knowledge exists by the public on what an Energy Auditor or a Quality Control Inspector do or how to get into these careers. One key to transforming an Energy Auditor or Quality Control Inspector into a household name will involve creating clear pathways to these careers across the United States. It will also require providing knowledge around what energy efficiency is and the careers available within the field before individuals consider choosing these careers.
Therefore, the fundamental question is: How can we create clear career pathways in energy efficiency? The answer lies within Registered Apprenticeship Programs that build on industry recognized credentials, paid on-the-job training, employee safety, wage progression, and effective diversity, equity, inclusion, and accessibility (DEIA) practices. Registered Apprenticeships are a proven model for increasing productivity, reducing turnover, and ensuring a steady supply of qualified employees.
Employer-Reported Direct Benefits of Apprenticeship

The Building Performance Association (BPA) is committed to bringing greater awareness to the energy efficiency field by providing technical assistance to businesses and contractors interested in employing Energy Specialist Registered Apprentices in the United States. This means professional assistance in applying for, building, and implementing a Registered Apprenticeship Program.
To do this, BPA has created a blueprint for an Energy Specialist Registered Apprenticeship Program that businesses, contractors, and other organizations can use to develop a skilled workforce. The need for entry-level technicians to Master Journeyperson in energy efficiency has significantly increased with the demand to reduce carbon emissions. The Energy Specialist Registered Apprenticeship Program also provides a perfect opportunity for introducing displaced workers, veterans, formerly incarcerated individuals, minorities, and women to the energy efficiency field.
The recently passed Bipartisan Infrastructure Law provides ample workforce development funding to raise awareness and further highlight career opportunities within the residential energy efficiency sector. One such funding opportunity comes from the Energy Efficiency Revolving Loan and Grant Fund, which allows states to establish revolving loan funds to provide energy-efficient audits and upgrades. Additional Inflation Reduction Act (IRA) funding will train workers through the Training Residential Energy Contractors (TREC) grants.
These grants will reduce the cost of training contractors and their employees to deliver energy efficiency, electrification, and clean energy improvements under the IRA's Home Energy Rebates. The various workforce funding sources can be stacked or braided to provide a more comprehensive training program to help create a pipeline of qualified workers to meet the growing demand for energy-efficient homes.
A Registered Apprenticeship Program can be offered in many ways: community colleges, training centers, and trade schools can provide instruction for employees of local businesses within a state, or a business can provide interactive online learning with paid, on-the-job training. All Registered Apprenticeship Programs involve both on-the-job training and technical instruction, which can include classroom instruction, textbook reading, or written exams. The education piece is customizable based on employer need and the required hours for related technical instruction.
As a person goes through a program, gaining credentials through job shadowing and completing a specified number of hours, they can advance in their career to become a Master Journeyperson. Upon completion, the Registered Apprentice will receive a nationally recognized certificate from the Department of Labor (DOL), similar to a college degree, in addition to the credentials completed during the Registered Apprenticeship.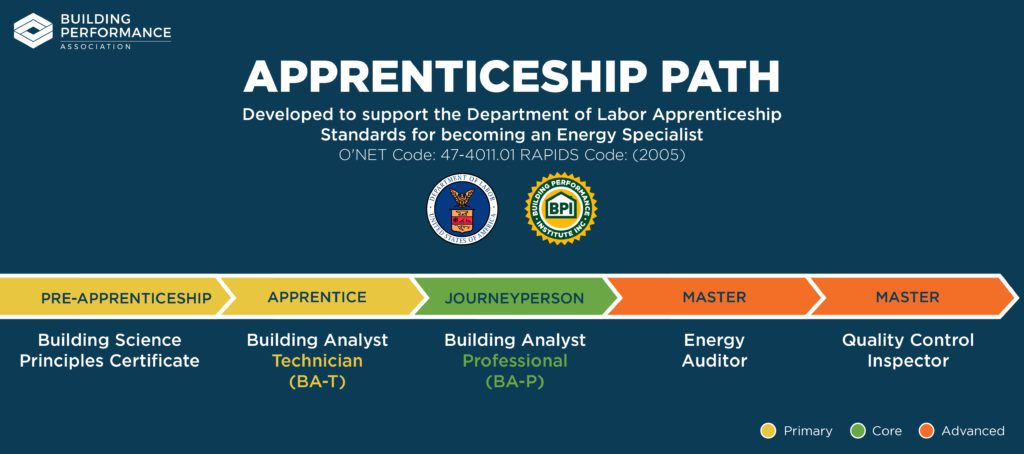 BPA will continue to partner with training providers to offer related technical instruction to enhance competency within a business' Registered Apprenticeship Program and offer options to employers. In addition, BPA has created an entry-level Building Science Principles course to encourage contractors and others working in the energy efficiency field to gain core knowledge of the mechanisms of maintaining a home's efficiency. BPA has frequently provided this course for free in several states within disadvantaged communities and will continue to do so to educate and promote energy efficiency careers.
A business is eligible to apply for a Registered Apprenticeship upon providing a letter of commitment and adhering to DOL standards, DEIA practices, and by offering the required instruction, hours, and paid on the job training with wage progression.
BPA will provide the necessary assistance in completing eligibility requirements to those interested in establishing a Registered Apprenticeship. For more details on getting started, be sure to complete the interest form and a State Outreach team member will be in touch!