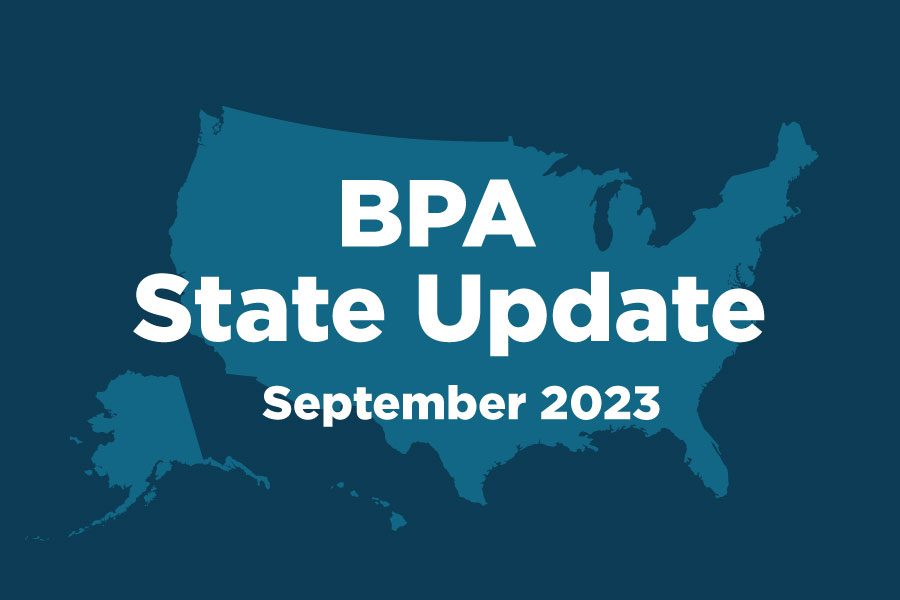 September 2023 State Updates
Find Your State
Click here to find the latest updates, projects, federal funding info, and events in your state!
Recent Highlights
National – Recently, a coalition of nearly three dozen companies, trade associations, and advocacy groups warned Congressional appropriators of drastic consequences if they move forward with proposals to cut funding for the Energy Department's energy efficiency programs in the fiscal 2024 spending bills. (Read the full story here, something like that).
It's not often you see DuPont and the Natural Resources Defense Council signing onto the same letter, but they agree the cuts contained in the House Energy-Water funding bill would "jeopardize American jobs, our national energy security, the reliability and resilience of our power grid, and the competitiveness of the U.S. energy and manufacturing economy," they wrote to leaders on the Energy-Water appropriations subcommittees in the House and Senate.
The letter singles out the House's proposed cuts to DOE's Weatherization Assistance Program (WAP) and the Federal Energy Efficiency Fund, as well as attempts to claw back Inflation Reduction Act (IRA) funding for improved building energy codes, home efficiency rebates, and workforce training. "Nominal investments in DOE energy efficiency programs have generated some of the most significant returns on investment for U.S. taxpayers," the groups wrote. Read the letter here.
Kentucky – The BPA team met with Kentucky stakeholders to discuss the current landscape of workforce within energy efficiency and home performance. The group highlighted current workforce needs to include bringing awareness to career pathways and regularly convening a diverse group of stakeholders to increase contractors and workers in the energy efficiency space. The group will meet again on October 10. The meeting welcomes members of BPA interested in workforce needs to participate, share ideas, or highlight successes and challenges in retaining workers.
Maine – The State of Maine's Volunteer Maine (Commission of Community Service) launched an AmeriCorps RFA for Maine Rural State Americorps Grants. State AmeriCorps programs can fund as few as two full-time equivalents that work to build direct capacity in communities. For more information or if you are interested in providing a "host" location for an AmeriCorps member, please reach out to a BPA State Outreach Coordinator. Anticipated program start date is January 1, 2024. Proposals must be submitted by September 28, 2023. Submissions are required to be submitted electronically in the federal eGrants system and additional documents emailed to proposals@maine.gov.
BPA recently delivered an in-person, full-day class to prepare people for the BPI Building Science Principles (BSP) Certificate of Knowledge exam. The class was open to building trade professionals, home inspectors, remodelers, sales reps and installers of HVAC/windows/solar, policy and program managers, students, and individuals aspiring to enter the energy efficiency industry.
The Midcoast Climate, Energy and Green Building Happy Hour will take place on Thursday, October 5th. Learn from your Midcoast neighbors how to get involved. From town meetings and public input to volunteering, mentoring and citizen science, there are many pathways to climate action. Learn more.
Michigan – The NASCSP 2023 Annual Training Conference will be taking place September 25-29, 2023 in Grand Rapids, MI. This is a five-day, immersive experience offering valuable opportunities for state administrators, state associations, local eligible entities, and other professionals from around the country to come together and discuss strategies for meeting new challenges in improved performance, innovation, and accountability in the fight to change the face of poverty across the nation. Learn more.
Nevada – The 3rd National Alliance of Women in Trades will convene on Saturday, September 30 in Las Vegas, NV. The Summit focuses on Visibility, Advocacy, and Empowerment for Women in Nontraditional Careers. This annual summit supports the Nevada Women in Trades (NVWIT) pipeline and other training programs in preparing women to join the ranks of construction industry professionals. Tickets are $55 and tickets for students may be sponsored for $50 with sponsorship opportunities available. For more information, call 702.801.6591 or email Info@NevadaWIT.org.
New York – The BPA team met with the Building Performance Contractors Association of New York State to discuss continued work together.
Ohio – Serve Ohio released an AmeriCorps RFA to fund a state AmeriCorps program in Ohio. Programs that create workforce pathways for AmeriCorps members, including deliberate training, certifications, and hiring preferences or support; or that involve environmental stewardship, including supporting communities to become more resilient through measures that reduce greenhouse gas emissions, conserve land and water, increase renewable energy use and improve at-risk ecosystems, especially in underserved households and communities are eligible. Applications are due October 4, 2023. The award period begins July 1, 2024. For more information, click here, or to express interest in being a "host" location, please contact a State Outreach Coordinator.
The Office of Energy and Environment, within the Ohio Department of Development, seeks planning, administration, and technical assistance services for Ohio's IRA Home Rebate Programs. Find more information here.
Oregon – The Oregon Department of Energy announced they are hosting three listening sessions in October focused on the Home Energy Rebates. See below for a quick summary of meetings, and the ODOE website for full details and how to attend. ODOE stated they intend to make rebates available to Oregonians by mid-2024. Virtual log-in information for all meetings will be available on ODOE's website.
Home Energy Rebates Kick-Off
Wednesday, October 4, 2023
2–3:30 p.m. PT
Home Efficiency Rebates Deep Dive
Tuesday, October 10, 2023
2–4 p.m. PT
Home Electrification and Appliance Rebates Deep Dive
Wednesday, October 11, 2023
2–4 p.m. PT
West Virginia – BPA will be holding an in-person, full-day class to prepare people for the BPI Building Science Principles (BSP) Certificate of Knowledge exam. The BSP class is open to building trade professionals, home inspectors, remodelers, sales reps and installers of HVAC/windows/solar, policy and program managers, students, and individuals aspiring to enter the energy efficiency industry. It will take place Thursday, September 28, 2023 from 9:00 a.m. to 3:00 p.m. Register here.
From The BPA News Page
Pursue a Green Career: On-The-Job at Clean Energy Jobs in Maine – There are so many aspects of starting a new career to consider, like compensation, benefits, and even the mission behind the work — but what about the actual day-to-day work of a new career in clean energy here in Maine? What will you be putting in the hours doing, and what will your future look like in your new career?
Take a closer look at some of the jobs in clean energy in Maine, and what you might be doing each day to help reduce the harmful effects of carbon emissions across the globe.
From the BPA Journal
Meet David Gibson, Maine's Fossil Fuel Eliminator – In 2017, the College of the Atlantic (COA) made a commitment to transition their campus off of fossil fuels by 2030. It is Director of Energy David Gibson's primary responsibility to make sure that happens. Read more.
New Chapter for Ancient Place: Creating Sustainable Housing and Jobs in Rural Alaska – The Native Village of Unalakleet, Alaska is working with the National Renewable Energy Laboratory's Cold Climate Housing Research Center to create a new model of housing— an affordable, energy-efficient, adaptable house that meets the myriad challenges facing rural Alaska. Keep reading.
Save the Date
Save the date for The Clean Energy for Homes Conference & Trade Show, hosted February 13-14, 2024, in Saratoga Springs, New York. This two-day event provides regional education for those working in the state of New York and in surrounding states. In addition, a trade show with local and national exhibitors will run on both days of the event.
We are currently accepting proposals to present at this conference! Learn more here.
Regional Conference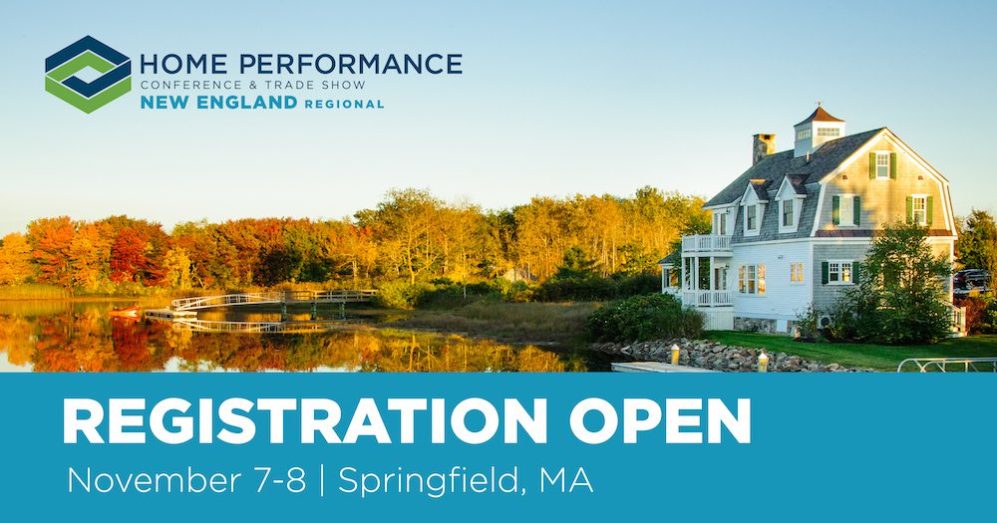 Join us at the highly anticipated New England Home Performance Conference & Trade Show, happening on November 7-8, 2023 in Springfield, Massachusetts! Get ready to dive into the latest updates and valuable insights relevant to your work.
Join Your State Affiliate
As a state Affiliate member, you'll gain access to valuable resources on federal funding, rebates, and state workforce programs. You'll also enjoy exclusive benefits like member-only webinars, conference discounts, and more! And if there isn't an affiliate in your state, don't worry–you can still join BPA national and experience the same access and benefits.