Day Three in Nashville With The Legends of Home Performance
by Macie Melendez
Day three of the National Home Performance Conference and Trade Show was full of more of the same incredible educational sessions as days one and two. Session topics dived deeper into policy, equity, and all things building science. I attended a few sessions throughout the day, but my favorite was the evening session: Home Performance: Past, Future, & the Stories Behind It All. Personally, I refer to it as the "legends of home performance."
I've been writing about this industry for more than a decade, which isn't necessarily legendary, but it does give me a little street cred (or hotel hallway cred at the Omni Nashville, at least). The people on this panel, on the other hand, have essentially founded the home and building performance industry. This session was moderated by Chandler Von Schrader and included 12 home performance professionals who have been doing our industry's good work since the 70s and early 80s. It included Rana Belshe, Steve Cowell, Suzanne Harmelink, David Keefe, Dick Kornbluth, Joe Kuonen, Michael R. Lubliner, Gary Nelson, Andrew Padian, Charles Segerstrom, John Tooley, and Linda M. Wigington.
These men and women have been around since energy was measured using paper slider-scales, which Chandler showed off. They've quite literally written the books and manuals that serve the professionals who do the hard work every day. They've created organizations, started movements, revolutionized the way the work is done…and they've done it side by side, most of them meeting at this conference (albeit by a different name) many, many years ago. Many of them thanked others on this panel, calling them their mentors, their heroes, their friends. I heard a lot of sentences that began and ended with the three words: "changed my life."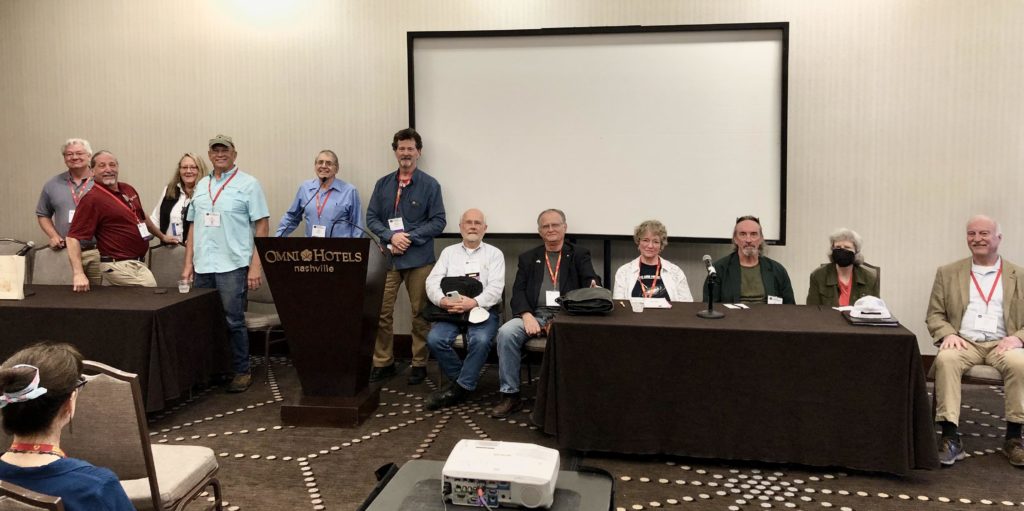 Dedicating your career to efficiency is not a simple choice. It often comes from a nonlinear career path, an aha moment, or a matter of stumbling upon. But once these people saw they could make a real change, they went all in. It's one of the most admirable qualities of home performance professionals that I see in people I work with all the time. They work for the greater good: for the health of people in their homes, for people to feel comfortable, for people to be healthier, to breathe better air, to have less hospital stays. As Maggie Kelley Riggins said in a session I attended earlier this week, it's all about prioritizing people.
Words are powerful. To hear this group of people's stories, listen to their background, and get their thoughts on the future is incredibly valuable to the people who have been to 20 years of conferences and those that were attending their first. Yes, we've got a lot of work to do and the future is full of challenges, but sometimes it's nice to sit back and remember where we were. We've got a long way to go, but let's remember that we've also come a long way.
As we build upon our foundation, join me in thanking the people that got us here. To the legends of home performance, our sincerest thank you for your years of dedication, your tireless hours in crawlspaces and attics, and your ability to lead us in the years ahead. Meeting, speaking with, and watching the attendees at our conference this week, I believe the future of the industry is in very capable hands.
Macie Melendez is the Editor In Chief of the Building Performance eJournal.