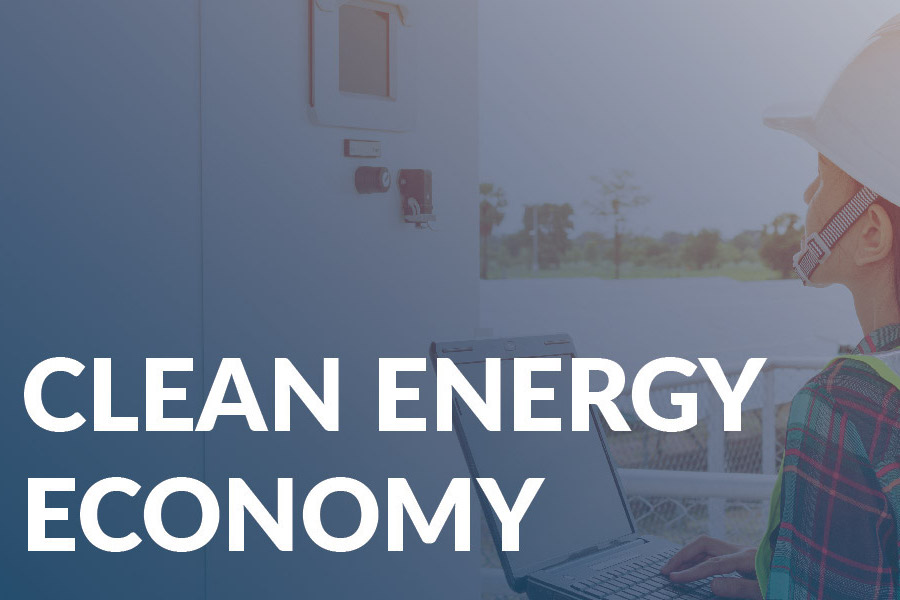 New Congressional Climate Report Includes BPA's Top Policy Priorities
On June 30, 2020, the House Select Committee on the Climate Crisis released their climate action plan, a 500-page report that provides a roadmap for Congress to address the climate crisis and build a prosperous clean energy economy. The report is the culmination of over a year of hearings and stakeholder input to develop policy recommendations—a process the Building Performance Association was closely involved in—and it clearly establishes the critical role of advancing energy efficiency in the building sector to combat climate change.
---
BPA Working for You: Communicating the Vital Role for Building Performance in a National Climate Strategy
In October 2019, Kara Saul-Rinaldi, Vice President of Government Affairs, Policy, and Programs for the Building Performance Association, testified at the Select Committee's hearing on decarbonization of buildings as a member of an expert witness panel. At the hearing, Kara underlined how residential energy efficiency in particular is a key strategy for both reducing carbon emissions and improving the lives of Americans. BPA subsequently submitted extensive written testimony to the committee detailing a multi-pronged policy approach for advancing energy efficiency and building performance.
The Select Committee's newly released report includes a number of BPA's recommendations as essential components of a comprehensive national strategy to solve the climate crisis. In a significant win for BPA's advocacy efforts, the report also highlights the HOPE for HOMES Act of 2020 which we have championed more recently to address the COVID crisis' devastating impact on the home performance industry. The following elements from the report align with BPA policy priorities and represent key strategies for advancing our industry and leveraging building performance as a vital solution for cutting carbon emissions.
Incentives for Homeowner Investments in Energy Efficiency
The report recommends that Congress establish federal rebates for homeowner energy efficiency retrofits of existing homes and exclusively highlights the HOMES Act of 2019 and the HOPE for HOMES Act of 2020, both of which are central pieces of BPA's federal policy effort to advance home performance nationwide. The report further advises Congress to pass a long-term extension and update of the 25C tax credit for homeowner investments in energy efficiency improvements.
The report also proposes the expansion of on-bill financing for energy efficiency in order to help low- and moderate-income Americans invest in these important upgrades, recommending that Congress direct the Department of Energy to provide utilities with technical assistance to expand this financing option.
Workforce Development
BPA is also focused on legislation to advance workforce development and jobs training in the building performance industry. The report aligns with BPA's recommendations to address workforce needs and help expand training and make it more inclusive. It includes the Blue Collar to Green Collar Jobs Development Act of 2019—legislation that BPA helped draft and testified in support of at congressional hearings, which would support training for energy efficiency workers and help build a larger and more diverse workforce.
The report also highlights the training component of the HOPE for HOMES Act of 2020, noting how the online HOPE training program would prepare workers to conduct retrofits that are eligible for HOMES rebates.
Increase Funding for Weatherization
The report urges Congress to help weatherize every eligible home in America, citing many of the health, safety, and economic benefits of weatherization which BPA outlined in its testimony before the Select Committee. Specifically, the report recommends expanding and increasing funding for the Weatherization Assistance Program (WAP), and highlights proposed legislation to reauthorize and modernize the program, both of which are key policy priorities for BPA.[1] The report also advises Congress to create a grant program within WAP to help remediate health and safety issues in homes so that energy efficiency upgrades are possible, and calls for funding to weatherize public housing.
Ensuring Energy Efficiency is Valued in Real Estate Transactions
The report proposes that Congress should help home buyers leverage energy efficiency investments to increase their borrowing capacity for mortgages on energy-efficient homes. This is what the Sensible Accounting to Value Energy (SAVE) Act would support, by factoring in the cost savings from energy efficiency improvements on mortgage applications and thereby helping homeowners recoup the value of efficiency investments at the time of sale. BPA has advocated for this legislation and its inclusion in the report aligns with the recommendations in BPA testimony.
Access to Utility Data
BPA strongly supports ensuring consistent, secure, and reliable data access to improve the quantification of energy savings and non-energy benefits. Mirroring BPA's recommendations, the report highlights this issue as an essential building block for reducing building energy use, urging Congress to encourage customer access to their own electricity data by establishing model standards and incentives for state adoption. It includes Rep. Welch's Access to Consumer Energy Information Act (E-Access Act), a bill that BPA has championed, which calls on the Department of Energy to establish best practices and a common set of guidelines for safe and secure energy data access. Notably, the report discusses how "many startups are focusing on delivering smart technology-based solutions for energy use management [but] these companies often lack access to detailed data that would help them determine how to optimize their customers' energy use"—an issue that BPA also underlined in its testimony.
Establish National Energy Efficiency Targets (EERS)
Another of the report's principle recommendations for advancing energy efficiency is to enact a national energy efficiency resource standard (EERS), which was also one of BPA's proposals to the Committee. In line with BPA recommendations, the report urges establishing these national targets based on the maximum achievable level of cost-effective energy efficiency potential in order to save consumers money on their power bills and reduce greenhouse gas emissions. The report also advises that "national energy efficiency targets should not preempt state initiatives; instead, they should allow states to set more ambitious standards."
Provide Robust Funding for Important Department of Energy Programs
BPA consistently urges robust federal funding for Department of Energy (DOE) programs that support energy efficiency and are proven to provide significant returns on taxpayer dollars, including the State Energy Program (SEP) and the Building Technologies Office (BTO), in addition to WAP discussed above. The report reflects those recommendations, urging Congress to "significantly increase funding for the State Energy Program" and "provide robust funding for DOE to ramp up R&D for advanced building technologies."
The report also highlights the important role of the Building Technologies Office (BTO) and states "there is a need for more research on building energy systems, grid-connected demand-side management technologies, and coordination of building energy systems with onsite electricity generation and energy storage."
Expansion of Smart Home Technologies
Finally, BPA urged Congress to focus an innovation agenda on advancing smart home technologies for enhanced building performance and grid-interaction. In line with those recommendations, the report highlights smart and resilient buildings technologies and grid-integrated buildings as priority areas in the building sector for increased funding for research, development, demonstration, and deployment. The report also suggests expanding investment in broadband would enable more widespread use of smart thermostats and energy management systems that can reduce energy bills and emissions in the building sector.
---
A Milestone for Building Performance in Climate Action Planning
This report is intended to be a roadmap forward for congressional climate action, and therefore its focus on the urgency of advancing energy efficiency in buildings and the inclusion of BPA policy priorities is a significant win.
Democratic presidential nominee Joe Biden just released his own climate plan and it references certain key elements from the Select Committee report. Specifically, one of the pillars of the Biden plan is to make dramatic investments in energy efficiency in buildings and it outlines a goal of creating 1 million jobs by upgrading 4 million buildings and weatherizing 2 million homes over 4 years.
In the midst of the immense uncertainty we currently face, it is important for our industry to be included in discussions on clean energy, climate, and economic recovery and to clearly communicate the important role for efficient buildings. BPA will continue advocating for robust federal policy to advance energy efficiency in buildings, to create jobs, save energy, improve indoor health, and be part of America's climate solution.