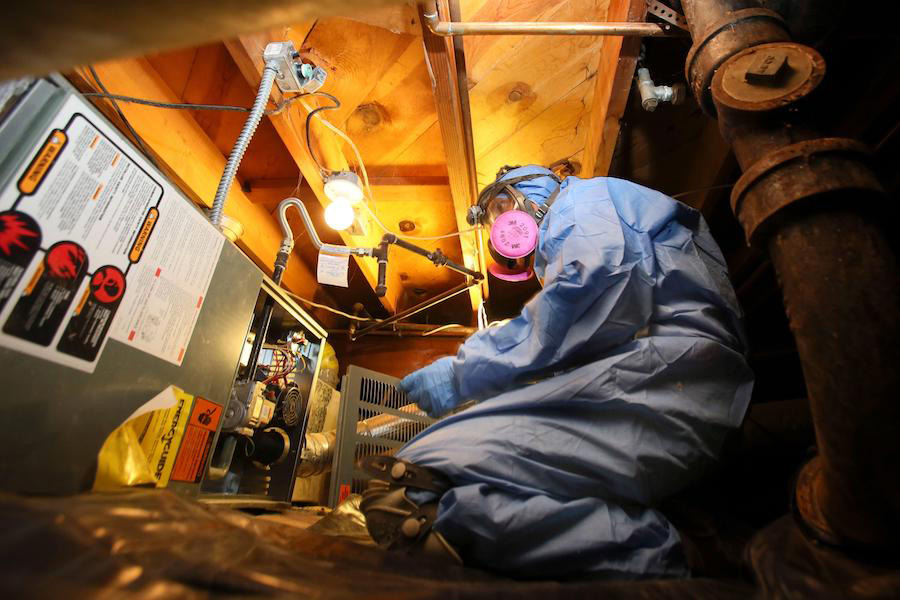 Training Tennessee's Upcoming Workforce the EnergyRight Way
During the Building Performance Association (BPA)'s National Home Performance Conference in Nashville, BPA and Tennessee Valley Authority (TVA) co-hosted an offsite workforce development workshop at Goodwill's training facility.
This event showcased TVA and Goodwill's pilot partnership to create a viable pipeline of qualified workforce entrants into construction and energy efficiency-related jobs by integrating building science into a construction training course. Along with a detailed tour of the facility, invitees to the event convened, discussing a roadmap to create sustainable models for future workforce development efforts.
TVA and Goodwill's program is making news, and rightfully so. As stated in Nashville news organization WKRN's article on the event, "As construction continues to boom throughout Middle Tennessee, many contractors are struggling to find enough workers. Goodwill's month-long construction and weatherization training program is working to fulfill this need while also helping underserved residents in Nashville find jobs."
Frank Rapley, Senior Manager of TVA EnergyRight, said that many contractors in their quality contractor network hire the graduates of this program. "The vision is that their students will come in here and they can get their general construction training, then they'll learn about energy efficiency, and weatherization, and all the things that we do in our programs, and then our contractors can hire them and bring them into the industry so they can get good-paying jobs and start to careers."
You can view a short video of the event below.
Workshop Highlights
During the workshop portion of this offsite event, attendees convened for facilitated discussions around creating a sustainable and scalable model for workforce development. BPA and TVA's goals were two-fold: (1) gather and share ideas, insights, and perspectives through an interactive and engaging dialogue about the future of workforce development and (2) to identify the topmost critical workforce development issues related to talent pipeline development: recruiting, educating, and placing entrants into the workforce. Through group dialogue, the attendees, represented by home performance contractors, workforce development professionals, trainers, and educators, identified and discussed four priority topics:
What are the best practices in starting new recruitment activities?
Which types of organizations should our industry partner with to foster recruitment?
How can our industry best engage with educational partners at each level (e.g., elementary, middle, high schools, trade schools)?
What apprenticeships and on-the-job training opportunities does our industry need to consider?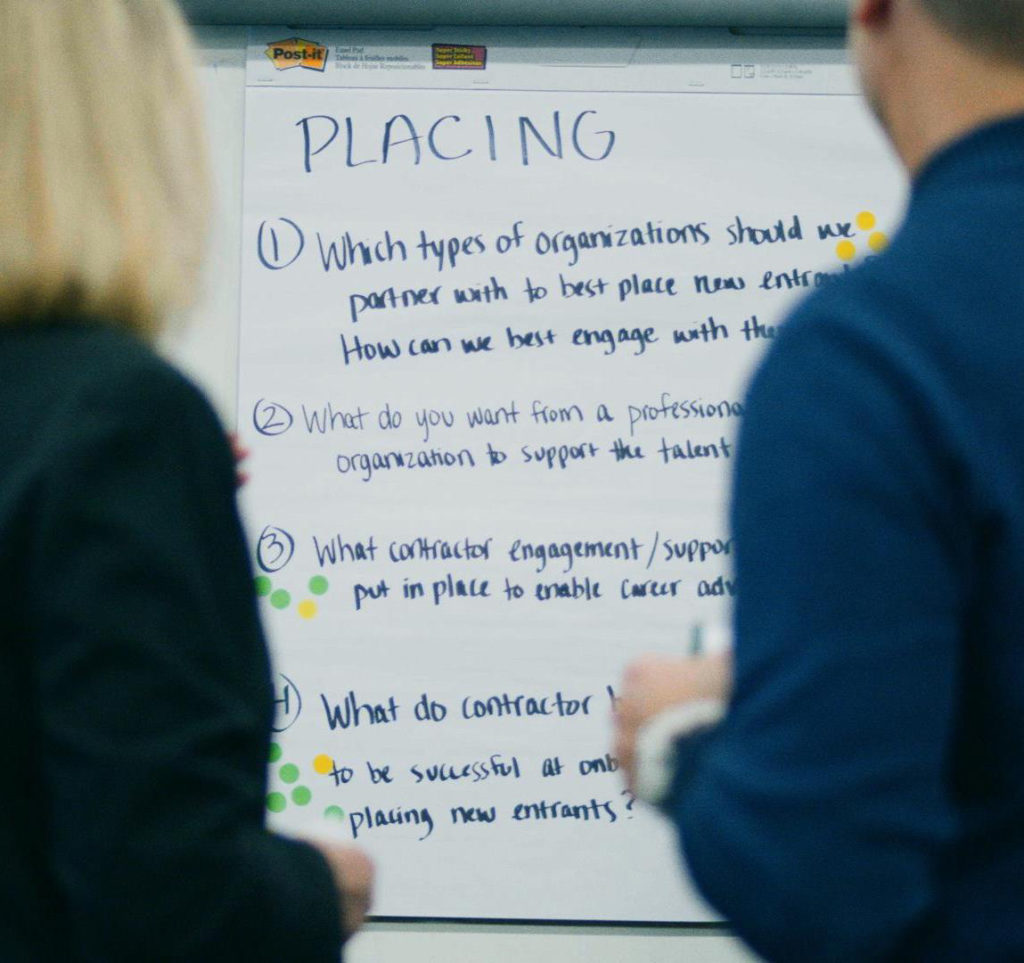 At the center of these discussions, workshop participants indicated the number-one workforce development challenge is "finding individuals who are a good fit for the work." Additional high priority issues are "getting applicants to apply for jobs" and "offering competitive wages and high costs for training."
Workforce Development at the Conference
Of course, the conversation on workforce development didn't stop at the TVA and Goodwill offsite event. This year's National Home Performance Conference had a workforce development track with 15 total sessions across the four days of the event. Topics included Bridging the Gap in the Home Performance Workforce Pipeline, Partnerships & Strategies, Training Pathways for Career Advancement, Creating a Thriving Workforce with a Racial Equity Lens, Barriers and Solutions to Growing the Weatherization Workforce, Engaging and Motivating Employees, and more.
Polling took place throughout the workforce development sessions as well as in the "hallways" of the conference trade show. When asked what the top challenges are in recruiting, participants had a variety of responses, including cost, collaboration, engagement, finding trained people, getting information out/messaging, physical ability and work conditions, and retention, among others.
Clearly, education is the best way to get skilled workers into our trade; however, that comes with its own set of challenges. The top challenges noted by attendees included keeping trainee attention, sourcing qualified trainers, a lack of uniformity/consistency, and wage or compensation challenges.
Conference attendees were asked about which features they'd like to see in training. Again, responses were robust but included recruiting and retention strategies, wage stats, a total career path chart listing specific job skills, video resources, and field resources.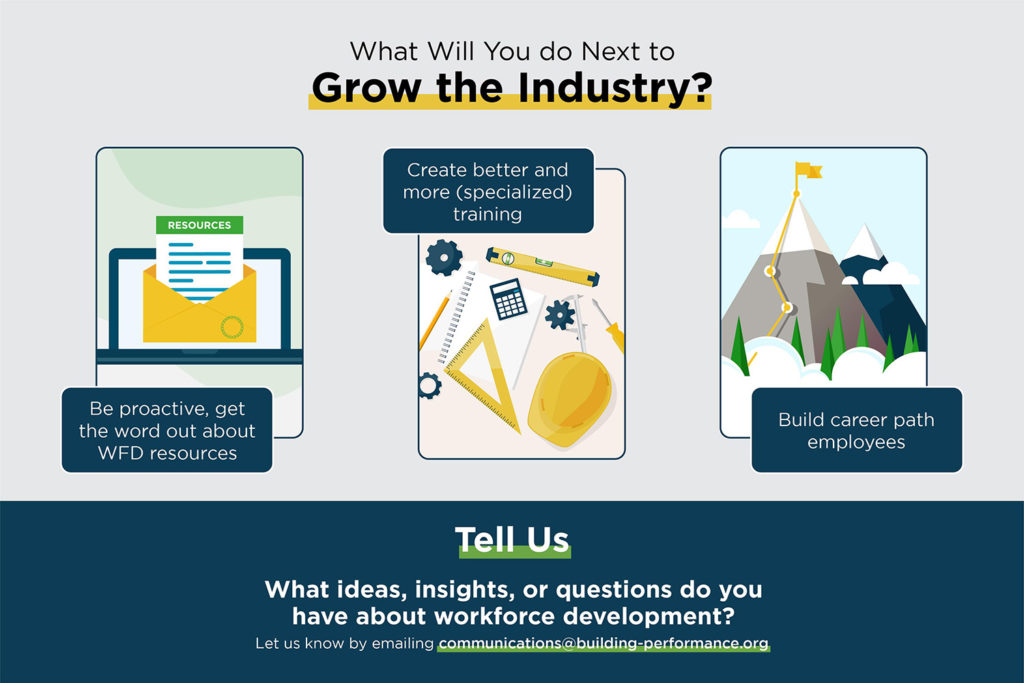 What's Next?
While all of this conversation is a great way to start, there's still a lot of work to be done to turn this information into real jobs. In that vein, attendees in these sessions were asked what their next steps would be to grow the industry. They said they would be more proactive in terms of getting the word out on existing resources, as well as posting jobs to their job boards. Many also said they would work on building career paths or explore career-building tools. Lastly, they said they'd work on training, noting that they would work on creating more specialized training, updating existing training, and establishing mentorship or shadowing programs.
You can learn more about BPA's workforce development initiative here.