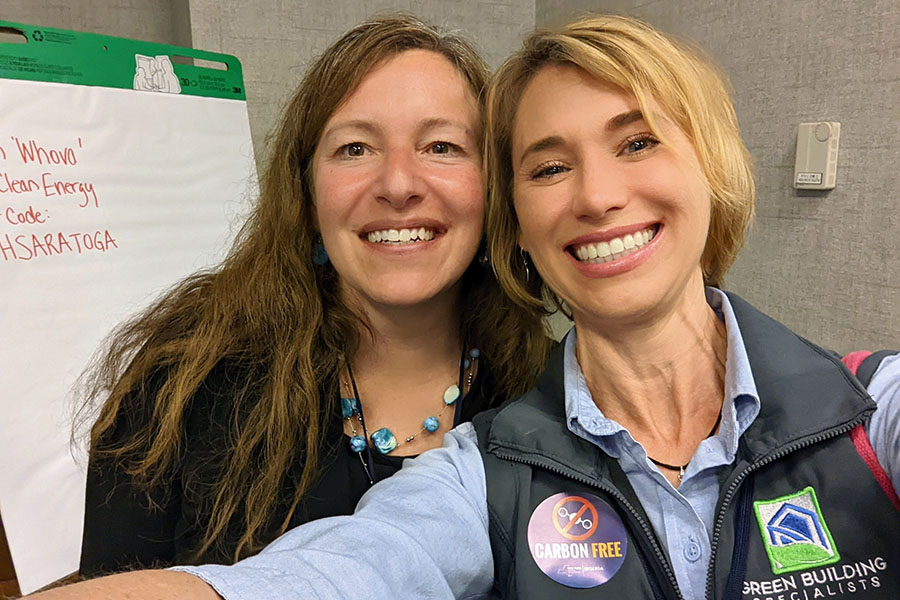 How a BPA Scholarship Helped Foster Industry Connections for One Recipient
Each year, the Building Performance Association (BPA) awards scholarships to members of the home performance industry to attend our events. Known as the Mike Rogers Memorial Scholarship Fund, we have granted over $103,000 to nearly 200 participants.
One of our scholarship recipients was Marcy Cleveland, the founder of Green Building Specialists. She attended our Clean Energy for Homes regional conference in June 2022. She shared the following kind words regarding her event experience and scholarship:
First of all, the BPA Clean Energy for Homes conference in Saratoga Springs… What an amazing event! I had the opportunity to connect with so many people in person who I knew only online through various channels – NYSERDA, LinkedIn, webinars, email newsletters, etc. To name a few: Meg Garabrant from the Green Building Registry, Keith Bohling from NYSERDA, and Robin LeBaron from Pearl Certification (really great to meet him since I am also a Green Realtor and have used Pearl Certification for my listings).

Possibly my favorite was Bill from TEC! Pretty cool meeting one of the engineers behind the company who made my blower door!

I learned about remote virtual audits (which I will probably start using as a pilot participant in a NEEP/NYSERDA program) and spent a great deal of time talking to folks about LMI (low to middle income) customers and how to solve the problem of affordable decarbonization and electrification. I actually connected with a fellow conference attendee and BPA member, Peggy Gans from Greenologists, after the event and asked her to become a Board member for Mid-Hudson Energy Transition, a non-profit CCA administrator where I am also a board member.

Interestingly, I was just appointed the Acting Executive Director for that non-profit and will be leading our inaugural project for the City of Kingston. We will be doing a CCA 3.0 model (first ever!) which will feature city-wide decarbonization (using federal funding, state incentives, and revolving low-interest loans) in addition to opt-out CDG, electrification of transportation, wealth-building opportunities, technical studies, and demo DER projects. The LMI population will be a top priority as we intend on creating a model for an equitable and just energy transition. It will be a lot of work, but very necessary work, and it's super exciting!
At BPA, we believe education and opportunities for growth should be accessible for all members of our industry. That's why we collected donations on GivingTuesday that went directly to our scholarship fund. You can still make a donation to the fund by clicking here.