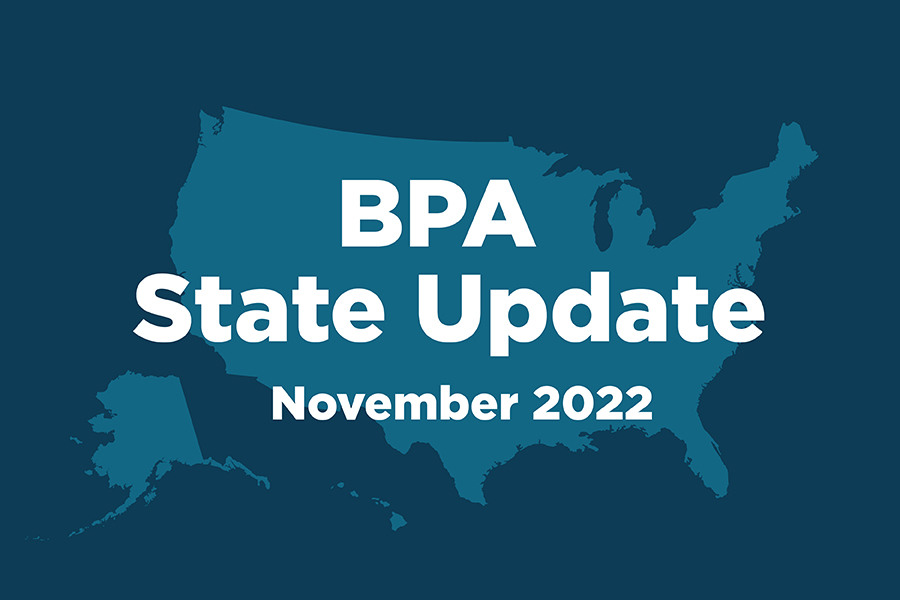 November 2022 State Policy Updates
BPA tracks the latest policy updates and legislative issues in many states across the nation. Read the highlights and find your state and check out the most recent policy news below.
Key State Highlights
In New Jersey, the Pay It Forward Program has launched. Pay It Forward is a new workforce development program providing financial support for training and certification programs in the HVAC and other industries.
In Maryland, applications have opened for the Low-to-Moderate Income Energy Efficiency Grant Program, which will award $16.5 million in 2023 to local nonprofit organizations and governments to administer financial assistance for cost-effective energy efficiency upgrades in low-income homes and buildings.
In Illinois, the Illinois Commerce Commission is hosting a series of public workshops to develop the Equitable Energy Upgrade Program, which is required by the Climate and Equitable Jobs Act (CEJA) passed in 2021 to provide no-upfront-cost financing options for residential clean energy and energy efficiency upgrades.
In Virginia, the Department of Environmental Quality (DEQ) received public comments in October on a Notice of Intended Regulatory Action to develop regulations repealing the state's participation in the Regional Greenhouse Gas Initiative (RGGI). Following the public comment period, DEQ is anticipated to publish the full text of proposed regulations over the coming months.
Also in Virginia, the statewide Commercial Property Assessed Clean Energy (C-PACE) Financing Program opened in October, providing long-term, low-cost loans to property owners who want to upgrade their commercial buildings with energy efficiency, renewable energy, and water management systems.
In Washington, DC, the Fiscal Year 2023 budget officially took effect on October 1, providing substantial funding for energy audits and energy efficiency measures in public housing and HVAC upgrades in public schools across the District.
All State Updates